ARTICLE FROM usatoday.com (Full story click here)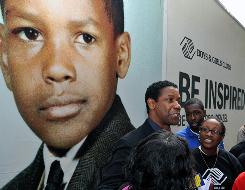 Denzel Washington is not just a Academy Award winning mega-star, this brotha cares about helping at-risk kids to stay in school and to get a good education.
Washington has been a spokesperson for the Boys and Girls Clubs Of America for years. And he is a great person to be a spokesperson too. Because is a big time role model for young kids to look up to from the inner city and out.
A lot of kids mainly from the inner city do not have a strong male role model to look up to. So Washington can be that strong male role for them. They can say, if he can come up from poverty and become a multi-millionaire Hollywood star, then I can be somebody too.
What Denzel is trying to say is in order to be someone you have to stay in school and get a good education.
For our almost twenty years on the air with "Music Inner City TV" and now "Music Inner City Radio" and "Sports Inner City Online" I ask EVERY guest to say something positive to the youth about staying in school, and getting a good education and other positive things. It is the last question we ask EVERY guest since December 1990 on M.I.C-TV.  On TV, radio and the net, we are not just about entertainment, we are about education.
A big shout to Denzel Washington for every thing he is doing in Hollywood and for the work he is doing for the Boys and Girls Clubs and for at risk kids.
Log on to "Sports Inner City Online" at www.sportsinnercity.com at www.sportsinnercity.com  Urban sports news and issues.
Currently read on "S.I.C" read a story on the lack of diversity on sports radio stations in Seattle, Washington.