ARTICLE FROM miamiherald.com (Full story click here)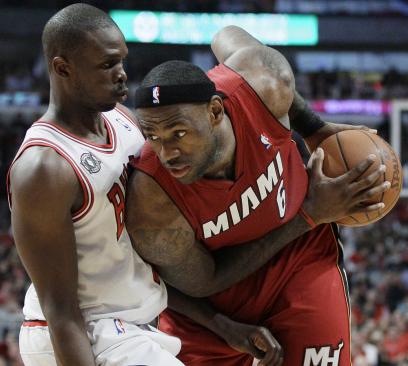 For all you LeBron haters out their I feel sorry for you. Because his Miami Heat are in the NBA Finals going up against Big Dirk, Seattle's own Jason Terry and the Dallas Mavericks.
This is what James wanted when he joined forces with D-Wade and Chis Bosh on the Heat. A chance to win a lot of NBA titles. Well in year one of the Big Three they will get their chance.
It is time to face reality. LeBron James is a GREAT player. At 25 he still can get better and better. Can you imagine that sports fans? James getting better? It is going to happen.
Cleveland Cavs fans have to feel terrible to see James in the finals. I know sports radio in Cleveland is buzzing with James haters. You that is the case.
Anyway it will be a real interesting NBA Finals. Who on the Heat will watch Big Dirk? This cat is on FIRE!! He is a 7 footer with a fall away jumper and other types of shots. Do not be surprised to see James watching him.
LeBron can play all five positions on the court. No other NBA player can do that. He is just a great player so all the haters against him need to stop and realize how great of a player he is.
Of course I want to see Seattle native Jason Terry win a ring. So I hope the Dallas Mavs win the NBA title. It will be a great series.   Gordon Curvey.
Also follow us on our "sister" site. "Sports Inner City Online" at www.sportsinnercity.comWith sports news and issues, Ustream TV, ESPN "Right Now" (updated all the time 24-7), "Sports Inner City Radio" and more!!