ARTICLE FROM chicagotribune.com (Full story click here)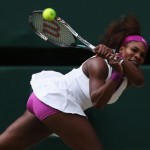 A question needs to be asked. Is Serena Williams the greatest female sports star in history? People are starting to ask this question after Williams won a fifth Wimbledon ladies title.
Serena won her fifth title by beating Agnieszka Radwanska of Poland. But check this out readers. Serena ties her sister Venus who has also won five Wimbledon ladies titles. This is unreal that two sisters can dominate like this in a sports. And in my strong opinion not enough is being said about this by the sports media in the U.S.
Is it because they are African American? That could be the case. I don't know but one thing for sure we are going to talk about it. Serena and Venus have dominated ladies tennis. Pure and simple.
In a sport where you are "old" at about 26 or 27, Serena became the oldest winner of the ladies title at Wimbledon. She is 30 years old. But she has shown that she has not slowed down at her age. It shows how great she is. More needs to be said about how great she is.
Yes Serena at times is outspoken. Oh yeah she speaks her mind from time to time. But so what. Should that be the reason the media does not give Serena the press she should get? If so that is wrong. Serena Williams in my opinion is the greatest female sports star in history. It is time to realize this. Congrates to Serena Williams for winning here fifth Wimbledon title.
Gordon Curvey
Advertise with us on TV/Radio and online at one VERY low monthly price! Call us now at 206-445-3989 or email us at gcurvey@yahoo.com reach out via Facebook at www.facebook.com/gordon.curvey  Reach THOUSANDS with "Music Inner City Ent"