ARTICLE FROM seattlepi.com (Full story click here)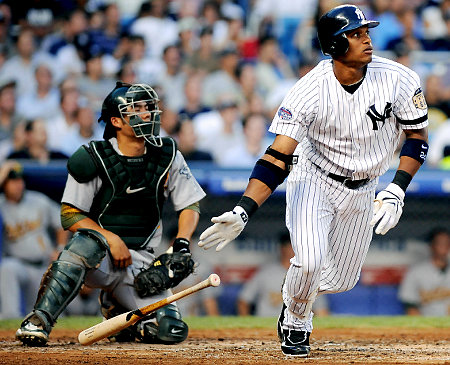 Listen to the best in classic soul and classic hip-hop and interviews from "M.I.C-TV" and more via Ustream TV by hitting the arrow on the Ustream screen. Grab your headphones and enjoy the music. 24-7! Marvin Gaye, Earth, Wind & Fire and MORE!
Our Seattle Mariners seems like they are tired of being at the bottom. They made a huge move by getting New York Yankee Robinson Cano to agree to a 10 year $240 million contract to play here in Seattle. WOW!!
Don't get it twisted readers I am happy as hell that we are getting Cano who is a great player and a proven player BUT I am sorry he is not worth $240 million! No way and no how.
There is zero player today in any sport worth that is worth that type of money except maybe Kobe Bryant and LeBron James in the NBA. For sure in my opinion their is not a MLB player worth this type of money!
The Mariners in my opinion over paid big time for Cano. But anyway Cano is here for the next ten years so let's see what happens. Will the Mariners make some more big moves? How bout obtaining pitcher David Price or outfielder Matt Kemp? We not more bats in the lineup for sure. Obtaining Cano should just be a start of other moves for the Mariners.
The crowds at Safeco Field has went downhill big time since 2001. So called Mariner fans go to the stadium to drink expensive beer and expensive hot dogs, text their friends or knit a sweater and pay big time for parking. Because the Seattle Mariners have been two words….SLOW AND BORING!
So we sports fans will see if our Mariners make more news via trades or free agent signings. And welcome to the Northwest to Robinson Cano and his agent Jay Z.      Gordon Curvey
**If you are in the Seattle/Tacoma area why not drop into EMERALD CITY FISH & CHIPS in Seattle for some of best food in town! For more information and their full menu click here www.emeraldcityfishandchips.com
**Check out our new MUSIC INNER CITY STORE to buy M.I.C mugs, hats, t-shirts, sweatshirts and MUCH MUCH MORE! Just click here www.cafepress.com/musicinnercityentertainment.com IT IS SAFE AND SECURE!!
Do you have comments on some of our stories hit us at gcurvey@yahoo.com or via Facebook www.facebook.com/gordon.curvey or via Twitter www.twitter.com/gcurvey  To advertise with us at our VERY LOW MONTHLY RATES call 206-445-3989.