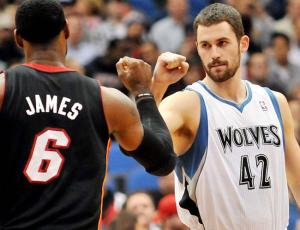 Well all the talk is FINALLY over folks. Minnesota forward Kevin Love is now a member of the Cleveland Cavaliers and I am sure he is a very very happy man. Can you blame him?
Love will join Lebron James and Kyrie Irving in Cleveland to form a very dangerous threesome for NBA teams to deal with starting this coming season. The Cavs have also picked him sharp shooter Mike Miller and James James. Both former teammates with James with the Heat.
The Wolves get rookie and first round pick Andrew Wiggins and another former first round pick Anthony Bennett plus Thaddeus Young and a $6.3 million trade exception. The 76ers get a 2015 first round pick and guard Alexey Shved and forward Luc Richard and forward Richrd Mbah a Moute from the Wolves.
Love is only 25 years old and by the way he is from here in the Pacific Northwest. He is from Oregon. Here is a question NBA fans. Will NBA super vet and former Seattle Sonic and future NBA Hall Of Famer Ray Allen also join the Cavs? I guess we will see soon. We will keep you informed right here on "Music Inner City News Magazine"
Gordon Curvey