ARTICLE FROM huffingtonpost.com (Full story click here)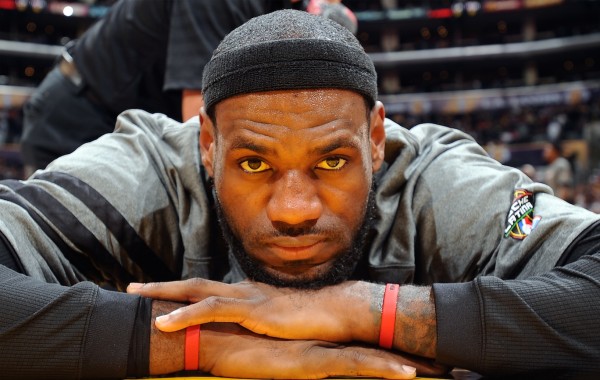 For years and years African American sports stars have stayed silent on issues off the fields and courts of America. Back in the day NFL great and some say the best running back of all time Jim Brown gathered a bunch of great black sports stays to take a stand against racism.
Brown, Kareem, Bill Russell, Muhammad Ali and others got together and held a powerful press conference to speak up. But since then it seems African Americans in sports are afraid to speak up on issues. Micheal Jordan barely takes a stand on anything. He FINALLY spoke up about the killing of Trayvon Martin. Mainly after many others have spoke up on the issue.
Including a sports star who I am gaining major respect for and that is LeBron James. James is not afraid to speak and take a stand on issues.
He uses social media to make comments about the Martin killing, and other issues that deal with African Americans. Including the recent terrible choice to allow the police officer Darren Wilson to walk free for the killing of unarmed African American teen Micheal Brown Jr.
Of course he led his former teammates for the Miami Heat to wear hoodies in protest of the Martin killing. He also spoke up big time on the racist comments by former L.A. Clippers owner Donald Sterling and other issues while others have stayed silent.
When LeBron is finished with basketball he will do well in the business world. He has become a friend of billionaire Warren Buffet and wants to be like him and Magic Johnson and Bob Johnson the former owner of BET and the Charlotte Bobcats now Hornets. He is making investments right now to secure himself of having businesses to run now and when he retires from the NBA.
Much respect to Lebron James. This cat wanted to return home to try to bring Cleveland a world title in sports it has not have in decades and decades and decades. And I hope it will happen for the city of Cleveland and for Lebron.
Gordon Curvey
Listen to a new edition of "Music Inner City Radio" hosted by Gordon Curvey right here. Entertainment and political news plus classic soul/hip-hop music, commercials and public service announcements and interviews!
And watch "Sports Inner City Television" via Ustream TV also right here! Urban sports news and issues plus sports interviews and commercials and public service announcements and more! Plus classic soul and hip-hop music videos!
Watch and listen to those programs and watch the latest "Music Inner City Television" program from Comcast-Xfinity On-Demand programs. ALL program 24-7 on-demand AND you can watch our webcasts via your smartphones, tablets or pc or mac so grab your headphones when you are on the bus or walking in your town or at home and ENJOY THE PROGRAMS!
– Popup Player