"One Man's Opinion" by Gordon Curvey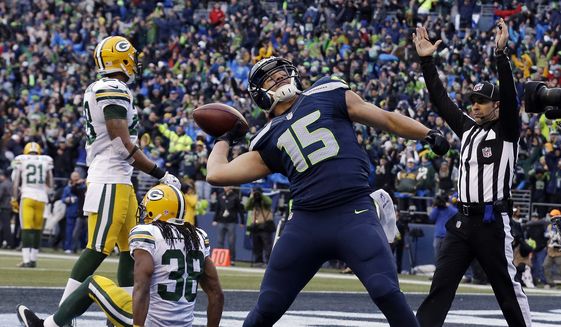 As millions of other football fans I thought it was over for our Seattle Seahawks. Way behind with little time left. As a sports fan who is here in my hometown of Seattle and I said to myself our run is over.
But OMG! Things started to happen. Seattle obtained a onside kick and then "Beastmode" Lynch blasted for a 24 yard td run. Then Russell Wilson tossed a long 2 point conversation to Luke Willson to make the score 22-19 Green Bay. Then Russell scored on a td. Then Aaron Rodgers led his team down the field and GB kicked a field goal to tie the game.
Then all of a sudden Russell Wilson hit Doug Baldwin for a long pass and then BAM!! Wilson FINALLY connected with a cat who he had tried to hit all game long…local native Jermaine Kearse for td  and GAME OVER!! THE SEATTLE SEAHAWKS ARE RETURNING TO THE SUPER BOWL!! It has to be one of the best NFL games EVER!!
Since I was not covering the game in the press room (only one game in two regular seasons in the press room), I had to provide some type of coverage for my African American owned sports media. So I charged up my video camera and hit the road to Century Link Field which is a few minutes from my residence here in South Seattle.
And I posted up right outside of Century Link Field and got a few VERY excited fans to tell us how they feel about the impossible Seahawk win and even tried to holla at a few disappointed Packer fans. You can watch that PLUS my short interview I did with New England owner ROBERT KRAFT a few years ago in Los Angeles. Mr. Kraft was real nice to me to stop for the short interview. So check it out below.