ARTICLE FROM nfl.com (Full story click here)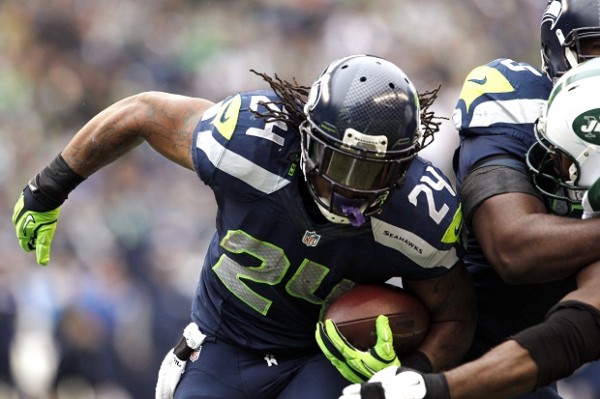 My thoughts on the TERRIBLE 28-24 loss by our Seattle Seahawks to New England just hit the Ustream TV screen. 24-7 on-demand.
As I type this article I have learned some great news for here in Seattle and Seattle Seahawks fans. All season we fans and media in Seattle have asked a question that none of us had a answer for.
Over and over on sports radio callers and hosts have asked will this season that we all know has ended with the Seahawks returning to the Super Bowl down in sunny Arizona be Marshawn "Beastmode" Lynch last season in Seattle as a running back. We have asked this question because we all know what Lynch means to this team. Some say he is the real face of the Seahawks. Not Russell but Marsahwn Lynch!
Well fans this morning the morning of the Super Bowl, the Seattle Seahawks vs the New England Patriots, we have a answer. The Seattle Seahawks have offered Marshawn a huge contract extension that will make Lynch the second highest paid running back in the NFL behind Adrian Peterson. And who knows where he will be playing.
It is reported that "Beastmode" will be offered a $10 million a year contract and will most likely keep Lynch as a Seahawks for the rest of his playing career. It is also reported that the Seahawks and Marshawn reps have been working on this extension for weeks. Of course this is BIG BIG news for all Seattle Seahawks fans here in Seattle and all over the world.
This will be good for Marshawn's kids he is leading in his hometown of Oakland. Hey hopefully Lynch can start doing some work for kids here in Seattle too. Because I DO NOT see enough Seattle sports stars a lot of work with young African American kids and people of color. Which I will be writing about right here in "Music Inner City News Magazine".
Stay tuned for my information on this breaking news regarding a huge new contract offered to Beastmode. And please listen to "Music Inner City Radio" podcasts and "Music Inner City Internet TV" via Ustream for more sports news and entertainment news and of course news on our Seattle Seahawks!!