ARTICLE FROM businessesinsider.com (Full story click here)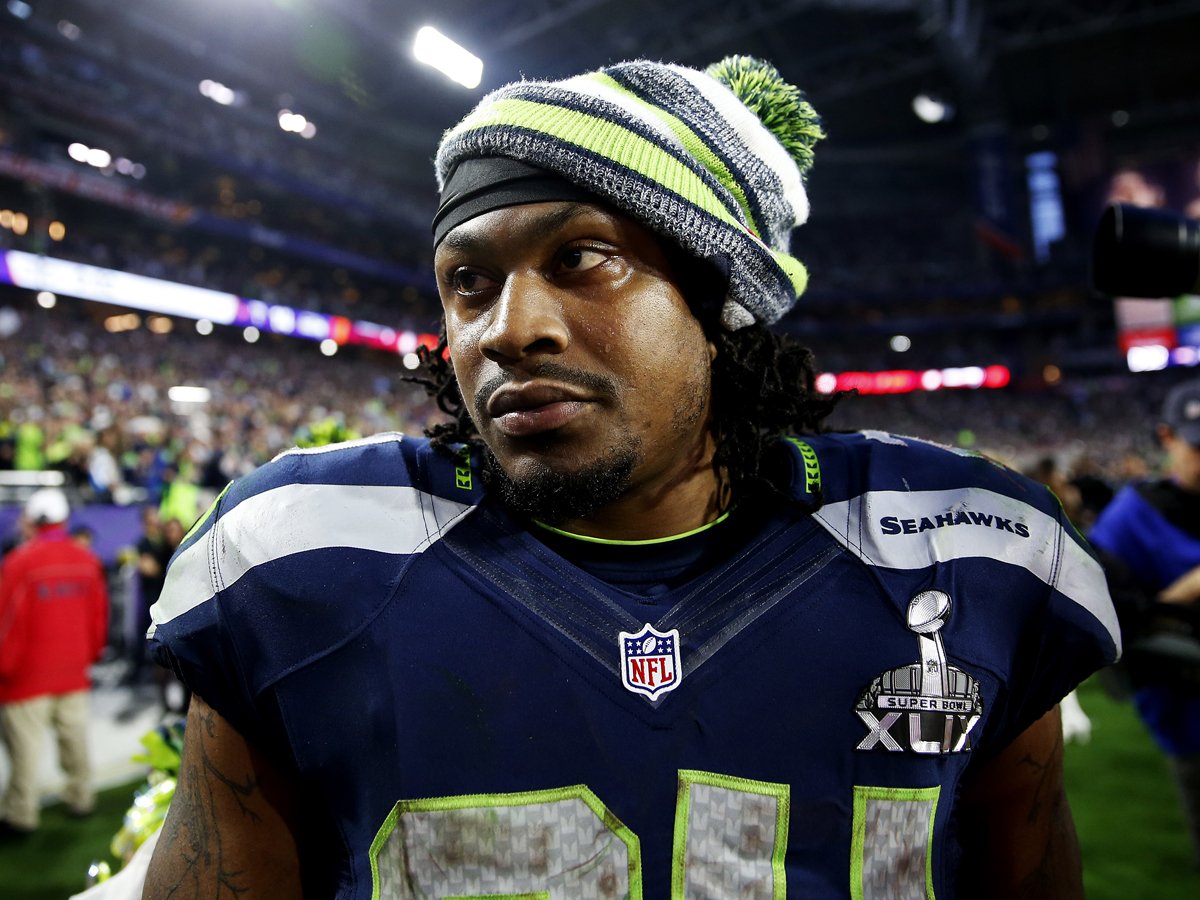 As many of us in Seattle try to get over the stupid ass play that was responsible for the Seattle Seahawks not repeating as Super Bowl champs, a lot and I mean a lot of tweets by guys and gals on Facebook are saying something ain't right when it comes to Marshawn Lynch.
Something just does not smell right. Entertainers and sports stars are coming out saying is very very wrong as to why Beastmode was not given the ball at the one yard line for a most likely touchdown. Inside in a matter of freakin seconds Russell Wilson for some unknown reason tried a damn pass and it was intercepted by a unknown player on New England.
And before you know it, game over. Repeat over. As a sports fan I WILL NEVER EVER EVER EVER get over this loss. NEVER NEVER NEVER again readers!!! I just do not understand and will not understand why this play was called by the Seahawks. A stupid inside slant call at the freakin one yard line. INSTEAD OF GIVING THE DAMN BALL TO THE BEST DAMN RUNNING BACK IN THE NFL. Just pure stupidity readers!!
I went from pure happiness to pure depression as a sports fan in a matter of seconds. I was ready to grab my video camera and run down to bars and other places by Century Link where the Seahawks play. I stay a few minutes away from the stadium. I wanted to catch the pure joy of fans because of our hometown team repeating as Super Bowl champions.
Twitter and Facebook was full of former and current NFL players in total flat out disbelief.  They just could not understand WHY Marshawn was not given the damn ball. Guys like Dieon Sanders, and new rushing king Emmett Smith and former Seahawk Golden Tate just could not understand the play call. Smith said it was the worst play call in sports history!! Tate said Beastmode should be "livid"
A report has came out that Lynch was offered a huge contract extension by the Seahawks that would make him one of the highest paid running backs in the NFL. Here is a question some are asking. Will Marshawn want to come back to Seattle? This problem of Lynch not getting the ball near the goal line is nothing new. Google it readers.
Finally some think Marshawn was not given the ball at the end because most likely if he would have scored he would have been named the Super Bowl MVP. And then their would have been a good chance that Beastmode would not talk to the media like he has recently. Maybe only for businesses he is getting paid from like Skittles etc. Many people think this is a fact.
Sports radio hosts on local sports radio KJR and 710 ESPN totally put this down but many in the black community think some may not have wanted Marshawn Lynch to be MVP. I think it is true. I will never ever get over this call until I die. I do not care if the Seahawks return to the Super Bowl and win, I will never get over Marshawn not getting the damn ball. Play calling by the Seahawks has been a problem. This problem is a serious problem. Will it get better next year after this crap at the Super Bowl in Arizona? I guess we will see.
Comments? 206-445-3989 or gcurvey@yahoo.com or www.facebook.com/gordon.curvey or www.twitter.com/gcurvey