ARTICLE FROM boxing.com (Full story click here)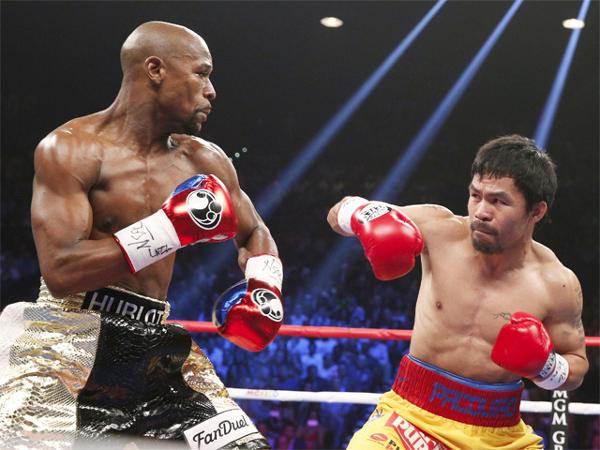 Well all the hype is over readers. For a long time as a sports fan we waited and waited for this fight. And it finally happened in the MGM in Las Vegas with Manny "Pacman" Pacquiao meeting Floyd "Money" Mayweather.
As a sports fan I have waiting for this fight and I was happy as hell all day long knowing the fight was finally going to happen. So as many expected, it turned into a complete boxing lesson from a master boxer in Mayweather. Basically he just played with Manny and did what ever he wanted all 12 rounds of the fights. It was another day in the office for Floyd.
Yes Manny scored with a big punch now and then but it did not bother Money. He just stuck to his game plan made by himself and his dad Floyd Mayweather Sr. During the fight Mayweather Sr was pushing his son to do more. But his son kept to what he wanted to do and that is stick and move, stick and move. And after 12 when it went to the scorecards it was 118-110, 116-112, 116-112 all in favor of Money Mayweather. Some say the fight was boring. Not to me. I was watching a great boxer in action.
Pacman said after the fight in the press conference he had a injury to his shoulder that flared up early in fight. Yeah right Manny!! Give me a break. Give us a better excuse than that. Floyd did not fall for the excuse by Manny. He said after the fight that he was fighting hurt too.
Mayweather is a master boxer pure and simple. His record is now 48-0 and he said he will fight one more time in September. He also said he will give up his many belts he holds before September. So younger guys can have a chance to hold a title.
Someone got PAID a whopping $100 million after the fight and it was Floyd. Might of fact he was flashing to the media his huge pay check so they can see the many zeros on his check. Heck before the fight Money was already worth a half a BILLION dollars. Of course he has many big and expensive cars, houses in many cities, a new jet and many many other things a man with that much money can get.
So let's see what happens next for Floyd and also Manny. Will there be a rematch? Who knows. We will see.   Gordon Curvey