"Music Inner City TV" Bio: Cathy Hughes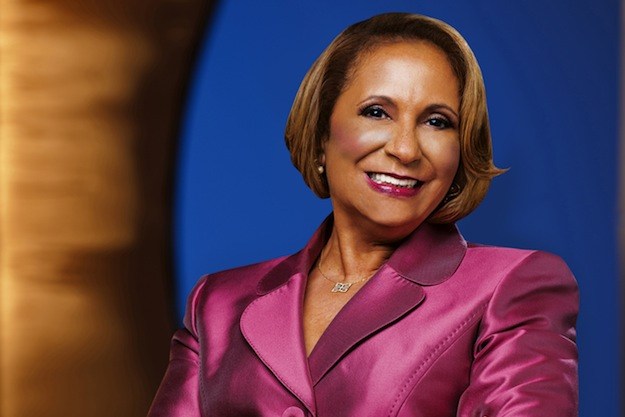 Cathy Hughes is a African American entrepreneur, radio and TV personality and business executive. Hughes founded the media company called Radio One and started TV One.
The company went public in 1998, making Cathy the first and only African American woman to head a publicity traded corporation at the time. She is for sure a trailblazer who has helped put African American owned media on the map.
In the 70's, Hughes created the urban radio format called "The Quiet Storm" on Howard University's radio station WHUR, with it's very first DJ she decided on the late Melvin Lindsey. Before radio, Hughes worked for a African American newspaper called "The Omaha Star" Hughes started her career in 1969 at KOWH in Omaha, but then left for job in Washington D.C.
In 1973, Hughes became the General Sales Manager of Howard University's radio station WHUR-FM and helped to increase station revenue from $250,000 to $3 million in it's first year!!
Soon in 1975, Cathy became the first woman Vice President and GM of a station in the nation's capital. In 1980, Hughes founded Radio One, and with former husband Dewey Hughes, bought  WOL-AM 1450 in D.C. After the previous employees had destroyed the facility, she faced financial problems and soon lost her home and moved with her young son to live at the station.
Cathy Hughes fortunes started to change when revamped the r&b station to a 24-7 talk radio format with the theme "Information Is Power" Hughes served as the stations morning show host for 11 years. WOL is still the most listed to talk radio station in D.C.
Radio One went on to own 70 radio stations in nine major markets in the U.S.  As of 2007, Hughes son Alfred Liggins serves as CEO and president of Radio One and Hughes as chairperson.
In January 2004, Cathy started TV One, a national cable and satellite TV network which bills itself as the "lifestyle and entertainment network for African American adults". Both Cathy and her son have been named Entrepreneur of the Year by the company Ernst & Young. In 2015, a local business organization unofficially named the corner of 4th Street and H Street NE in Washington D.C. "Cathy Hughes Corner"
I have a lot of respect for Cathy Hughes. She is a strong lady in a man dominated field. She is bringing to the table something that is needed in media and that is diversity. Diversity is badly needed in radio and tv. For instance here in Seattle, there is ONE African American true news reporter in our area in Essix Porter on KIRO-TV. On radio in a market where Ms. Hughes does not have a station, there is barely a regular African American voice on radio.
One of my favorite programs is a program called "Unsung" on TV One. I never miss it. "Unsung" and "Shark Tank" (not on TV One) are my favorite programs on TV. So I hope Ms Hughes and TV One would open a new radio station here in Seattle with a strong signal. That would be great.  I hope you will support TV One and Radio One. A TRUE African American owned and operated media company.
Gordon Curvey