ARTICLE FROM counton2.com (Full story click here)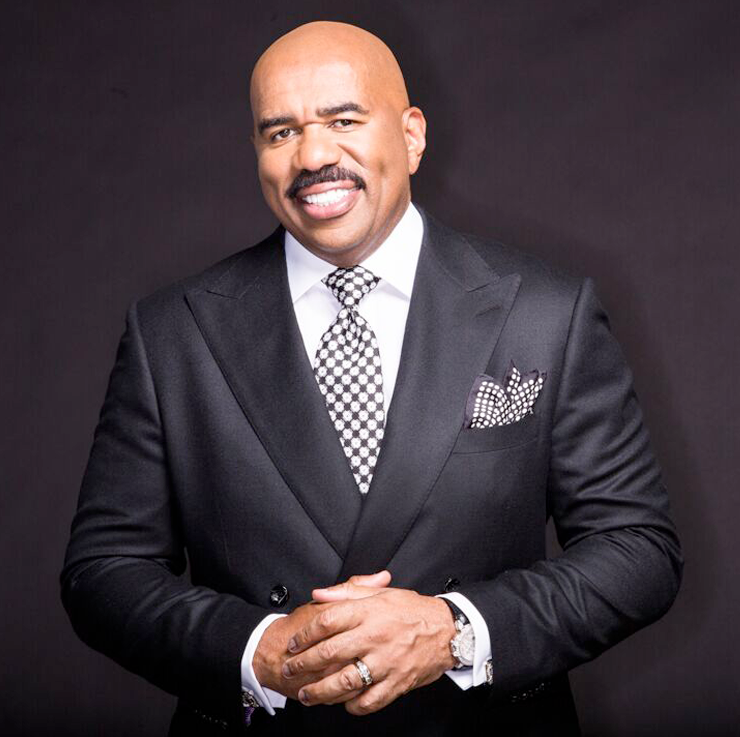 Ladies and gentlemen I have been holding back from putting comic/talk show host/game show host Steve Harvey on blast but I guess now is the time because this dude is out of control as far as I am concerned.
First this cat has a meeting with Donald Trump (refuse to call him President) that many in the African American community was not feeling at all and that is a fact. Football great Jim Brown and Kanye West also had meetings with Trump. Harvey comes out the meeting with Trump smiling and bragging on Trump. Give me a break readers. Harvey got roasted by many in the African American for his meeting with Trump.
First of all I have never thought Steve Harvey was that funny. I watched the Steve Harvey Show and never thought he was funny. Cedric The Entertainer was funny. Not Harvey. Others on the program were funny. Not Harvey. Plus I watched "The King Of Comedy" many times and I feel all the other comics were funny as hell…except Steve Harvey. Real talk!!
I will give the dude credit for doing a bunch of things to the table. But after reading this recent story about Harvey I have lost total respect of him. Who in the HELL does he think he is?
Harvey's talk show is moving from Chicago to L.A. soon. But guess what readers? Harvey reportedly did not tell his Chicago staff that most of them will be fired. But not only that. Harvey told staff members that they should not make eye contact with him unless he, himself requested it!! This is real folks!! And their is more readers.
Steve sent a memo to staff at the start of the fifth season of his talk show that informed each employee they would no longer be allowed to speak with him without a appointment! This is crazy!! And he told staff that there will be no meetings in his dressing room. No stopping by or popping in. NO ONE!! And NO ONE can come to his dressing room unless invited.
Plus he told staff his security team will stop everyone from standing at his door who have the intent to see or speak to him. And he wants all the "ambushing" to stop and that includes his TV staff and you must SCHEDULE AN APPOINTMENT!!
And it goes on and on. Read more at the link above. Steve Harvey has lost his freakin mind folks!! WHO IN THE HELL DOES HE THINK HE IS? What the hell is wrong with Steve Harvey? Harvey needs to get down from his high platform and join us normal folks down here at sea level. Maybe I should not feel this way but I hope Harvey's ratings will go downhill on all his TV and radio programs!! You cannot treat people in this manner.
Harold Melvin & The Bluenotes (f) the late Teddy Pendergrass had a big hit called "Bad Luck". This is what I wish for the big headed full of himself, Trump loving Steve Harvey!!
Gordon Curvey
Comments: gcurvey@yahoo.com