Thanks to Peter at the Tacoma News Tribune (now The News Tribune) for sending me a article from 21 years ago on yours truly and "Music Inner City TV" Man how time goes by readers. Here is the story from March 1996
————————————————————————————————————————————————————————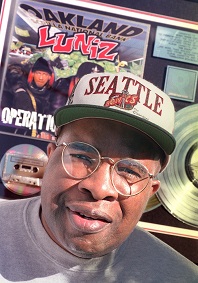 TALKING ABOUT RAP / PRODUCER OF TV SHOW THAT MIXES MUSIC VIDEOS AND COMMENTARY SEEKS WIDER AUDIENCE AND WANTS 'TO GET THE KIDS THINKING'
Subhead:
Reporter: Marisa Lencioni; The News Tribune
Desk:
Source:
Day: Saturday
Dateline:
Print Run Date: 3/2/1996
Digital Run Date:
Corrections:
Text:
Tune in to MTV, and you get the same Top-10 videos played over and over again, between the cartoons and awards shows. Tune in to BET, and you get videos not usually seen on MTV, but without a lot of context or discussion. However, if Gordon Curvey has his way, there may be yet another video viewing alternative for Northwest music fans.
"I always wanted to be a disc jockey when I was younger, " Curvey said. "Don Cornelius (the host of 'Soul Train') was my idol." Curvey has finally realized his chance to play disc jockey, but with music videos instead of records. The Seattle native will host his own half-hour special of rap and rhythm and blues videos and talk called "Music Inner City" at 1:30 p.m. Sunday on KTZZ, Channel 22.
But what makes this more than a video show is Curvey's idea of adding discussion and debate around the videos he plays. The theme for Sunday's show is "Gangsta Rap – Good Or Bad?" and interspersed among the videos will be discussions on the topic with Seattle-area high school students.
"My main goal is to try to reach the youth with this show, " Curvey said. "If adults watch, that's OK, but I want to get the kids thinking."
"Music Inner City" can currently be seen weekly on public access cable TV Channel 29 in Seattle at 2 p.m. Thursdays. Though the show's had a successful six-year run on public access, Curvey's dream is to have his show seen as widely as possible.
"I kept bugging KTZZ to air my show because I wanted to bring it to a larger audience, " Curvey said. "You know there's only one black-owned radio station in the area? And the station that has an all black-music format, KUBE, doesn't have one black disc jockey. I don't feel like we as African Americans are being well represented through the media around here. I'm trying to build a relationship with other media that has the same audience, and no one wants to cooperate. It's devastating. So I'm trying to do my own thing."
Curvey got his start as a video jockey about six years ago, with the help of disc jockey "Nasty Nes" Rodriguez and his record label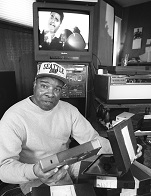 Nastymix. Nasty Nes helped Curvey to secure videos from record companies to air. With the videos, Curvey showed interviews with artists and public service announcements ranging from anti-drug and -violence messages to admonitions to stay in school. This became the "Music Inner City" formula. Curvey convinced KTZZ to give his show a shot, and he has secured the one-time airing on Sunday.
Projects that benefit young people and the African-American community in the Northwest are what motivates Curvey. A part-time counselor who works through the Seattle Parks Department, Curvey said the idea behind "Music Inner City" is to reach local youth in a way that's being overlooked: through the music they like.
"Rap music is all about us talking about what's happening in our community, " Curvey explained. "The images and messages in it really influence our youth. Some kids I talked to like gangsta rap and don't see any problem with it; others think it's bad. But it's important to talk about it."
Curvey said he tries not to censor the types of videos he shows, but definitely will not show videos that contain either extreme violence or degrading images of women.
"It's not that all the videos I show have to have a positive message, " Curvey said. "The experiences we talk about in the music aren't always positive. But I know kids are watching so the real hardcore gangsta stuff or the videos that degrade African-American women, I won't play."
He said he appreciates KTZZ's willingness to take a chance with the show and reach the audience Curvey said is usually ignored by mainstream TV.
"You can look at the TV ratings and see shows like 'Seinfeld' and 'Friends' at the top, but that doesn't reflect the African-American community, " Curvey said. Shows like "Martin" and "Living Single, " which consistently rate in the Top 5 with black viewers, usually rate in the lower fourth of the Nielsen ratings. "But I know the community is watching this. I'm doing it for them."
RADIO, TV, MUSIC: