Tag Archive | "baseball"
Posted on 09 April 2013 by curvey in Featured, Sports
ARTICLE FROM usatoday.com (Click here for full story)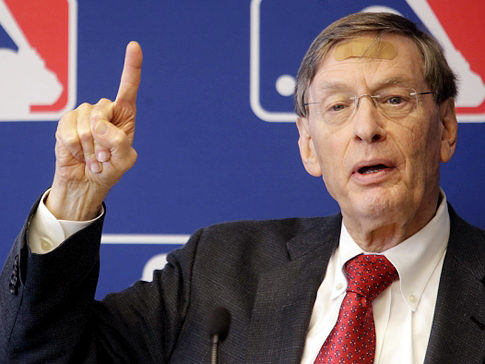 I saw this happening folks. I look at our Seattle Mariners and I no why a task force is being started by MLB head Bud Selig concerning the alarming decline of African Americans playing Major League Baseball. Our Mariners have zero African Americans on the team this year. This is sad readers.
Currently 7.7% of players in MLB are African American. Why is this alarming to Mr.Selig and many others? Well look at the NBA and NFL. Enough said. MLB has done a TERRIBLE TERRIBLE job in marketing to the African American community. They have started the RBI League to "try" to reach young inner city kids but that is token and it is not working.
Young African American kids are turning to football and basketball when they turn 11 or 12 years old and can care less about playing baseball. When a African American kid turns on the TV they see LeBron James, Dwayne Wade, Shaq, Kevin Durant, Kereem, Magic, Kobe, the Manning Brothers, Drew Brees, Chris Paul, Charles Barkley and more. The only MLB players you see are Ryan Howard for Subway and that's about it. Locally we see former player Jay Buhner doing commercials for goodness sake!! Yes Jay Buhner folks.
Young inner city kids need to see more African American baseball players doing marketing like CeCe Sabathia, Matt Kemp, Adam Jones, Torii Hunter and the Upton Brothers etc. When they see these players they might say "I want to play baseball like Matt Kemp"
As I type this blog, the Mariners are playing the Houston Astros here in Safeco Field. Readers I am searching to see ONE black face in the crowd. The three games so far at Safeco I turn on the TV and cannot find ONE African American in the crowd. Something is very very wrong on the field and off when it comes to African Americans and Major League Baseball.
So Commissioner Selig is starting this task force to see what in the world is going on when it comes to the huge decline of African Americans playing Major League Baseball.  I am glad to see Hall of Fame member Frank Robinson on the task force. As a sports fan it hurts to see the Seattle Mariners with a all white team along with players from South America etc. This week the Texas Rangers will hit Seattle with another team that has zero African Americans on the team. A African American manager but no African American players. WHAT? Their will be two teams on the field with ZERO African Americans on the field and in the dugout. Something is wrong.
This week a new movie on the late great Jackie Robinson hits the theaters. And on the 15th it is Jackie Robinson Day in MLB. I will be writing another story on my views of MLB and celebrating Jackie Robinson Day right here in the next few days. Comments? gcurvey@yahoo.com    Gordon Curvey
-Watch "Music Inner City Internet TV" covering politics, entertainment and more PLUS music videos! Just click the screen to the right and enjoy the show!/Music Inner City Store! Check it out!! HATS, T-SHIRTS, MUGS AND MUCH MORE!! SAFE AND SECURE!! www.cafepress.com/musicinnercityentertainment
Tags: 7.7%,african,American,baseball,bud,crowd,decline,field,force,jackie,league,major,mariners,NBA,nfl,players,playing
Posted on 26 November 2011 by curvey in Featured, Sports
"One Man's Opinion" by Gordon Curvey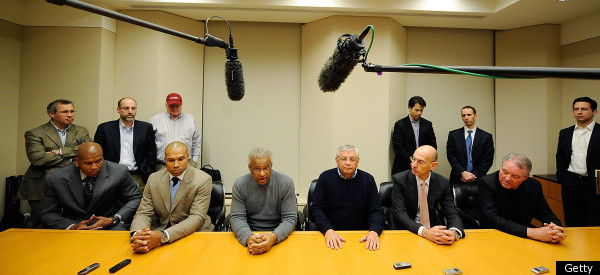 Last night after downing some more Thanksgiving food in my tummy, I flipped on to NBA-TV for the latest news on the NBA lockout. Because I knew the players and owners were meeting in New York.
And BAM! Breaking news! A tentative settlement has been reached between the players and owners. As a basketball junky I am happy as hell that the sport I love is coming back. The NBA is the #1 sport for me as a sports fan followed by football and baseball.
When the NBA season ends I get depressed as a sports fan. Real talk. And of course being here in Seattle, our Sonics left town for the one horse dust town Oklahoma City so I have to follow the many players from the Seattle area playing in the NBA like Jamal Crawford, Nate Robinson, Jason Terry, Brandon Roy, Spencer Hawes and many more.
If every thing goes right, training camp and free agent movement will start December 9th and the NBA season will FINALLY start on Xmas Day with a great triple header. The Knicks vs. Celtics, Lakers vs Bulls and a NBA finals matchup with the champ Mavs vs Heat.
Here is the thing readers. Why in the HELL did it take the owners and players this long to work this out? I just do not understand it. They had been having meetings for two years. Crazy folks.
But anyway I am just glad the NBA is back and I can sit in front of my big screen and enjoy the best atheletes in the world. Yes it is just a 66 game season. But guess what? A 66 game season is better than no season.
Gordon Curvey
Watch "Music Inner City TV" via Ustream TV. Recent and older programs with exclusive interviews, underground music videos and more! Plus watch the most recent program right here! From our program on Comcast/Xfinity On Demand.
And watch HOURS of more "M.I.C-TV" programs by just clicking the "Television Show" link above and listen to HOURS of "M.I.C Radio" programs from our program on 1150am KKNW here in Seattle.
Tags: baseball,basketball,bulls,finally,finalsout,football,heat,knicks,lakers,lockout,NBA,owners,players,settlement,television,tentative,tv
Posted on 10 May 2011 by curvey in Featured, Sports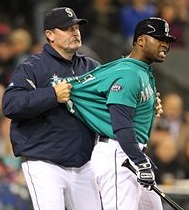 "One Man's Opinion" by Gordon Curvey
In the sports scene here in Seattle, the Seattle Mariners cut outfielder Milton Bradley from the team and I think it was the right move for the team to do.
Bradley was just not producing. He is getting paid $12 million and is hitting .213. I am sorry that is not cutting it. I am tired of seeing cats getting paid millions and not producing when I am out here trying to pay my bills, put gas in my car and food on my table.
Truth be told Milton Bradley has some problems. Yes I know the fans were getting on his case on the road and at home but why where ear plugs? I have never seen a baseball player do that. Never. Most likely fans were calling him the "n" word. But to wear earplugs?
Now I am on Bradley's side when it comes to not doing interviews with local sports radio stations KJR and 710 ESPN. Because he and Mariner player Chone Figgins are the sports radio hosts and callers favorite "whipping boy"
KJR host Dave Mahler even called Figgins "a common criminal" over the air a few weeks ago over the air because he was mad that Figgins did not answer KJR reporters questions after a loss.
KJR management has covered up Mahler's comments. I went to KJR to ask for a copy of Mahler's problem and management told me "it was not recorded" Which is a flat out LIE! I have not given up on Mahler and his comment because the NAACP is upset at Mahler's comment regarding Figgins.
Will I listen to KJR and 710 ESPN about the cutting of Bradley? Hell no!! Because I know they will be blasting Bradley and it will go over the line.
What I am saying here is that the cutting of Milton Bradley from the Seattle Mariners was the correct move for the team. I am glad another brotha Mike Wilson came up from the minors. Why am I glad?
Because I want to see more African American young kids playing baseball. So when local Seattle area kids in the inner city see a Chone Figgins or a Mike Wilson playing for the Mariners that look like they are, they might want to try playing baseball along with football and basketball.
Tags: baseball,blasting,chone figgins,espn,fans,mariners,milton bradley,opinion,seattle
Posted on 23 January 2011 by curvey in Featured, Sports
ARTICLE FROM seattletimes.com (Full story click here)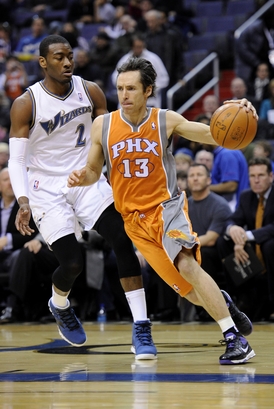 I have give credit where credit is due. Seattle sports writer Steve Kelly wrote a good story in the Seattle Times (click the link to read) about how basketball helped him and how he realizes how basketball brings black faces and white faces together.
And it is true. No other major sport has the personalities basketball has so in my opinion and Kelly's it brings us more together as a people.
For instance I went to a game right before the NBA season started at Seattle's Garfield High School put on by Seattle native and Portland guard Brandon Roy. At the game you saw Asians, East Africans, African Americans and whites in the audience having a good time watching the game of basketball.
I am sorry to say, when you go to a major league baseball game at Safeco Field here in town, the only people of color you see are the ushers and the ones on the teams. It is a little better at NFL games but not much.
But if you look at the audience at a NBA game it is a rainbow of colors. Just like it is in America. It is that way at a high school game, college game and of course the NBA.
Kelly's article was a great article. I just wish Steve Kelly would be bold enough to write a story in the Seattle Times regarding the radio station he has a show on every week. Sports radio KJR which does the COMPLETE OPPISITE of what his article is about.
The station has ZERO diversity. NONE. In sales, producers, on the air and in management. This does not reflect the fields and courts of America. In my opinion, yes basketball knows about the word DIVERSITY. It helps to bring people together. But Steve a sports radio station which you work for, does not know about the work DIVERSITY nor do they care.      Gordon Curvey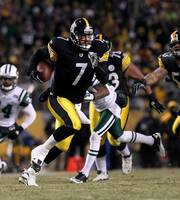 It is the Steelers vs. the Packers in the Super Bowl. I wanted the Jets and Green Bay but it was not meant to be. But it will be a good Super Bowl. To read more on the upcoming Super Bowl and more Click here. Story via sports.yahoo.com
Tags: baseball,basketball,diversity. gordon,inner city,kjr,NBA,radio,seattle,steve kelly
Posted on 16 March 2010 by curvey in Featured, Sports
ARTICLE FROM pga.com (Full story click here)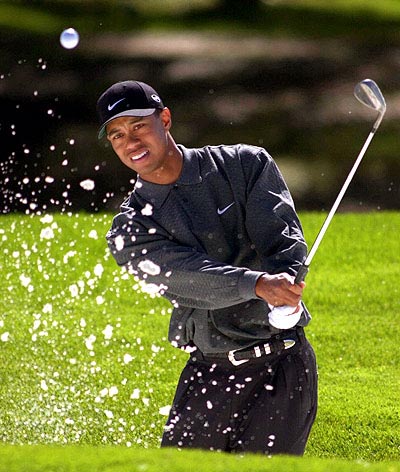 Well it is about time. The #1 player in the world of golf Tiger Woods is returning to competition on the course at the 2010 Masters in April.
I know fans are happy, CBS, NBC, ESPN, ABC etc is happy, advertisers are happy.
If you are a golf fan, you are happy that Tiger is returning to play.
With Woods returning, that is more cash for everyone. No matter what you think about the problems of Tiger's love life, one thing is for sure. He is the best golfer maybe in the history of the game and the game needs Tiger Woods.
Yes certain players on the tour blasted Tiger about his problems. Even a older legend like Tom Watson said some things about Tiger. But I am sure Tiger will make folks forget all that win he starts kicking their butt on the golf course and wins events just like before.
Commercials are running already on CBS about the Masters and the return of Tiger. When Tiger arrives at Augusta, it will be one of the biggest days in the history of sports on TV or TV period besides President Obama taking office.
I will be watching. Like I said before the only time I watch golf is when Tiger is near the lead and maybe John Daly. That's it.
So welcome back Tiger. The sports world needs you and golf needs you. I hope Tiger learned from his huge mistakes and becomes a better man, a better husband and a better father.
BREAKING NEWS: You can now watch ESPN's "Right Now" right here on "M.I.C News Magazine"!! Basketball, football and baseball news and much more. Updated all the time, 24 hours a day!!
"Music Inner City News Magazine" The #1 urban online magazine in the Northwest (U.S)
Tags: 24/7,abc,advertisers,augusta,baseball,basketball,cbs,comcast,espn,football,golf,hip-hop,history,john daly,legend,magazine,masters,nbc,online,Podcast,pop,president obama,r&b,rap,right now,tiger,tiger woods,tom watson,tv,updated,urban,webcast,win,woods
Posted on 14 March 2010 by curvey in Sports
ARTICLE FROM huffingtonpost.com (Full story click here)
"One Man's Opinion" by Gordon Curvey
I am happy as
hell that NFL player Chad Ochocinco has fired back at ESPN Radio host Colin Cowherd about Colin's constant blasting of him on his radio show.
Cowherd seems to think he is a Mr. Know It All when it comes to sports and even life. He comes off as a tremendously arrogant fella who speaks out on folks at will on his program and seems to think guys like Chad will not retaliate. Chad has.
People don't understand Ochocinco. He is a young fella having fun. He likes to use the technology available like computers etc. He uses Ustream.tv and does his Ustream show when he is on the road via his iphone etc.
He is having fun. I rather have Chad around to read about than baseball players who have personalities of a rock outside on the street. That is way you don't see any baseball players besides Derek Jeter doing commercials on TV. But you see Chad, Barkley, D-Wade, Dwight Howard, Manning and others with personalities.
Colin does not say you don't read about Chad doing drugs, clubbing at a nightclub at 2am, beating up his wife atc. He is at home on the computer etc having fun. Now during the off-season he is going to be in "Dancing With The Stars"
I am tired of clowns like Cowherd and even this other motor mouth "JT-The Brick" on Fox Sports Radio who also likes to blast Ochocinco at will in negative ways. Calling him negative names over the air. J.T. and Colin are two peas on a pod. Two motor mouth so called talk show hosts who like to talk about African Americans in negative ways all the time over the air.
J.T. was just on the air giving his opinion as to why African Americans kids are not playing baseball. He does not know what the hell he is talking about unless you walk in our shoes!!!
This just shows once again, about sports radio. Their is a MAJOR PROBLEM in AM sports radio in Seattle and the U.S. The problem is a lack of African Americans in sports radio. It is dominated by white men who know NOTHING about the African American culture or lifestyle. Nothing.
In Seattle, sports radio KJR and 710ESPN have a grand total of ZERO African Americans with his or hers own program. THIS IS A PROBLEM WHEN AFRICAN AMERICANS DOMINATE THE MAJOR SPORTS IN THE U.S.
Thank god for Stephen A. Smith and Mike Wilborn and the "Two Live Stews" and a few others in sports radio. We need more. At KJR and 710ESPN here in Seattle their is no African Americans as producers, in sales, in management and of course over the air.
This is why I have started "Sports Inner City Online". A site that has the African American point of view when it comes to sports.
"Sports Inner City Online" is one of only a few urban sports websites on the Internet. PLEASE spread the word about our site. Please send us a e-mail at gcurvey@yahoo.com and tell us how we can improve the site. It is at www.sportsinnercity.com

Tags: 710espn,african americans,barkley,baseball,blog,Chad cchochico,clubbing,comments,commercials,computer,d-wade,dwight howard,espn,football,inner city,jeter,jt,manning,music,negative,nfl,players,pod,Podcast,seattle,sports radio,website,yahoo