Tag Archive | "blasting"
Posted on 10 May 2011 by curvey in Featured, Sports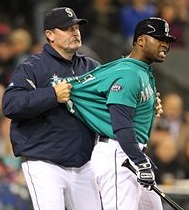 "One Man's Opinion" by Gordon Curvey
In the sports scene here in Seattle, the Seattle Mariners cut outfielder Milton Bradley from the team and I think it was the right move for the team to do.
Bradley was just not producing. He is getting paid $12 million and is hitting .213. I am sorry that is not cutting it. I am tired of seeing cats getting paid millions and not producing when I am out here trying to pay my bills, put gas in my car and food on my table.
Truth be told Milton Bradley has some problems. Yes I know the fans were getting on his case on the road and at home but why where ear plugs? I have never seen a baseball player do that. Never. Most likely fans were calling him the "n" word. But to wear earplugs?
Now I am on Bradley's side when it comes to not doing interviews with local sports radio stations KJR and 710 ESPN. Because he and Mariner player Chone Figgins are the sports radio hosts and callers favorite "whipping boy"
KJR host Dave Mahler even called Figgins "a common criminal" over the air a few weeks ago over the air because he was mad that Figgins did not answer KJR reporters questions after a loss.
KJR management has covered up Mahler's comments. I went to KJR to ask for a copy of Mahler's problem and management told me "it was not recorded" Which is a flat out LIE! I have not given up on Mahler and his comment because the NAACP is upset at Mahler's comment regarding Figgins.
Will I listen to KJR and 710 ESPN about the cutting of Bradley? Hell no!! Because I know they will be blasting Bradley and it will go over the line.
What I am saying here is that the cutting of Milton Bradley from the Seattle Mariners was the correct move for the team. I am glad another brotha Mike Wilson came up from the minors. Why am I glad?
Because I want to see more African American young kids playing baseball. So when local Seattle area kids in the inner city see a Chone Figgins or a Mike Wilson playing for the Mariners that look like they are, they might want to try playing baseball along with football and basketball.
Tags: baseball,blasting,chone figgins,espn,fans,mariners,milton bradley,opinion,seattle
Posted on 09 March 2010 by curvey in Featured
ARTICLE FROM huffingtonpost.com (Full story click here)
"One Man's Opinion" by Gordon Curvey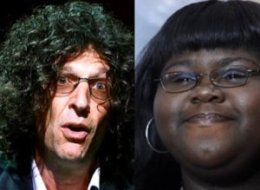 I CANNOT believe what so called "shock jock" Howard Stern said about Oscar nominee actress Gabourey Sidibe over the air about her size!
Please listen to his STUPID and yes RACIST comments about Ms. Sidibe by clicking the link above. I am real bothered by his comments. And I am bothered by his sidekick Robin saying what she said too! The question is WHY DID HOWARD MAKE THESE COMMENTS AND WHY IS THIS NOT BIGGER THAN WHAT IT IS?
First of all Gab will find work again!!! She is looking over new roles right now Howard!!! And not only that I am sure OPRAH AND SPIKE AND DENZEL AND TYLER PERRY and others will make sure she will have a job acting in a movie!!! What a STUPID thing to say that Gabourey will not find another acting job!!!
It hurts me as African American that Howard would say that about her and hurts me even more that Gab's African American sista would also make negative comments about Sidibe!!!!
Gabourey seems like such a down to earth young lady with a great personality. Yes she is a large lady. This is true. And hopefully she will shed some pounds for her health. But when she is ready she will. She does not need CLOWNS like Howard and Robin blasting her on national radio!!
And here is a question. What kind of talent does Howard have or Robin have? I think the pitbulls that Shorty trains on "Pit Boss" on TV have more talent than Howard and Robin!!!!!!!!!!! All Robin does is laugh and makes a stupid comment after Howard's stupid comments!!!! It is beyond me why he makes millions. He is a no talent!!
These comments made by Howard and Robin should make Sidibe work harder and show the fool and crazy Howard that she is going to work and she will continue to be a wonderful actress and a great lady.
What Robin should have said on the radio as a African American female is how proud she was of Gabourey to be nominated for a Oscar and how proud she was of Monique to win a Oscar!!!! Instead of the very negative things said. Those comments make me angry and also very very sad.
What Howard said about Gabourey Sidibe is FLAT OUT WRONG AND TERRIBLE! I hope you readers are as bothered as I am by his comments.
Tags: acting,actress,african American,bigger,blasting,denzel washington,fat,gabourey Sidibe,gordon curvey,hollywood,howard,howard stern,huffington post,hurts,jock,lady,millions,monique,movies,music inner city,national,negative,online,oprah,oscar,personality,pitbulls,Podcast,precious,radio,robin,seattle,shed,shock,shorty,sista,size,spike lee,stern,stupid,talent,tyler perry,unfair,washington,webcast,weight,young