Tag Archive | "Bush"
Posted on 19 April 2011 by curvey in Featured, Politics
ARTICLE FROM huffingtonpost.com (Full story click here)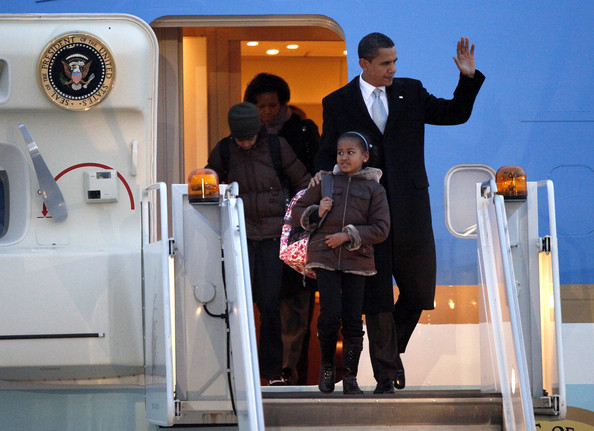 President Barack Obama recently held a series of interviews with about five reporters from various cities at the White House.
One reporter I guess you can say got under the President's skin during a interview. A reporter from WFAA in Dallas Brad Watson asked questions of the Prez and continued to basically talk when the Prez was not finished answering his question.
He did it numerous times. So after the interview, President Obama had to let Mr. Watson know that he was not happy with the reporter not allowing him to finish his answers. Watch the video with the President and Watson by clicking the link above.
This is not the first time reporters have cut the President off before he is finished answering a question. Fox News host Bill "Mr. Full oF Himself" O'Reilly cut the President off over and over during a interview a few months ago and also another Fox News host did the same thing. Why is this happening to the President Of The United States?
I do not remember this happening to President George W. Bush. But it has happened to President Obama over and over. With Watson, you can see the disrespect in his face he had for the President. He seemed to want to make a clear point that President Obama was not popular in Texas.
The cutting off of the President before he finished answering questions by Brad Watson and other reporters is total and flat out disrespect of the President Of The United States. Pure and simple readers.
Check out some of the latest in urban sports news on "Sports Inner City Online" at www.sportsinnercity.com  One of only a few urban sports websites on the Internet. Plus you can find Ustream TV, ESPN "Right Now" with the latest in NBA and NHL playoff highlights and more!!
Tags: bill o'reilly,Bush,dallas,george w,interview,reporters,wfaa,white house
Posted on 17 March 2010 by curvey in Featured, Politics
ARTICLE FROM huffingtonpost.com (Full story click here)
"One Man's Opinion" by Gordon Curvey

I just saw the so-called interview that this so called host on Fox News did with President Obama. I will not use the clowns name in my article.
It was one of the worst things I have seen on TV. This dude interrupted the President over and over and over again in this interview on Fox News. Look up the word disrespect. This is what the so called interview was.
If I was the President, I would have worked out of the room and ended the interview. This was planned by Fox News to try to make the President look bad.
In my opinion, President Obama did not have to go on Fox to pitch his health care plan. That would have been the last place I would have went.
Hannity, O'Reilly and others on Fox News treat President Obama like dirt. They don't even call him President Obama. They call him 'this guy" or "that guy" or even just "Obama". But they will call W. Bush "President".
And by the way, do you think Fox would have treated treated W. Bush in the manner they treated President Obama? The answer is NO!
Check out how the fella treated the President in the link above.
Watch for all the highlights of the NCAA basketball games as well as NBA and spring training baseball highlights, NFL news and more right here on ESPN "Right Now".
It is updated 24/7 morning noon and night. Also listen to "Music Inner City Radio" podcasts. Entertainment news, classic soul, hip-hop and r&b, and much more.
Tags: article,basketball,Bush,clowns,disrespect,entertainment,fox news,games,gordon curvey,Hannity,interview,music inner city,news,nfl,O'Reilly,Podcast,president obama,seattle,sports inner city,washington,webcast