Tag Archive | "cleveland"
Posted on 14 June 2018 by curvey in Featured, Sports
ARTICLE FROM espn.com (Full story click here)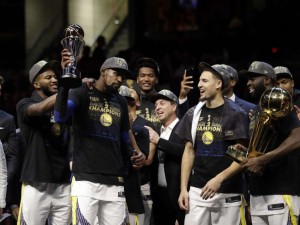 If you are a sports fan you know the Golden State Warriors won another NBA title the other day by sweeping away Lebron and the Cleveland Cavs 4-0 in the NBA Finals. Three titles in four years for the Warriors. And many are not happy with Golden State and I am one of them as well as a NFL player.
Myles Garrett of the Cleveland Browns says with Kevin Durant joining a already great team it "broke the league" I agree 1000% with Garrett! To this day I have a huge huge problem with Durant leaving OKC after the Warriors eliminated OKC in the playoffs a few years ago.  I just think it was wrong for KD to join a already great team at GS with Curry, Green, Thompson in place on the team. A team that won over 70 games WITHOUT Kevin.
Curry, Green and Thompson did a great recruiting job in getting Durant to come to the Warriors as a free agent. But I agree with Myles Garrett. And many other NBA fans agree also that Kevin Durant choice to join the Warriors was just unfair to the rest of the NBA. If you noticed NBA commissioner Adam Silver was not to happy on the stage when he presented the Warriors with another NBA title trophy. I was not happy too.
Watching KD holding his second MVP Finals trophy in a row and watching Durant and his teammates kissing the title trophy made me go grab my remote and go watch something else on TV. It was not a good look in my opinion readers. It just was not.
Now NBA teams are trying to figure out how to stop the Warriors from winning another title and then another title.  Because truth be told the Warriors are still a young team and just make a few adjustments here and there to continue to win NBA titles. The NBA finals ratings suffered because fans are tired of seeing the Warriors.  Tired of seeing them in joy after winning another title. Everyone knew at the start of the season who would play in the NBA finals….the Warriors vs. Lebron and the Cavs.
So readers I hope and pray as a NBA junky that the rest of the NBA will wake up and knock the Warriors off their pedestal. No more damn titles. I do not want to see the Warriors in the Finals anymore! I do not want to see KD smiling after winning another title. I know Adam Silver is in agreement with me and many other NBA fans.
Comments: gcurvey@yahoo.com
Tags: adam,agent,browns,cavs,cleveland,commissioner,curry,durant,eliminated,garrett,great,green,joining,kd,leaving,lebron,myles,NBA,okc,playoffs ratings,silver,team. choice,thompson,titles,trophy,warriors
Read More Comments Off on Browns Myles Garrett Says KD "Broke The League" I AGREE!
Posted on 27 May 2011 by curvey in Sports
ARTICLE FROM miamiherald.com (Full story click here)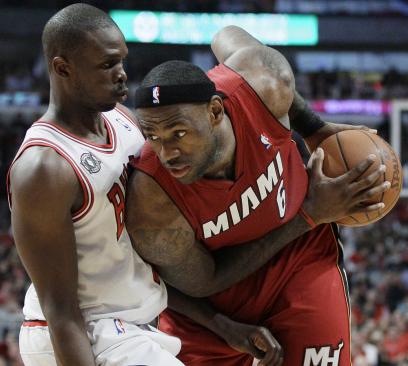 For all you LeBron haters out their I feel sorry for you. Because his Miami Heat are in the NBA Finals going up against Big Dirk, Seattle's own Jason Terry and the Dallas Mavericks.
This is what James wanted when he joined forces with D-Wade and Chis Bosh on the Heat. A chance to win a lot of NBA titles. Well in year one of the Big Three they will get their chance.
It is time to face reality. LeBron James is a GREAT player. At 25 he still can get better and better. Can you imagine that sports fans? James getting better? It is going to happen.
Cleveland Cavs fans have to feel terrible to see James in the finals. I know sports radio in Cleveland is buzzing with James haters. You that is the case.
Anyway it will be a real interesting NBA Finals. Who on the Heat will watch Big Dirk? This cat is on FIRE!! He is a 7 footer with a fall away jumper and other types of shots. Do not be surprised to see James watching him.
LeBron can play all five positions on the court. No other NBA player can do that. He is just a great player so all the haters against him need to stop and realize how great of a player he is.
Of course I want to see Seattle native Jason Terry win a ring. So I hope the Dallas Mavs win the NBA title. It will be a great series.   Gordon Curvey.
Also follow us on our "sister" site. "Sports Inner City Online" at www.sportsinnercity.comWith sports news and issues, Ustream TV, ESPN "Right Now" (updated all the time 24-7), "Sports Inner City Radio" and more!!
Tags: cavs,chis bosh,cleveland,d-wade,dirk,finals,haters,james,jason Terry,labron,mavs,miami,NBA,seattle
Posted on 02 December 2010 by curvey in Featured, Sports
ARTICLE FROM chron.com (Full story click here)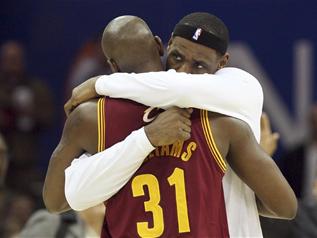 Sports fans what I saw tonight has me MAD as a guy who loves the sport of basketball. I was hyped up to watch LeBron James come back to Cleveland to play the Cavs. I was ready. I had my popcorn popped and was ready for a good game. Boy was I let down.
First of all I saw James come on the court smiling. But what really pissed me off was seeing a few of the Cavs players hugging James!! WHAT THE HELL!!! Why on earth would ANYONE on the Cavs want to hug LeBron after this cat left the Cavs last summer. When James left he was saying the Cavs team is not a team I can win a title with so I am cutting out of town.
James toyed with the pathetic Cavs. One time he hit a jumper from about twenty five feet right in front of the Cavs bench and he looked at a few of the Cavs smiling!! What the hell!!
The fans who yelled stuff at James had ZERO effect!!! NONE!!!! It was like a JV team playing against the varsity. Boys against men. I was real upset as a sports fan at the TOTAL lack of effect by the Cleveland Cavs in a game that should have been like their game seven. All Cavs fans should be real upset at the team and even head coach Byron Scott. They let their city down. And let me down as a basketball fan.
Again why would ANY Cavs player hug James before the game or after the game. That was terrible. If I was the owner of the Cavs I would be upset at his team. This kind of crap I saw tonight by the Cavs would NOT have happened back in the day when Rick Mahorn and his bad boy Detroit Pistons was playing.
James would have been laid out when he came into the lane for a dunk like he did tonight. The Cavs did not put a hand on LeBron!!!! What a joke!!! What a joke!!!   Gordon Curvey
"Music Inner City News Magazine" is the #1 urban website on the Internet from the Pacific Northwest!! To adversite with us via a banner or a TV/webcast commercial call 206-445-3989 or 206-414-6118
Get your headphones and enjoy our webcasts and podcasts. Just click the TV screen to the right and also the links above and enjoy!!
Tags: basketball,byron scott,cavs,cleveland,fans,hugs,james,lebron,seattle
Posted on 08 July 2010 by curvey in Featured, Sports
ARTICLE FROM clevelandplaindealer.com (Full story click here)
"One Man's Opinion" by Gordon Curvey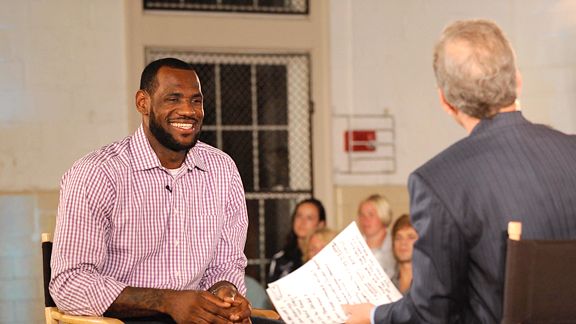 Well we all know now where LeBron James is going to play and that is with the Miami Heat with Dwayne Wade and Chris Bosh.
In my opinion I am pissed at James. Why? Because #1 he is arrogant. During his stupid hour long show on ESPN he talked in third person. #2 He flat out let the fans down in Cleveland. If I was in Cleveland or his hometown Akron, I would feel tremendously upset at self titled "King James". "King James" a cat who has ZERO RINGS!!!!  LET ME REPEAT ZERO RINGS!!!!! "King James" my a..!!!!!!
Having a team of Bosh, James and Wade is a cop out. And if they don't win, I will be happy. I hope the Celtics and Orlando and the Hawks kick the Heats ass!!!
I was a BIG fan of James. But I am not anymore. He thinks he is bigger than the game. His fame has gone to his head. James going to the Heat hurts me as a NBA fan. A NBA junky. I am real bothered by this move by James as a sports fan.
I just heard Chris Brussard on ESPN say James left $20 to $30 million on the table in order to win. Yo Chris…..I DON'T CARE!!!! i HAVE LOST RESPECT FOR THE SO CALLED "King James".
Well Cleveland fans I guess be happy you still have a NBA to cheer on even without James. Our Seattle Sonics left town after forty one years here. We don't have a team to cheer on at all. But as the late 2Pac rapped…..Yo Cleveland sports fans KEEP YOUR HEAD UP!!!!
Tags: Bosh,cleveland,d-wade,fan,heat,james,miami,NBA,Sports