Tag Archive | "dangerous"
Posted on 19 August 2012 by curvey in Featured, Politics
ARTICLE FROM huffingtonpost.com (Full story click here)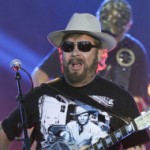 Hank Williams Jr. is a real clown and should be a part of the Ringling Bros Circus! One thing for sure he lets everyone knows how he feels about President Obama. For the second time he has said in public how he REALLY feels about our President.
At a recent event Williams told the crowd that the President "hates America" "is a Muslim" and other crazy things. Dude is a far right clown and he is also dangerous. Why is he dangerous readers? Because fools like him brings many other racists out of the closet. And brings out more hate groups against the first African American President.
What also does not help is Sean Hannity and Fox News who on a night basis put President Obama on full blast on national TV and also helps bigots like Williams Jr stay strong against the President. After all have you heard Hannity and O'Reilly say that fools like Williams Jr. are wrong in their unfair treatment of President Obama? Have you heard Rush or Beck say it is wrong for guys like Williams Jr. to say the president is "a muslim" or that the President "hates America"?
As a supporter of President Obama I am asking that other supporters stand up for the President. The election is in November. If you are a supporter of President Obama and Vice-President Joe Biden and even First Lady Michelle Obama, it is time to stand up and do what you can to help our President. I am going to do my small part for sure.
Gordon Curvey
Tags: beck,bigots,circus,clown,crazy,dangerous,election,fox news,hank,Hannity,hates,michelle,muslim,national,obama,politcs,president,public,ringling,rush,sean,second,supporter,unfair,williams
Posted on 23 March 2010 by curvey in Featured, Politics
ARTICLE FROM seattletimes.com (Full story click here)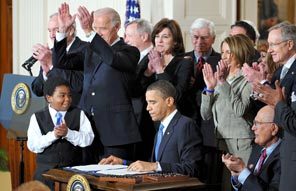 "One Man's Opinion" by Gordon Curvey
Today was a great day in American history when President Obama signed a health bill that has been talked about for decades and decades. What a day for America.
At the President's side as he signed this historic bill was 11 year old Marcelas Owens who is from right here in Seattle, Washington. His mother lost her job, lost her health and I am sorry to say died.
The President had young Owens by his side at two events today regarding the health bill. I know this is something he will never forget the rest of his life.
What bothers the hell out of me is the right. And their racist tactics against President Obama. Calling him negative names etc. I am bothered by the far right "tea party". Who are making people very very angry at the President to the point I think someone might try to kill President Obama. The far right is just that angry at the President.
NOT ONE Republican voted for the historic health care bill. NOT ONE!! This is crazy, this is a outrage. I am telling you readers. All the folks in the tea party, all the folks who did not vote for this new health care bill are speaking up LOUDLY and in very ANGRY ways because of one thing and one thing ONLY……it is because President Obama is the first African American President in our history and they CANNOT AND WILL NOT DEAL WITH THIS. Period. The far disagree with EVERY THING PRESIDENT IS DOING. EVERY THING!!!
I say a prayer for the President and his wonderful family EVERY NIGHT that they stay safe from the angry mob called the far right. What the far right is doing is VERY VERY DANGEROUS FOLKS. Please realize this. And if your a supporter of our President, please join me and say a prayer for him and his family every night.
"Sports Inner City Online" is one of only a few urban sports websites on the Internet. Covering urban sports news and issues. Plus ESPN news, Ustream TV and "Sports Inner City Radio" podcasts that features classic soul and hip-hop music, interviews, and more.
Tags: American,angry,bill,dangerous,espn,far right,health care bill,Marcelas Owens,news,One Mans Opinion,president obama,seattle,signed,Sports,ustream tv,washington