Tag Archive | "Democrat"
Posted on 06 September 2012 by curvey in Featured, Politics
"One Man's Opinion" by Gordon Curvey
I don't know if you are a supporter of President Obama or Mitt Romney but I will tell you what. I am a supporter of President Obama and I am going to support his re-election for four more years.
This week I watched great speech after great speech at the Convention in Charlette. Unlike the BORING Republican convention in Tampa Bay where they told lie after lie after lie about President Obama. Remember one thing readers and that is from day one the right had one thing in mind and one thing only and that is to make President Obama a one term President of the United States. Period.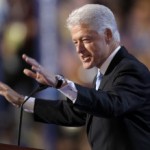 They had a meeting with Republican leaders on the day the President was sworn in to plan on making him a one term President. And they have tried to do every thing that goes against our President. Heck some of them still think President Obama is not a American. Or he is "not one of us"
But in Charlette I watched some of the best political speeches I have ever seen. First Lady Michelle Obama walked onstage in Tampa with a great looking dress and gave a great speech. She knocked it out the park. The governor of Ohio gave a great speech. He knocked it out the park.
Vice-President Joe Biden gave a great speech too. Brought the house down and yes he knocked it out the park. And the best hitters in my opinion were President Bill Clinton and of course President Obama. The President NEVER gives a boring speech. When he speaks it is like a African American minister giving a sermon on Sunday morning. I feel insprired every time I here a speech by our President. Real talk.
But to be truthful the best speech in my opinion was by President Bill Clinton. It was a 45 min political lecture by the former President. I am not going to lie. It was the best speech I have ever heard. He just broke it down about the Republicans and Paul Ryan and Mit Romney. Point by point and issue by issue. Bill Clinton is one thing folks…a politician and that is what he is. Clinton in my opinion won the race against Romney with his speech.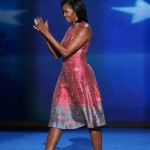 The Democratic Convention was the most diverse event I have seen. All races and creeds. Keep this in mind readers. And that is the Republicans only had 47 African American delegates out of thousands. Only 47!! That is not American folks.
So let's see what happens now that the two conventions are in our past. I hope President Clinton and others help out the President out on the road  to help re-elect President Obama so he can finish what he has started.
After all as Clinton said it is no way he can get every thing done the way President Obama wants in one term.  He has to have another term to help people get back to work.
If Mitt Romney and Paul Ryan wins well I might as well pack my bags and move to Africa or something. In my opinion if the Republicans win minorities are in trouble in America. This is a fact. It just cannot happen.
Gordon Curvey
Tags: American,charlette,convention,Democrat,fist,lady,michelle,mitt,obama,paul,president,race,republican,romney,ryan,speech,tampa
Posted on 28 March 2010 by curvey in Featured, Politics
ARTICLE FROM wikipedia.com (Full bio click here)
"One Man's Opinion" by Gordon Curvey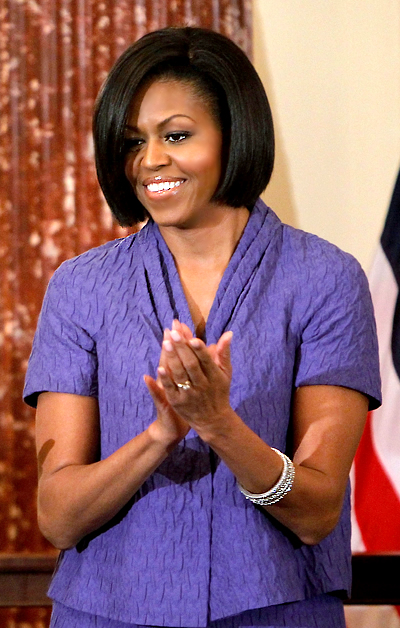 Friday night I was watching Fox News and the "Hannity" program to see what Democrat he was going to beat up on or what negativity he was going to throw down on President Obama.
Then all of a sudden BAM!! He blasts Nickelodeon TV for giving First Lady Michelle Obama a award for the work she is doing. Hannity said the kids station is "leaning toward the left"  WHAT!!!!! I could not believe what I was hearing readers. It was a OUTRAGE!!
If Hannity is not beating up on the President, then he will pick his wife to beat up on. Since the President has been in office I do not think Hannity and others on Fox News or even others on the right, have said anything positive about the beautiful and intelligent and outstanding Michelle Obama.
Michelle is a GREAT First Lady and a GREAT role model for young girls and young ladies of ALL COLORS AND RACES. And also she is a wondeful mom to her kids. How cats like Hannity can say ANYTHING negative about her and a award she is getting is BEYOND ME!!!
Watch "Music Inner City TV" webcasts right here. Just click the screen to the left for our latest program and previous COMPLETE programs click "Television Show" link above.
And also listen to "Music Inner City Radio" podcast here from our "Alternative Talk" 1150am KKNW programs. Just click "podcast" link above. Entertainment and urban sports news, classic soul and hip-hop music and exclusive interviews!!
Look for EXCLUSIVE interviews and music videos that no one in the Northwest can offer.
Despite all the hate from promoters and local artists here in the Seattle area, we are here to provide entertainment and information that NO ONE in the Northwest can offer!! For the supporters of "Music Inner City Entertainment" THANK YOU!!
Tags: artists,award,colors,Democrat,exclusive. interviews,First Lady,fox news,Hannity,kid's choice awards,Michelle obama,music inner city,music inner city radio,negative,nickelodeon tv,northwest,obama,podcasts,president obama,races,seattle,sports inner city,washington,webcasts