Tag Archive | "drake"
Posted on 14 February 2011 by curvey in Featured, Hip-Hop/R&B
ARTICLE FROM cnn.com (Full story click here)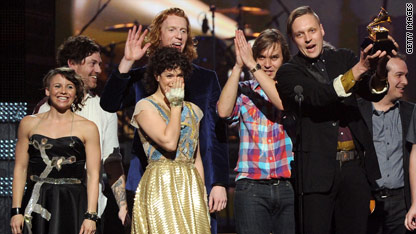 As a person who is in the music industry for more than twenty years I am shocked at what happened at the Grammy Awards I watched on CBS. What are people thinking?
How on earth did The Suburbs beat out mega star Eminem for Album of the Year? His "Recovery" was the year's best selling album. I cannot put in my brain how Slim Shady lost to The Suburbs. Something is very wrong there.
Also nothing against my African American sista Esperanza Spalding BUT how on earth did she win Best New Artist? What!! I had never even heard of her. She won the award beating Drake and a young talented young fella who has taken the industry by storm and even has a movie coming out, Justin Bieber. What!! How can that happen?
Shout out to the legendary Mavis Staples for finally winning a Grammy after decades in the industry. I was so happy to see her win. Also another legend Sir Paul McCartney won his first Grammy in 31 years for Best Solo Rock Performance for "Helter Skelter". A song his former group, you heard of them…The Beatles first recorded in 1968.
And if you don't know, Lady GaGa arrived to go down the red carpet in a big giant egg!! I am not lying folks she did!! You have to give it to GaGa. She is a for real entertainer with her own style. Unlike many many artists.
But I just cannot get over The Surburbs and Esperanza Spalding winning awards. Unreal folks.    Gordon Curvey
Tags: awards,cbs,drake,eminem,grammys,justin bieber,Laddy GaGa,Paul McCartney,The Suburbs
Posted on 19 December 2010 by curvey in Featured, Much More
ARTICLE FROM eurweb.com (Full story click here)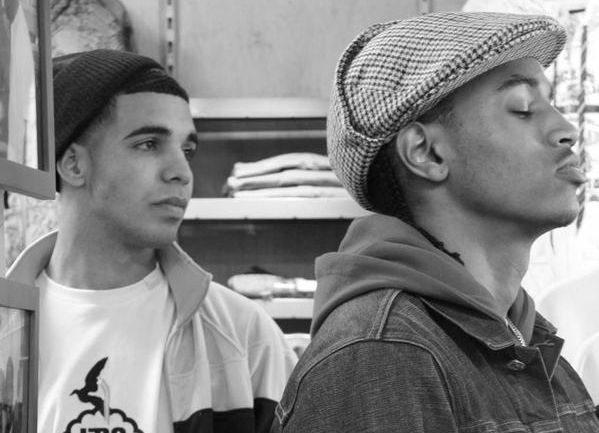 It seems there has been a lot of rumors lately about entertainers being gay or lesbian in the news or the internet but are they true or do you care?
There are rumors about former guest on "Music Inner City TV" media icon Oprah being in a relationship with her friend Gayle King. These rumors are nothing new.
How bout Soulja Boy being gay? Or does Mariah Carey go both ways or other rumors that is out there in rumor land.
Now there is rumors on r&b star Trey Songz being gay and now a new one. Is rapper Drake gay and not only that is he in a relationship with Songz?
These rumors are off the hook! Here is the question readers. Do you think Drake and Trey Songz are in a relationship. And also do you care?
I don't care about if they are. Their love life is there love life. I don't give a damn. All I care about is if Songz and Drake is making good music. That's all I care about. But there would not be a TMZ or other programs is it was not for these rumors and stuff right? Gordon Curvey
Please log on to one of only a few "urban" sports sites on the Internet "Sports Inner City Online" at www.sportsinnercity.com"
Urban sports news and issues plus classic soul, new and recent music and exclusive interviews.
Tags: drake,gay,Gayle King,lesbian,music,oprah,relationship,trey songz
Posted on 13 September 2010 by curvey in Featured, Hip-Hop/R&B
ARTICLE FROM mtv.com (Full story click here)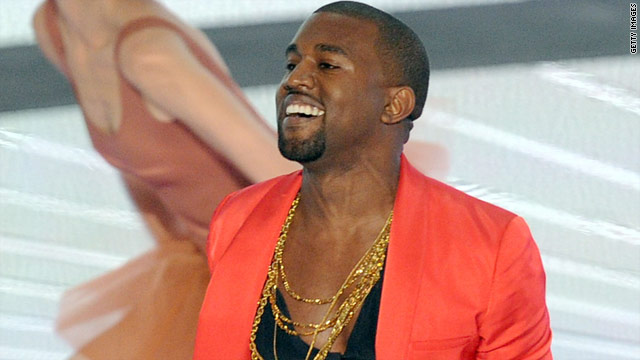 The 2010 MTV Video Awards was a great show. As a person in the music industry I tried to watch as a fan instead of a cat in the game.
Drake, Mary J. Blige and Swizz Beats did a great performance as did Eminem and many others but I think the performance of the night went to Usher.
Some people were saying Usher has "lost a step" from the young Usher from the past. But Mr. Raymond let everyone know "I'm back" His performance was great. I bet you Chris Brown was watching somewhere saying "Man I have work to do"
The legendary Cher came out in a outfit that she wore at the 1989 MTV Awards. Hardly hiding anything. The 64 year old performer got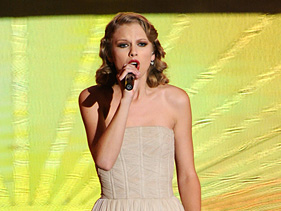 a standing ovation. She gave a award to singer Lady GaGa who started to cry because she was getting a award from one of her idols.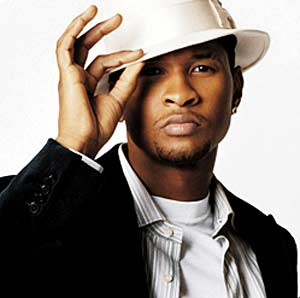 The show ended with Kanye West. His song was mainly about making mistakes and trying to make for them.
Of course we all about him taking a MTV Award from singer Taylor Swift. Taylor performed earlier in the show. Her song talked the incident with West. I enjoyed both Taylor's performance as well as West. His new song is called "Runaway"
I hope we can all move on from the West-Swift incident. West if VERY talented as well as young Taylor. Later with the negative crap. Let's move on!! Check out CNN's article on the MTV Video Awards. Click the link above.   Gordon Curvey
Please check out the MTV section right here on "M.I.C News Magazine" for highlights and more.
In a few weeks we will feature a our salute to "Oprah" because of her ending her 25 years of the "Oprah" show.
"M.I.C-TV" will have the EXCLUSIVE interview we did with Oprah a few years ago on the show!! Details soon!
Tags: awards,cher,drake,exclusive,kanye West,Lady GaGa,MTV Awards,oprah,peformance,Taylor Swift,Usher,video
Posted on 01 August 2010 by curvey in Featured, Sports
"One Man's Opinion" by Gordon Curvey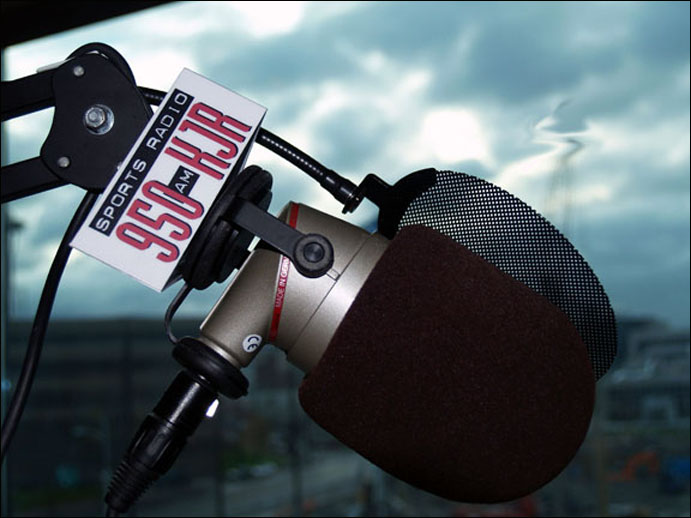 As I get ready to have a serious operation this week I have some thoughts I want to share regarding the sports radio situation here in Seattle, Washington (U.S.)
The two stations are 710 ESPN and KJR. 710 ESPN has been on the air for a year or so and KJR for 19 years in the Seattle/Tacoma area. For 19 years KJR has NEVER had a African American with his or hers own regular program. Currently their total workforce has a grand total of ZERO African Americans the last time I checked. That includes producers, over the air, sales and management.
I will talk about 710 ESPN in Part 2 of this story but I want to discuss KJR in Part 1. KJR constantly blasts African Americans and people of color in a negative way with out the other point of view from a African American or person of color. THIS IS UNFAIR!
Words like "THUG" is used by the all white staff of KJR against African Americans and people of color ONLY. The word "THUG" is a code word for the "N" word. It is used by callers and hosts. This word is NEVER used against whites in the sports world. NEVER.
KJR management just hired two more whites to be on the air, Jeff Aaron and Hot Shot Scott. Scott worked at sister station KUBE93 and Aaron used to a sports jock on KJR. Was fired or laid off and now he is back.
It is like the management of KJR do not care about diversity over the air. Or having a African American with his or hers own program. Stephen A. Smith (a African American) is on KJR at 3am but it is not a local show. It is a Fox national program.
A few years ago, their was a meeting held with African American community leaders and KJR management in which PROMISES WERE MADE BY KJR MANAGEMENT. Promises that included working on diversity in hiring and over the air. Promises where made to myself and other community folks like former Seattle NAACP chairman Carl Mack.
But then Mack left town and KJR backed off the promises that was made. In other words, KJR management LIED TO ME AND CARL MACK AND OTHERS. This is wrong. KJR management has shown with the hiring of Scott and Aaron that they DO NOT care about having a African American over the air on KJR. Period.
KJR is like a frat club or Elk's Club in Vermont or South Dakota. No blacks in sight. They are friends and buddies instead of workmates. They call and text each other after work etc. Even the bumper music is all white most of the time. Bumper music is a term for the music played in the background after a commercial etc. No T.I. or Drake or Jay Z or Kanye West or Lil Wayne or Rihanna or classic soul like Stevie Wonder or The Isley Bros etc. Instead it is Aerosmith or ZZ Top and The Little River Band etc or even on Mitch Levy's show, Frank Sinatra etc.
Issues of race comes up all the time on KJR and the all white staff CANNOT RELATE. They do not have a clue on the topic. Also it hurts me hearing the KJR jocks constantly interviewing African Americans THEY CANNOT RELATE TO what so ever. These cats are from the inner city or deep south etc. Hearing Mitch Levy and Dave Mahler and Ian Furness and now Aaron interviewing these inner city cats turns my stomach!!
The only jocks I like on KJR is Dick Fain and Elise Woodward. Yes they are white, but Woodward played basketball and has dealt with African Americans and people of color and Fain coaches at Mt. Rainier High School and deals with inner city cats all the time.
This is Part 1 of "Lack Of Diversity On Sports Radio" Part 2 I will deal with local sports writers who are "in bed" with sports radio, Mitch Levy's "Bigger Dance" contest and discuss 710 ESPN and more.
Please watch "Music Inner City TV" Ustream programs live and on-demand. We will feature music videos and discuss issues in entertainment, urban sports and soon we will have contests to give away cd's etc.
Just click the Ustream links above.
Tags: 710 espn,african americans,diversity,drake,isley bros,Jay z,kjr,kube93,management,naacp,racism,rihanna,seattle,sports radio,stephen a smith,T.I.,unfair,ustream tv,whites,zero
Posted on 28 June 2010 by curvey in Featured, Hip-Hop/R&B
ARTICLE FROM comcast.net (Full story click here)
"One Man's Opinion" by Gordon Curvey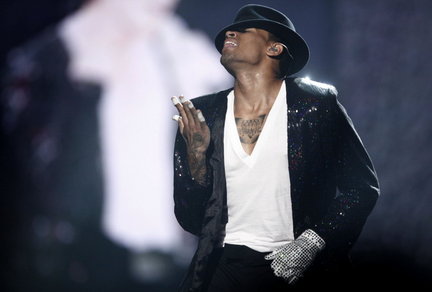 Because of negative feelings towards yours truly by B.E.T's Zabrina Horton, our media outlet was turned down from coverage of this years B.E.T Awards in L.A. So I was at home watching like millions of others.
It was a great show. A El DaBarge comeback (great to see him back on the scene)  a Kanye comeback, great performances by Diddy, Slim Shady, Alicia Keys, Drake and many others.
But none of them touched the performance by singer Chris Brown. The disgraced Chris Brown. The one who beat up Rihanna.
Brown's performance of MJ was the best I've seen since Jackson's death. The best. Near the end of his set, Brown broke down and cried and could not finish his performance. MJ's big brother Jermaine, walked with Chris off the stage.
I see on the net today that some people think Brown was faking tears. I don't thing Brown was faking. It was real. I was a combination of what he has been though in the past months and his love of MJ.
It is a fact that Chris Browns cd sales have dropped big time. His career has suffered since his problems with Rihanna. He has had run ins with reporters, radio dj's etc. The question is readers, will Chris Brown every be back on top with a hit song again? Time will tell.
Look for Chris Brown's brand new music videos on Seatlle's own "Music Inner City TV" on Comcast on Demand all over Western Washington state 24/7. Plus other artists videos and much more!
We also air on SCAN-TV ch 29-77 in the Seattle area every Saturday night at 9:30pm.
Tags: alicia keys,BET Awards,chris brown,crying,diddy,drake,MJ,rihanna