Tag Archive | "dwight howard"
Posted on 07 July 2010 by curvey in Featured, Sports
ARTICLE FROM miamiherald.com (Full story click here)
"One Man's Opinion" by Gordon Curvey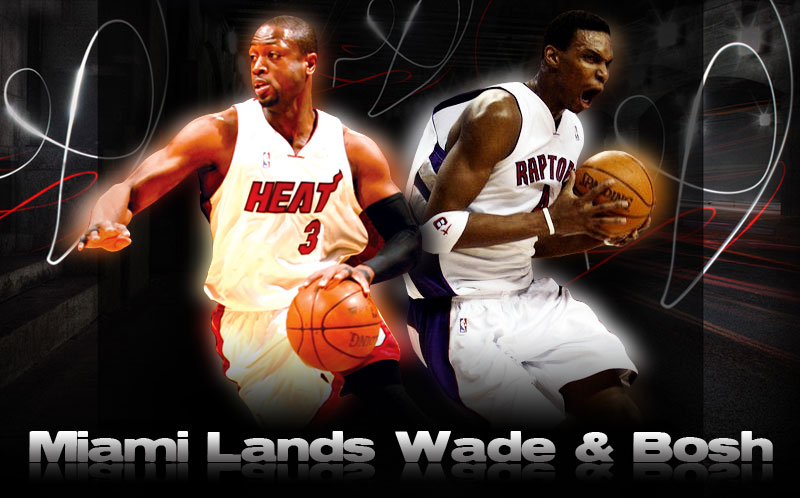 Well at least we know where two of the big time free agents are going to play next season after waiting and waiting for a answer.
Chris Bosh, formerly of the Toronto Raptors, will join his good friend Dwayne Wade in Miami to play for GM Pat Riley and the Miami Heat next NBA season.
Of course this will improve the Heat big time. They still need a big center to guard Dwight Howard and a point guard to really hang with the Celtics and the Magic.
Now we wait for King James to make his choice which he will do on ESPN Thursday night at 6pm.
"Music Inner City News Magazine" covers entertainment, urban sports, politics and much more. Plus webcasts, podcasts, MTV News, links to other sites.
Tags: Bosh,celtics,Chris Bosh,d-wade,dwayne wade,dwight howard,espn,king james,Miami Heat,NBA
Posted on 14 March 2010 by curvey in Sports
ARTICLE FROM huffingtonpost.com (Full story click here)
"One Man's Opinion" by Gordon Curvey
I am happy as
hell that NFL player Chad Ochocinco has fired back at ESPN Radio host Colin Cowherd about Colin's constant blasting of him on his radio show.
Cowherd seems to think he is a Mr. Know It All when it comes to sports and even life. He comes off as a tremendously arrogant fella who speaks out on folks at will on his program and seems to think guys like Chad will not retaliate. Chad has.
People don't understand Ochocinco. He is a young fella having fun. He likes to use the technology available like computers etc. He uses Ustream.tv and does his Ustream show when he is on the road via his iphone etc.
He is having fun. I rather have Chad around to read about than baseball players who have personalities of a rock outside on the street. That is way you don't see any baseball players besides Derek Jeter doing commercials on TV. But you see Chad, Barkley, D-Wade, Dwight Howard, Manning and others with personalities.
Colin does not say you don't read about Chad doing drugs, clubbing at a nightclub at 2am, beating up his wife atc. He is at home on the computer etc having fun. Now during the off-season he is going to be in "Dancing With The Stars"
I am tired of clowns like Cowherd and even this other motor mouth "JT-The Brick" on Fox Sports Radio who also likes to blast Ochocinco at will in negative ways. Calling him negative names over the air. J.T. and Colin are two peas on a pod. Two motor mouth so called talk show hosts who like to talk about African Americans in negative ways all the time over the air.
J.T. was just on the air giving his opinion as to why African Americans kids are not playing baseball. He does not know what the hell he is talking about unless you walk in our shoes!!!
This just shows once again, about sports radio. Their is a MAJOR PROBLEM in AM sports radio in Seattle and the U.S. The problem is a lack of African Americans in sports radio. It is dominated by white men who know NOTHING about the African American culture or lifestyle. Nothing.
In Seattle, sports radio KJR and 710ESPN have a grand total of ZERO African Americans with his or hers own program. THIS IS A PROBLEM WHEN AFRICAN AMERICANS DOMINATE THE MAJOR SPORTS IN THE U.S.
Thank god for Stephen A. Smith and Mike Wilborn and the "Two Live Stews" and a few others in sports radio. We need more. At KJR and 710ESPN here in Seattle their is no African Americans as producers, in sales, in management and of course over the air.
This is why I have started "Sports Inner City Online". A site that has the African American point of view when it comes to sports.
"Sports Inner City Online" is one of only a few urban sports websites on the Internet. PLEASE spread the word about our site. Please send us a e-mail at gcurvey@yahoo.com and tell us how we can improve the site. It is at www.sportsinnercity.com

Tags: 710espn,african americans,barkley,baseball,blog,Chad cchochico,clubbing,comments,commercials,computer,d-wade,dwight howard,espn,football,inner city,jeter,jt,manning,music,negative,nfl,players,pod,Podcast,seattle,sports radio,website,yahoo