Tag Archive | "eagles"
Posted on 11 March 2018 by curvey in Featured, Sports
ARTICLE FROM seattletimes.com (Full story click here)
"One Man's Opinion" by Gordon Curvey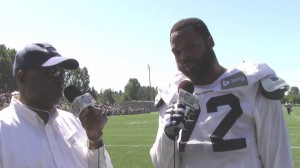 I knew this was going to happen sports fans. The removal of Micheal Bennett from the Seahawks or from my city of Seattle. And it happened because Bennett was traded to the champion Eagles for a 5th round pic and some dude no one knows of.
The Seahawks removed Bennett from the team because in my strong opinion him being a leader in speaking out on the way former guest on "Music Inner City TV" QB Colin Kaepernick was treated by the NFL. Plus Bennett took stands on the African American sista who was shot by the police here in Seattle and other issues that have to do with the African American community.
Now Richard Sherman is gone. Signed with the 49ers less than a day after being cut by the Seahawks. He signed a three year contract. Wow it will be very interesting when the Seahawks and 49ers meet.
Sherman did a lot in the community for inner city kids. Held a big softball game every year at Safeco Field. He did not have it last summer. Ummm I wonder if that was a signal of his departure from Seattle? Maybe so ladies and gentleman. All I know is Sherman and Bennett are gone. Sherman is a 49er and Bennett is a Eagle.
Bennett had became a leader in speaking up on issues PLUS he did a lot for young African American kids. Speaking at schools and community centers in the Seattle/Tacoma area. But I guess the Seahawks said enough is enough we have to get rid of you. Sherman did the same.
Of course Bennett took a stand for Kap in not standing for the anthem. As did Sherman. In the end the Seahawks said no more of this radical stuff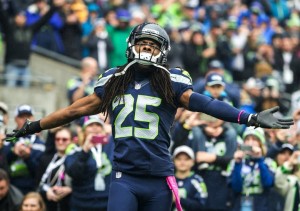 so bye bye Micheal Bennett and Philly will say hello Micheal Bennett. Surely it is not because of Bennett's play on the field he was traded.
This is a fact. Some say the "Legion Of Boom" for the Seattle Seahawks is over. The Seahawks have made massive changes to it's coaching staff. Hell just about everybody is new except for Coach Carroll.
In my opinion the Seahawks have got afraid after a 9-7 season. I just do not understand readers. Bennett has been traded and guess what sports fans? Richard Sherman another outspoken African American man who like Bennett are very intelligent, follows Bennett out of Seattle and maybe even Earl Thomas. This is crazy in my opinion.
Bennett and Sherman follow another African American sports star out of Seattle who took off their uniform and went on to help the African American community and youth. former Seattle Mariner Harold Reynolds.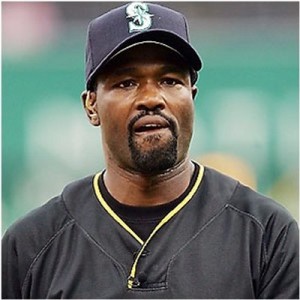 Reynolds along with Wayne Perryman formed a organization (read link above) to try to help young black kids to look good when looking for a job and other helpful things. Guess what readers? Soon Reynolds was shipped out of Seattle just like Sherman and Bennett were shipped out of Seattle by the Seahawks in my opinion.
Yes I know MANY will disagree with my thoughts. Guess what? I don't give a damn! I am hurt that Bennett and Sherman are gone from my city. Bennett has formed a relationship with schools and he said that will continue even if he is in Philly. I do not know about Sherman and the relationships he formed here.
Hell If I was a African American sports star in Seattle, I would be afraid to really speak up and help the African American community like Harold Reynolds and Bennett and Sherman. Because if they do, they are asking for a ticket out of Seattle!
Comments: gcurvey@yahoo.com or facebook.com/gordon.curvey or facebook.com/musicinnercityentertainment or twitter.com/gcurvey
Tags: 49ers,bennett,colin,community,eagles,intelligent,kaepernick,leader,micheal,opinion,outspoken,philly,removed,reynolds. harold,richard,schools,seahawks,seattle,sherman,shipped,signed,traded,uniform
Read More Comments Off on Bennett/Sherman Follow Reynolds Out Of Seattle!
Posted on 27 September 2010 by curvey in Featured, Sports
ARTICLE FROM yahoosports.com (Full story click here)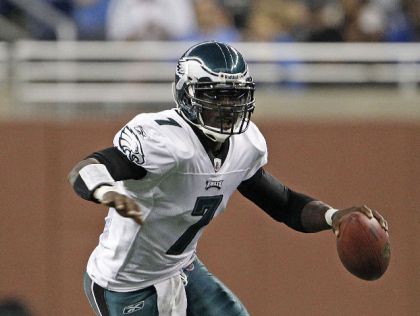 Micheal Vick once again has shown football fans and just sports fans that he is one of the most dynamic athletes in ANY sport.
Vick was involved in four TD's in the Eagles rout of the Jags 28-3 this past Sunday. The threw for three TD's and ran for another. Some of the plays Vick made, no other QB in the NFL could have made. This is a fact.
He has shown us fans and even Philly coaches that he is a different player than the player a few years ago in Atlanta. He is a much smarter player. He is not taking off running all the time like he used to do because he is hanging in the pocket looking for a receiver.
Coach Reid made the correct decision in starting Mike Vick. But here is question for you guys. Why did the camera keep showing second string QB Kevin Kolb on the sideline all the time? I have never seen a second string QB get so much air time.
Kolb is not the QB of the Eagles right now. Micheal Vick. Coach Reid named Vick the starter. So why did the cameras focus on Kolb so much? I just don't understand.
Next week is a game NFL fans will be watching. It is the Washington Redskins against the Eagles in Philly and the return of former longtime Eagle QB Donovan McNabb. This is going to be a great game!!
We will give you our views of the game next week. Shout out to Mike Vick for showing us he is a great NFL QB. It shows what second chances can do.       Gordon Curvey
"Music Inner City News Magazine" is the #1 urban entertainment and sports website from the Northwest! Spread the word about our site. Webcasts, podcasts, news, Ustream TV, MTV news and views and much more!! Based in Seattle, Washington USA
And watch "Music Inner City TV" on Comcast On Demand all over Western Washington state 24/7. Just go to "get local" and then "around the sound" and enjoy.
And listen to "Music Inner City Radio" every Friday night at 10pm on 1150am KKNW. Streaming live online at www.1150kknw.com And if you miss the programs, listen to ENTIRE podcasts RIGHT HERE!! Just click "podcast" link above.
Tags: coach reid,eagles,football,game,kevin kolb,mcnabb,nfl,qb,redskins,sidelines,washington