Tag Archive | "first"
Posted on 06 August 2018 by curvey in Featured, Politics
"One Man's Opinion" by Gordon Curvey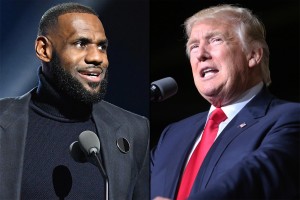 I hope everyone is well. Ladies and gentlemen we have a serious problem here in America. And YES it is serious. America for some reason elected a man in Donald Trump who as President Obama and former First Lady Michelle Obama and Mrs. Clinton said as well as Vice-President Biden said is unfit to be President.
It is as obvious as two left shoes. OK the economy is doing well. Let's give Trump credit for that. But that is about it. What Trump is doing is dividing America in two ways. White and black. Despite having a African American President in President Obama for eight years..America was still divided. He is showing time and time again that he has a problem with African Americans and people of color. These are pure facts!!
First just look at his cabinet. No African Americans in sight. Where is Dr. Carson? Has anyone seen him lately? Is this America folks? No it is not. Also look at how Trump treats strong willed African American ladies with opinions like April Ryan, Maxine Waters, Jemele Hill and more. Hell even Sen. Warren who Trump calls "Pocahontas "A RACIST NAME!! He has called her this TIME AND TIME AGAIN!!
Last Friday night I guess Trump was watching TV and watched CNN a station he CONSTANTLY calls "fake news" along with MSNBC and the NY Times. And he saw NBA icon Lebron James doing a interview with CNN host Don Lemon at James new "I Promise" school in Akron, Ohio.
A school where at risk kids obtain the following. FREE TUITION, FREE UNIFORMS, A FREE BICYCLE AND HELMET, FREE TRANSPORTATION WITHIN TWO MILES, FREE BREAKFAST, LUNCH AND SNACKS, A FOOD BANK FOR FAMILIES, GED & JOB PLACEMENT SERVICES FOR PARENTS, GUARANTEED TUITION TO THE UNIVERSITY OF AKRON FOR EVERY STUDENT WHO GRADUATES. WOW!!!
What James is doing with the help of the Akron School District is beyond great!!! It is unreal what he has done with the Lebron James Foundation in his hometown of Akron.
In the interview with Don Lemon James criticized Trump as he and other NFL and NBA players have done in the past. It should not be a shock to Trump to hear brothas like James discuss him a negative way. But I guess the Lemon/James hit a nerve with Trump and he got on Twitter and blasted Lemon and James in a no other way to put it..a racist tweet.
He said in his tweet the following' "Lebron James was just interviewed by the dumbest man on television, Don Lemon. He made Lebron look smart, which isn't easy to do. I like Mike" he means Micheal Jordan. Well guess what MJ followed up by saying he supports Lebron. I have to say that Jordan's reaction was WEAK!! He could have said MUCH MORE!! And many NBA players came out and supported Lebron in ways that could have been MUCH STRONGER!!
Even broadcast legend Dan Rather put Trump on blast and supported Lebron! Ladies and gentlemen the tweet that Trump did putting down James is beyond pure stupidity!! It is a brainless comment by a brainless so called President.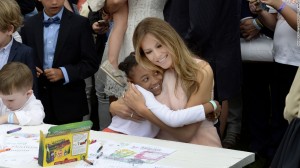 And readers Trump is making a habit of saying certain African Americans like James and Mrs. Waters have "very I.Q" I am sorry to all the white folks reading this. What Trump is doing is racism. Pure and simple!! For Trump to put down Lebron who is taking millions of dollars of his own to help at risk kids in Akron is one of the worst things a man in the White House has EVER done and it is very very sad!!!
Finally, the current First Lady Melania Trump is siding with Lebron!! She has came out and said that she is open to visiting the $8 million school in Akron James helped to build. She said "It looks like Lebron James is working to do good things on behalf of our next generaton." This statement from the First Lady is great!!
I happen to respect and like First Lady Melania Trump. She seems to be a very down to earth and caring lady who cares about at risk children of any color. Unlike her husband. Why is she with this man? Is it the money? I guess so. I say STAY STRONG to Lebron and to CNN host Don Lemon. And thanks to the First Lady!!
Folks I do not care who Lemon is making love to!! I am happy every night to see a strong African American male hosting a news program on CNN!! A man with a opinion and who is not scared to give his opinion despite racist who even want to kill him!!
Trump has a lot to do with the rise of racism in America. White Nationalist organizations and hate groups are showing up everywhere and guess what readers? THEY LOVE DONALD J. TRUMP!! And Trump loves them too!!
Comments: gcurvey@yahoo.com
Tags: akron,april,bicycle,biden,clinton,cnn,dan,district,divided,don,economy,fake,first,foundation,hill,icon,james,jemele,lady,lebron,lemon,maxine,melania,obama,opinions warren,placement,racism,rather,risk,ryan,school,trump,tuition,unfit,waters
Read More Comments Off
Posted on 15 November 2017 by curvey in Featured, Politics
"One Man's Opinion" by Gordon Curvey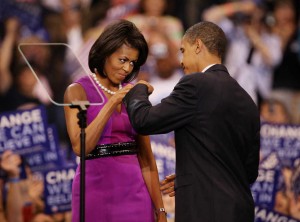 I think back nine years ago when President Barack Obama became the first African American President Of The United States and Michelle Obama became the first African American First Lady. As a African American I was so very very happy. I am not going to lie, I cried!!
I never thought I would ever see a black man as the most powerful person in the world. But it happened. When President Obama became President millions and millions of citizens felt proud. Proud to be a American. I should say more proud to be a American. Truth be told, every time I saw President Obama or First Lady Michelle I was happy. When EVER I saw Prez Obama or Michelle on TV I stopped what I was doing to watch. Press conference after press conference. Speech after speech.
Of course President Obama and First Lady Michelle became role models for millions and millions young African Americans and people of color and we felt it was great to have someone who looks like us in the White House.
Of course the President could have done more as a African American in the White House. He could have spoken out more on all the killings in his home city of Chicago. He could have made more visits to Chicago. And he could done more on the unemployment situation going on in the African American community. We can also say of course all President's could have done more….right?
But again millions of us felt happy and proud to have a African American as President and felt proud Michelle Obama was our First Lady. Michelle Obama used her platform to speak to young African American girls. Asking them to take education serious and stay out of gangs and do not use drugs. She was a TREMENDOUS First Lady. Hell many say she was more popular than her husband. And she is popular as hell right now as is her husband.
As we know, President Obama not only won the first time he ran he won a second term also! A African American man won two terms as President Of The United States. Unreal ladies and gentlemen.
Readers I was lucky enough to cover President Obama aboard Air Force One when ever he visited my city of Seattle, Washington. In the eight years he was President I covered Air Force One at Seattle-Tacoma International airport five times and EVERY time it was a thrill to see the big 747 with the United States Of America land and then finally stop about a 100 feet from all the reporters.
It was just great!! I can go on and on about my thoughts on the eight years of the first black President of the U.S. During the last few years in the White House, this businessman Donald J. Trump said over and over that President Obama was born in Kenya. Even with the President showing his birth certificate that let EVERYONE see Barack Obama was born in Hawaii. Last time I checked Hawaii is a state in the U.S.
Trump continued time and time again to say Barack Obama was born in Kenya. Today as the so called President, Trump STILL thinks President Obama was born in Kenya. It is a fact that Donald Trump (will NEVER call him President) has shown that he HATES President Obama!!
Since he has been in office Trump has NEVER said ANYTHING positive about the eight years of President Obama. NEVER ladies and gentlemen has Trump said anything positive regarding President Obama. This is just flat out wrong!! Keep in mind readers, President Obama walked out the White House with a WHOPPING 60% APPROVAL RATING!! Currently Trump's approval rating is at a VERY VERY LOW 36%!!
President Obama is smooth! He knows how to handle Trump. Yes I wish Prez Obama would speak out more when Trump criticizes him over and over but this is the way he has decided to handle Trump right now. But Prez Obama is writing a book.
Cannot wait until his book comes out. It should be VERY VERY interesting!! I just am thankful that I had a chance to witness eight years of President Obama and First Lady Michelle. A dynamic couple. Two very intelligent people. Two tremendous role models for younger African Americans and people of color. And oh yeah it has been great to see Malia and Sasha grow up to be beautiful young ladies.
For sure from time to time I will be writing about President Obama and First Lady Michelle (will ALWAYS be First Lady to me)  activities as private citizens. Slowly Prez Obama is doing more public speaking and Michelle also. Hopefully both of them will soon give their honest feelings on this fella who lost by a 3 MILLION votes and a man who is totally unfit to be President…Donald J. Trump.
Tags: america,book,color,criticizes,first,hates,lady,malia,michelle,model,obama,office,people,president,role,Sasha,smooth,trump,whopping
Read More Comments Off