Tag Archive | "games"
Posted on 14 November 2011 by curvey in Featured, Sports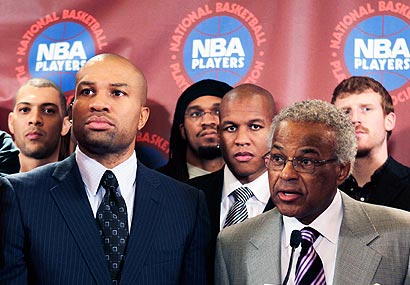 ARTICLE FROM nba.com (Full story click here)
I was thinking positive regarding today would be a good day as far as ending the NBA lockout but I was wrong big time because the NBA players rejected the owners deal.
The owners led by David Stern had a deal on the table that would have started the season on December 15th and the season would be a 72 game season instead of 82. But that ain't going to happen.
The way it looks now readers NBA fans will have to look at old games from the 70's and 80's and 90's on NBA-TV instead of watching KD, KG and Kobe. This is truly truly sad.
I am on the players side big time. The players make the NBA so the owners can bank BIG dollars. Fans pack NBA arenas to see D-Wade, LeBron, Dirk, Seattle's own Jamal Crawford and Jason Terry and others play but it looks like we will not watch NBA games for awhile.
If you listened to Stern today, the owners will not back down and he blasted Billy Hunter who works for the players. He sounded very arrount and uppity. Like what Bryant Gumbel and another person said about Stern that he acts like a "platation owner and the players are his slaves" This is outrage!! Remember the NBA players are majority African American or a person of color and the owners are 99% white. Micheal Jordan is the only black owner.
Being in Seattle, I cannot watch live NBA basketball anymore so I hav to watch on TV or go to Portland or watch a game their games are always sold out. I have to watch the games on NBA-TV or TNT or ESPN. I just want to see the season start. That's all I want as a sports fan.   Gordon Curvey
Tags: basketball,games,kobe,NBA,players,portland,seattle,stern,ustream,walkout
Posted on 17 March 2010 by curvey in Featured, Politics
ARTICLE FROM huffingtonpost.com (Full story click here)
"One Man's Opinion" by Gordon Curvey

I just saw the so-called interview that this so called host on Fox News did with President Obama. I will not use the clowns name in my article.
It was one of the worst things I have seen on TV. This dude interrupted the President over and over and over again in this interview on Fox News. Look up the word disrespect. This is what the so called interview was.
If I was the President, I would have worked out of the room and ended the interview. This was planned by Fox News to try to make the President look bad.
In my opinion, President Obama did not have to go on Fox to pitch his health care plan. That would have been the last place I would have went.
Hannity, O'Reilly and others on Fox News treat President Obama like dirt. They don't even call him President Obama. They call him 'this guy" or "that guy" or even just "Obama". But they will call W. Bush "President".
And by the way, do you think Fox would have treated treated W. Bush in the manner they treated President Obama? The answer is NO!
Check out how the fella treated the President in the link above.
Watch for all the highlights of the NCAA basketball games as well as NBA and spring training baseball highlights, NFL news and more right here on ESPN "Right Now".
It is updated 24/7 morning noon and night. Also listen to "Music Inner City Radio" podcasts. Entertainment news, classic soul, hip-hop and r&b, and much more.
Tags: article,basketball,Bush,clowns,disrespect,entertainment,fox news,games,gordon curvey,Hannity,interview,music inner city,news,nfl,O'Reilly,Podcast,president obama,seattle,sports inner city,washington,webcast