Tag Archive | "george w. bush"
Posted on 28 April 2011 by curvey in Featured, Politics
ARTICLE FROM new.yahoo.com (Click here for full story)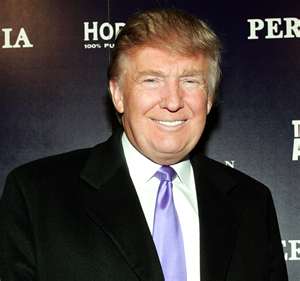 Readers as a African American I am really upset at this clown Donald Trump. He is a guy I used to respect as a big time real estate holder who flies around in his own jets and a big helicopter with his last name on it, hotels, casinos, golf courses etc.
But now I have lost total respect of Trump. He has shown me and many other African Americans that he is a racist in his treatment of the first African American President of the United States Barack Obama. It is as obvious as night and day.
This cat put President Obama on blast over and over and over about his birth certificate and where is it and where was President Obama born. Why did Trump do this. Why is he doing this? So now the President had to bring out his birth records to "try" to shut this clown Donald Trump's mouth. BUT it did not work!!
First Trump took credit for forcing the President to bring out his birth records. But while doing this, he still wonders if the President's birth records are real!! THEN to make matters worst, the clown Trump now wonders about the President's school records and if he went to this school or not. Did he graduate or not etc.
Sorry readers this is first class racism on the part of the clown Trump! Let me ask you this. Where was the clown Trump when President George W. Bush was President? And where his friends on the right and tea party? Did the right and the tea party ask where was President Bush's birth records? Did they do that? NO THEY DID NOT!! So why ask these questions of the first African American President? Why are the clown Trump and other clowns and bigots asking these questions of President Obama when 2012 is right around the corner?
It is a OUTRAGE!! The treatment of President Obama by the clown Donald Trump is flat out racist and flat out wrong. Sorry to say even with a African American President……..racism is alive and well in America.    Gordon Curvey
Tags: birth,clown,donald,george w. bush,obama,president,racist,records,tea party,trump
Posted on 28 March 2011 by curvey in Featured, Politics
"One Man's Opinion" by Gordon Curvey/Music Inner City Ent.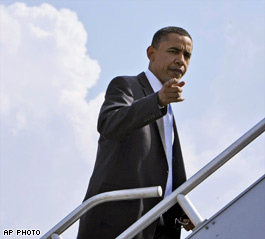 I am asking this question my loyal followers of "Music Inner City News Magazine" and that is why is certain tea party members and Republicans constantly asking where was President Obama was born? Why? Why? Why?
It does not make any sense and and it is just flat out wrong to continue to ask this question. What is the reason folks are asking this? Is it because President Obama is the first African American President with a beautiful wife and beautiful childen living in the White House?
He has been the President for two years. It has been proven that the President was born in the U.S. so WHY are clowns still asking where was President Obama born? It is just crazy!!
Hear is a question readers. Did the right ask where President George W. Bush was born? Or even his daddy, where was he born? So why President Obama?
Now the clown Donald Trump has joined the tea party and other right wing knucleheads in asking where was President Obama born. He on "The View" recently to ask the question was blasted by Whoppi, Barbara and even right wing leaning Hasslebeck!! That was a shock!! Trump is thinking about running for President. I think he needs to stick to building hotels.
It is obvious as two left shoes why certain folks on the right are asking where President Obama was born even after the Prez has been in office for more than TWO YEARS!! Just like they had problems with his middle name. Remember that? It is because the color of his skin. That is the reason folks. You know it and I know.
It also seems WHAT EVER the Prez does, the right or tea party etc has a problem with. I just watched the President give a speech on Libya. Then watched the right put President Obama on blast afterwords on CNN and Fox News (of course) and MSNBC. This is just wrong. President Obama has a LOT he has to deal with and in my opinion is doing a good job.
Hang in their Prez and don't let the right get you down!!
This is "One Man's Opinion"
Tags: beautiful,color,Donald trump,george w. bush,hasslebeck,president,president obama,skin,the view,white house,whoppi goldberg
Posted on 10 November 2010 by curvey in Featured, Hip-Hop/R&B
ARTICLE FROM urbanmecca.com (Full story click here)
 You already know this cd by these two cats is going to blow up real big. It has to right? A cd by Kanye and Jay Z is already big before it comes out.
These are two super talented performers and artists. I can't wait to hear this cd. And you know they will most likely have other big names on the release.
I just wish West will stop bei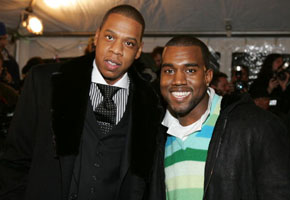 ng a knucklehead with his actions or should I say his words and actions. I have not got over him taking the award from the talented Taylor Swift. That was just wrong. I still just do not why he did that.
And his public comments calling President George W. Bush a racist. You may have had problems with W but to call him a racist in the public eye was just wrong.
West has to lower his tremendous ego for sure. At times he is full of himself. "I am Kanye West, the best rapper in the history of rap/hip-hop" kind of thing. He needs to come down to earth with the rest of us.
Jay Z is not that way. He is a big time businessman and does not go out making stupid comments and taking awards from performers on stage. I have a lot of respect for Jay Z.
I have respect for West to as a rapper. But I just don't like his big ego. Anyway I know us music fans can't wait to hear the cd by West and Jigga-Man.    Gordon Curvey
Tags: businessman,cd,george w. bush,hip-hop,Jay z,kanye West,rapper,talented