Tag Archive | "hollywood"
Posted on 16 March 2014 by curvey in Featured, Hip-Hop/R&B
ARTICLE FROM thegrio.com (Full story click here)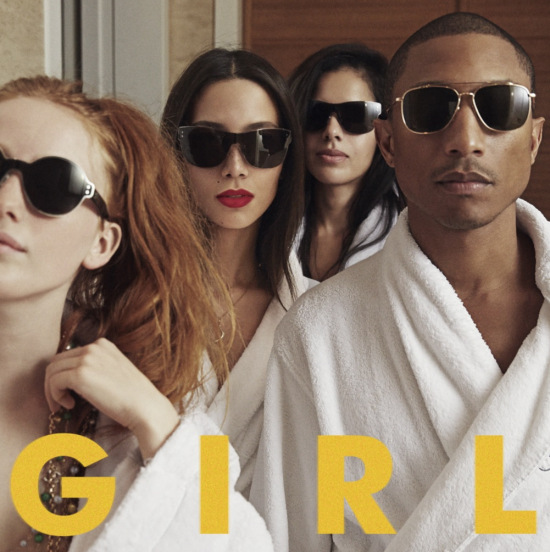 Have you seen the cover of "Girl" by Pharrell? There are no dark skinned ladies on the cover. The question is why readers? Was this planned by Pharrell or what. People are wondering what is really going on.
It seems their are problems with brothers and dark skinned females. I am wondering what is the reason. Yes Oscar winner Lupita is dark skinned and folks just look around on TV and in the movies out of Hollywood and look at gossip magazines and gossip programs like "The Insider" and "Access Hollywood" and "Extra" etc. Do you see stories on dark skinned African American ladies or just dark skinned females?
The answer sorry to say is no. Does Hollywood have a problem with dark skinned females? Do guys like Pharrell and Kanye West and director Steve McQueen and many others have a problem with dark skinned ladies?
I don't give a damn what excuse Pharrell says in his response to the exclusion of dark skinned ladies on this album cover for "Girls" The bottom is DARK SKINNED LADIES ARE LEFT OFF THE COVER!! PERIOD!!
The question is why? Are guys afraid to be seen with dark skinned ladies or what readers? Do cats think they will be treated better by lighter skinned ladies? What is the problem? I am trying to figure this out.
So yes I love Pharrell's music etc BUT I am having a problem with his album cover where a dark skinned female is nowhere in sight. The question readers is why is this going on?     Gordon Curvey
Tags: album,better,cover,dark,exclusion,hollywood,kanye,ladies,mcqueen,nowhere,pharrell,response,skinned,steve,treated,west
Posted on 09 March 2013 by curvey in Featured, Much More
"One Man's Opinion" by Gordon Curvey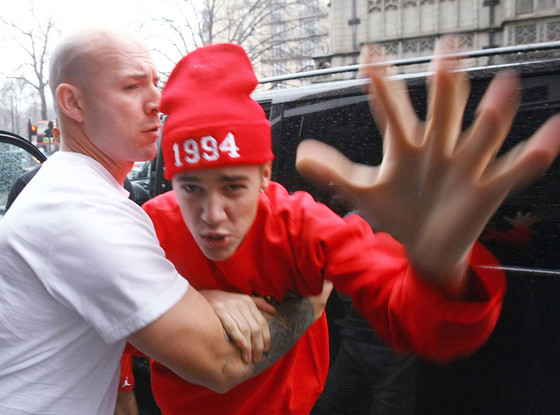 As you know people and families have to try to put food on the fridge, gas in their cars and have to pay their bills every month. And those people include the paparazzi in Hollywood and New York and other cities. Those of you who don't know what that is. That is folks who take photos of stars etc to sell to the many magazines and now online outlets all over the world.
A lot entertainers do not have a problem with the paparazzi and love to get their photos taken where ever they are at. And others do not like it when the paparazzi is following them EVERY WHERE. And I mean every where!!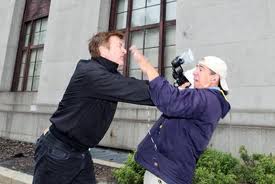 One star who is having a huge problem is Justin Bieber. This cat cannot go to the bathroom without hundreds of folks trying to take a pic. And in his opinion and mine, it has got out of hand. And it seems Justin is getting fed up and at times is fighting back at the paparazzi. The other day overseas he went off on the paparazzi as he and his bodyguards tried to enter his SUV.
With Bieber being such a huge star right now it is a big problem that is getting worse when it comes to him being out in the public. He cannot do anything. Cannot go the beach, cannot go out to have dinner. Cannot go to Burger King for a burger etc. Bieber is a 19 year old fella. This is a problem that comes with being such a worldwide superstar. And sorry to say, when it comes to Bieber it is what happens when you become a superstar. He should not have become a singer and just grew up as a regular teen. But he decided to be a entertainer. So sorry Justin you just have to try to handle the paparazzi the best way you can without getting violent. But it has got out of hand.
Also actor Alex Baldwin has had many problem with the paparazzi. And he has fought with them over and over. He of course is not a worldwide star as Bieber is but he still has problems when he tries to go to dinner with his lady etc. It is a known fact Baldwin does not like the paparazzi.
Other stars like Rihanna and Beyoncé and Usher etc seem to not have problems with the paparazzi. You never hear about other big stars like them having problems. But for sure you hear about Chris Brown and Justin Bieber and Alex Baldwin and others having problems with the paparazzi. So it is a problem because like I said, the paparazzi are trying to make money. Just like Bieber and Baldwin are. Who wins readers?
Comments on this story? Holla at gcurvey@yahoo.com or www.facebook.com/gordon.curvey or www.twitter.com/gcurvey and also check out our new "Music Inner City TV" Ustream 24-7 webcasts. Playing past programs of "M.I.C-TV" And look out for "Music Inner City Radio" right here! Playing classic soul/classic hip-hop and a few new songs. Plus urban sports news discussing basketball, football and baseball and more!
Tags: 19,alex,baldwin,bieber,bodyguards,brown,chris,entertainer,hollywood,justin,magazines,paparazzi,pics,problem,riahanna,superstar,Usher,worldwide
Posted on 23 December 2012 by curvey in Featured, Hip-Hop/R&B
ARTICLE/BIO from wikipedia.com click here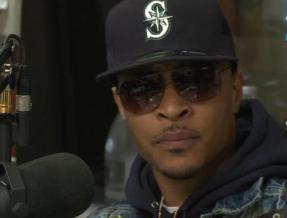 Lately I noticed a lot of positive press on Clifford Harris aka T.I. and this is a good thing. Because for awhile it was nothing but negative when it came to the rapper, actor and business owner.
He has got a pretty long rap sheet when it comes to breaking the law but it seems he has learned his lesson after his last visit to the pen. He is trying to be a great father to his kids and a role model for other kids and is trying to make his company Grand Hustle  something to deal with in music, tv and in Hollywood.
T.I. (pic with our own Seattle Mariner hat on) has shown on his reality show on TV with his wive Tiny that he does not want to be a father his kids do not know. He  is a caring dad to his kids and it seems he has a great relationship with Tiny who he has been with a long time.
With a lot of hip-hop these days sounding the same, when you hear a joint by T.I. you know it is T.I. He is one of my favorite hip-hop artists for sure. He has a new cd coming out soon and like the rest of his past cd's it will sell big time because T.I. knows how to put out hits. That's for sure. And he is a good actor too unlike many other rappers who try to act in Hollywood. He can really act. If you have seen his acting you will agree.
And it seems he is doing a lot in the community with toy giveaways at Xmas and turkey giveaways at Thanksgiving and he recently said he would not let a daughter of his date Chris Brown if they were old enough to date Brezzy. We all know what Brown did to Rihanna. That was a great statement.
So a big shout out to T.I. for getting his stuff together on the behalf of his family and fans. The future looks good for him in music and in Hollywood.    Gordon Curvey
Grab your headphones and listen to "Music Inner City Radio" Entertainment/political news plus classic soul and classic hip-hop music! And log on to "Sports Inner City Online" at www.sportsinnercity.com  for "Sports Inner City TV"!!
Tags: clifford,harris,hip-hop,hollywood,model,movies,pen,role,seattle,T.I.,tiny,tv,wive
Posted on 24 September 2012 by curvey in Featured, Much More
ARTICLE FROM wikipedia.com (Full story click here)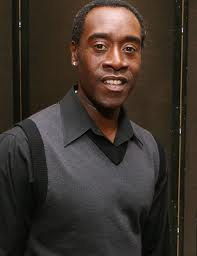 I watched the 2012 Emmys last night and was very upset at what I saw readers. I watched only TWO African Americans nominated for a award. Don Cheadle and Maya Rudolph. Only two. What is going on?
And of course Cheadle and Rudolph did not win a Emmy. Readers you cannot tell me that more African American actors were worthy of being nominated or winning a Emmy this year. Something is very wrong. First of all a question needs to be asked are African American actors being offered top of the line roles in Hollywood. I am talking about on TV and the big screen.
I guess I will answer that question. African Americans are not being offered good parts to play on TV. Pure and simple. I guess it would help if more African Americans were in a position to offer roles for African Americans in Hollywood.
The red carpet show on E I guess was a preview to the 2012 Emmys because Ryan Seacrest and his crew ONLY interviewed ONE African American actor during the two hour program. That was it. The rest was of course white. It is like African Americans are not on TV or in Hollywood so I am here to say something big time is wrong on TV and in Hollywood.
African Americans need to demand to obtain more good roles to play on TV and on the big screen. If you watched last night Emmys it was the almost total exclusion of African American or black faces. This is wrong. This is unfair.    Gordon Curvey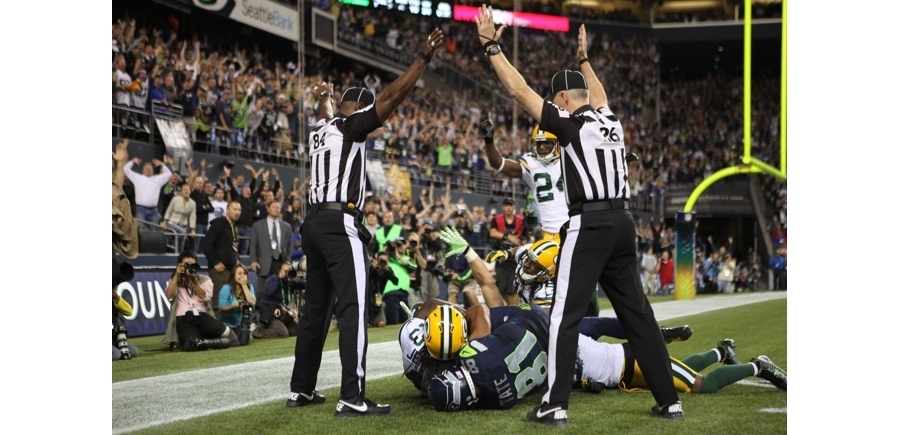 Read about the terrible call made in the Monday Night Football game here in Seattle between the Seahawks and the Green Bay Packers. It was the worst call I have ever seen in a sports event. Go to "Sports Inner City Online" www.sportsinnercity.com 
Tags: actors,don cheadle,E,emmys,exclusion,hollywood,may rudolph,tv
Posted on 27 December 2011 by curvey in Featured, Hip-Hop/R&B
Listen to "Music Inner City Radio" podcast BELOW. Produced 12-29-2011. Classic hip-hop/r&b and urban sports news and issues. Based in Seattle, Washington. 24-7 on-demand.
ARTICLE FROM huffingtonpost.com (Full story click here)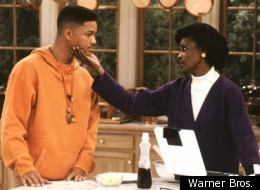 If you was a fan of the "Fresh Prince Of Bel-Air" you know it was a very very funny program that made Will Smith a superstar and a household name. I watch the re-runs on TV and it is still a funny program.
Smith was a big time rapper with his childhood homie Jazzy Jeff and they won Grammys for their music led by their monster hit, "Parents Just Don't Understand". A TV program was started just for him and it blew up and sorry to say, when that happens……the haters show up.
This time the hater was a person that was a part of the doggone program, Janet Hubert. For years she has went public putting Will Smith on blast and has even written a book of her experiences on the program. The female has a damn problem and you know what it is readers? JEAOLOUSY!!!! Pure and simple.
What Ms Hubert has failed to see FOR YEARS is that "THE FRESH PRINCE OF BEL-AIR" WAS A PROGRAM MADE FOR WILL SMITH!!! He was the star. JANET HUBERT WAS NOT THE STAR! For some unknown reason she continues to blast Will in very negative ways in the public. This time calling him a "asshole"
She left the program because she wanted more money like she was the damn star of the show! Funny things is you do not hear or see other members of the cast blasting Big Willy. It is ONLY Janet.
She needs to get over her jealous feelings against Will. Smith is most likely worth $500 million, what is Janet Hubert worth? Where has her career gone? I don't like to blast my African American brothas and sistas here on "Music Inner City News Magazine"
BUT I am just TIRED of reading articles about Janet Hubert talking negative about Will Smith!! Will Smith is a Hollywood mega-star and she is not. She should move on with her career and leave Smith alone. Gordon Curvey
Tags: blast,fresh prince,grammys,haters,hit,hollywood,janet hubert,jazzy jeff,monster,music,program,rapper,tired,tv,will smith
Posted on 23 April 2011 by curvey in Featured, Much More
ARTICLE FROM popeater.com (Full story click here)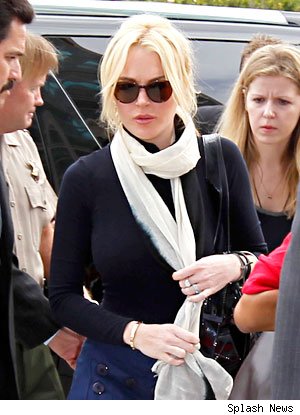 Actress Lindsey Lohan cannot seem to get her life together. She appeared in court in Los Angeles the other day because she violated her probation.
Lohan was sentenced to 480 hours of community service and 120 days in jail but her laywer filed a appeal and her bail was set at $75,000.
It seems this female is headed to nowhere. Her movie career seems doomed as far as I am concerned. She is a trouble maker. Who is going to trust her to be in their movie? They will not know if she is going to be on time or even show up at all!
Lohan is a very talented actress. It is truly sad that at a young age her career in Hollywood is going down the tubes. Some say her problems started because of her parents who have had their own problems.
Let's hope Lohan will learn to fly right and get her life together before it is too late and she ends up like Micheal Jackson at a young age. Gordon Curvey
More stories:
–Jay opens launches a news website. Covering the urban world. Read more. marguee.blogs.com
–Tyler Perry finally goes off on fellow filmaker Spike Lee. Read more. s2smagazine.com
–ANOTHER Seattle native Brandon Roy hits game winner for Portland as they beat Dallas bnd.com
–Seattle's own Jamal Crawford hits winning three pointer in win the Magic. Read more. ajc.com
–Third smallest Mariner game crowd at Safeco Field watch Hernandez win. Read more. sportsinnercity.com
Tags: actress,career,female,hollywood,lindsey lohan,programs
Posted on 31 January 2011 by curvey in Featured, Much More
BIO of George Clooney via wikipedia.com (Full bio click here)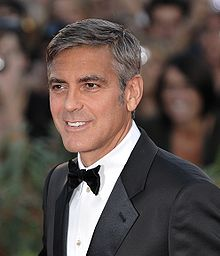 Actor George Clooney can sit back and look at his bank account and his Oscar he won and drive around Hollywood in his Rolls and enjoy a big nice house on Malibu. But he decides to roll his sleeves up and work for the people in Sudan. He means business. He is very very serious about his work in this African country.
Often times when he is finished working on a movie he is on a plane to the Sudan. He puts his money where his mouth is. His life right now is making good movies and the people in Sudan.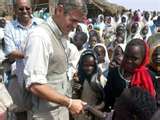 Sudan in Africa is one of the poorest countries on earth. Dirt poor. But Clooney wants to help the people of Sudan in any way he can with time and money. Clooney puts his money where his mouth is. He rolls up his sleeves and goes to work for the people of Sudan.
I just think folks need to know what George Clooney is doing for the people of Sudan. He means business folks and that's real talk. He is very serious about his work in Africa. A BIG shout out to George Clooney who is a Oscar winner and like I said can sit back and count his money but he does not do that. Thanks George for what you are doing for the people of Sudan.
More entertainment and news gossip coming soon!!
Tags: africa,Business,cnn,george clooney,hollywood,malibu,money,movie,oscar,sudan,work
Posted on 17 January 2011 by curvey in Featured, Much More
ARTICLE FROM accesshollywood.com (Full story click here)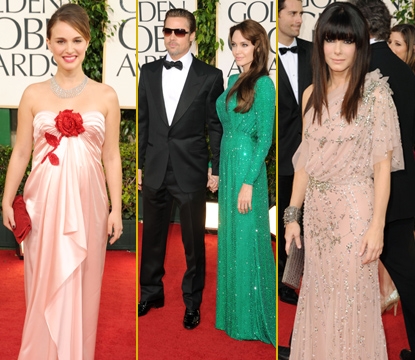 After I watched our Seattle Seahawks get beat 35-24 by the Chicago Bears (details at "Sports Inner City Online" link to site below) and watched the Jets-N.E. game also, I watched the red carpet broadcast of the Golden Globes hosted by Ryan Seacreast.
I was very disaapointed in what I saw readers. What I saw was no African American men being interviewed and only two African American female (Vanessa Williams and Halle Berry). The question is why?
Was Denzel Washington at the event? Was Lawrence Fishburne at the event? Or other prominent African American actors or actresses at the Golden Globes? If so, how come Seacreast did not interview them?
It was like African Americans are not in Hollywood making movies. It was amazing. Then I watched the Golden Globes show and it was the same.
Only former guest on "Music Inner City TV" LL Cool J, Vanessa Williams and another black actor were presenters. Halle Berry was nominated but she did not win.
I am a fan of Hollywood and Hollywood movies. But I was disappointed in watching the Globes coverage on E and on NBC.
I think the Rev. Dr. Martin Luther King would not be happy if he watched the almost total exclusion of minorities in the Golden Globes coverage.    Gordon Curvey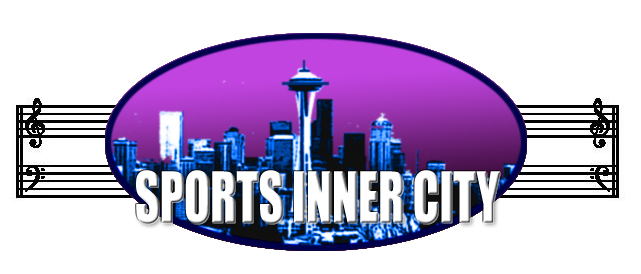 One of only a few urban sports websites on the Internet is "Sports Inner City Online" Urban sports news and issues, Ustream TV, ESPN "Right Now" for the latest in sports news and "Sports Inner City Radio"  Click here to go to the site
Exclusive interviews with sports stars coming up on "Sports Inner City Radio" podcasts soon!
Tags: coverage,dr. martin luther king,golden globes,hollywood,ryan seacreast
Posted on 24 September 2010 by curvey in Featured, Much More
ARTICLE FROM yahoo.com (Full story click here)
Why am I writing about actress Lindsey Lohan? Because it is a story of a young Hollywood female who has had problems because of the way she was brought up. And also about a person who thinks she is above the law. And because of a story about the dangers of drugs.
Lohan needs help and needs help now! And if it takes jail to make her fly right then so be it readers. This is Lohan's third time going to jail. She needs to stay their until she learns about the law and learns about the problems of using drugs.
Her sorry dad, Micheal Lohan I feel is the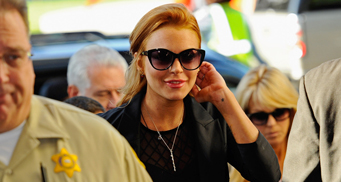 blame for Lindsey's problems and her mom too. He has had drug and alcohol problems and has been in jail himself. So sorry to say, like dad like daughter I guess.
Recently I saw on the net that Lindsey's 16 year old sister Ali has taken pics in a skimpy dress for Lindsey's clothing line. Is she the next Lohan to have problems?
Lindsey's story is a story of a young and talented Hollywood star gone bad. It will take jail time to make Lindsey do the right thing. If not, this story will end up terrible. This is for sure.
To many times folks say people with money get breaks. I hope Lohan does not get any more breaks. She needs to stay in jail for awhile and learn a few things. Now she is going to jail for 30 days. Here is a question. Will she get out early this time? We will see.        Gordon Curvey
Tags: actress,ali lohan,female,hollywood,jail,lindsey lohan,michael lohan,problems,star,talented,young
Posted on 16 September 2010 by curvey in Featured, Much More
ARTICLE FROM usatoday.com (Full story click here)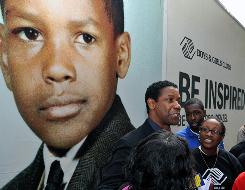 Denzel Washington is not just a Academy Award winning mega-star, this brotha cares about helping at-risk kids to stay in school and to get a good education.
Washington has been a spokesperson for the Boys and Girls Clubs Of America for years. And he is a great person to be a spokesperson too. Because is a big time role model for young kids to look up to from the inner city and out.
A lot of kids mainly from the inner city do not have a strong male role model to look up to. So Washington can be that strong male role for them. They can say, if he can come up from poverty and become a multi-millionaire Hollywood star, then I can be somebody too.
What Denzel is trying to say is in order to be someone you have to stay in school and get a good education.
For our almost twenty years on the air with "Music Inner City TV" and now "Music Inner City Radio" and "Sports Inner City Online" I ask EVERY guest to say something positive to the youth about staying in school, and getting a good education and other positive things. It is the last question we ask EVERY guest since December 1990 on M.I.C-TV.  On TV, radio and the net, we are not just about entertainment, we are about education.
A big shout to Denzel Washington for every thing he is doing in Hollywood and for the work he is doing for the Boys and Girls Clubs and for at risk kids.
Log on to "Sports Inner City Online" at www.sportsinnercity.com at www.sportsinnercity.com  Urban sports news and issues.
Currently read on "S.I.C" read a story on the lack of diversity on sports radio stations in Seattle, Washington.
Tags: at risk,boys and girls clubs,denzel washingon,diversity,dropouts,hollywood,issues,role model,school,spokesperson
Posted on 03 August 2010 by curvey in Featured, Hip-Hop/R&B
BIO FROM wikipedia.com (Full bio click here)
"One Man's Opinion" by Gordon Curvey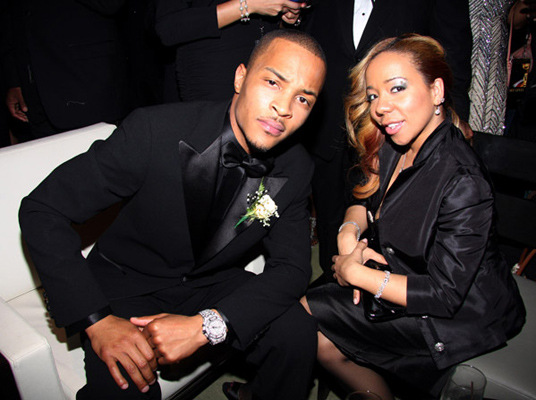 (Listen to "Music Inner City Internet Radio"  Classic soul, new and recent music, interviews, and more. Click the "Ustream Live" link above. It is 24/7!)
T.I. has had a very very interesting life in twenty or so years on earth. Jail terms, millions of cd's sold, acting in movies and more.
No one can deny this cat has talent behind the mic and in front of the camera as a actor. T.I. can act. Unlike other rappers, he has a long career ahead of him as a entertainer. If he can stay out of trouble. The question is, can he?
I think T.I. can do wonders in going into inner city schools and talking to the youth about staying in school and staying away from guns and violence etc. Of course he has done a lot of that since his release from jail for weapons charges. He can be a tremendous role model. And you know what? What I read, he is trying to be just that. A role model kids can look up to. That is great!
Congrats to T.I. and his lady Tiny who recently tied the knot. I am happy for Tiny and T.I. By watching Tiny's reality program, it seems she is a great lady and a great mom.
Great things are ahead for T.I. in music and in Hollywood. Let's hope he stays out of trouble. I think he will do it. He has to many kids who are looking up to him as a role model.
Please say a prayer for me as I enter Swedish Hospital here in Seattle (Aug 4th) for lung cancer surgery. For which I am very nervous but I have to have it done.
This is a wake up call for me. I have never spent time in a hospital. I hope this operation will have me back to good health. I have to many things to do. And thanks everyone for your prayers ad concern.      Gordon Curvey/Music Inner City
P.S Part 2 of "Lack Of Diversity On Sports Radio In Seattle" about sports radio KJR and 710 ESPN here in Seattle will be next week right here!!
PLEASE LISTEN TO "MUSIC INNER CITY INTERNET RADIO" Just click the "Ustream LIVE" link above! Classic soul, new music, recent music,interviews, 1150 KKNW programs and more!! 24/7!!! From the studios of "Music Inner City TV and Radio" in Seattle, Washington.
Tags: actor,cd's movies,diversity,guns,hollywood,inner city,jail,married,radio,rapper,role model,T.I.,tiny,youth
Posted on 03 July 2010 by curvey in Featured, Much More
ARTICLE FROM thegrio.com (Full story click here)
"One Man's Opinion" by Gordon Curvey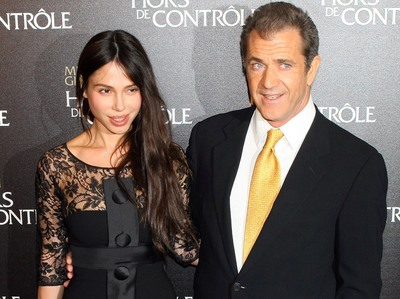 What in the world is going on folks. Here he is again. Reports say actor/producer Mel Gibson has made more insensitive or racist comments.
He was in the news before for making these types of comments. What is possibly wrong with Gibson or does he have a problem with African Americans?
This is the same cat who acted with black actor Danny Glover over and over but it seems their is a problem with African Americans when it comes to Gibson.
His reported comments are so over the top it is UNREAL readers. If he did make those comments he needs to hold a press conference ASAP and AGAIN say he is sorry to the African American community.
Again, Gibson is in hot water with the black community. The problem is these reported comments continue to happen when it comes to Gibson. Not John Travolta or Russell Crowe etc. It is just Gibson in the news for this. Something is wrong.
If these comments by Gibson is true? Then what should happen readers?
"Music Inner City TV" is on Comcast On Demand all over Western Washington state 24/7. Just get your remote and go the "music" section and look for "Music Inner City" and enjoy.
If you are in the Seattle area and would like to host a edition of "Music Inner City TV" holla back at 206-445-3989.
Tags: comments,hollywood,mel gibson,naacp,racism,racist,wrong
Posted on 09 March 2010 by curvey in Featured
ARTICLE FROM huffingtonpost.com (Full story click here)
"One Man's Opinion" by Gordon Curvey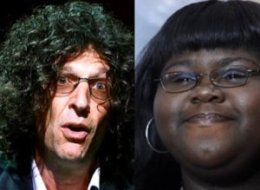 I CANNOT believe what so called "shock jock" Howard Stern said about Oscar nominee actress Gabourey Sidibe over the air about her size!
Please listen to his STUPID and yes RACIST comments about Ms. Sidibe by clicking the link above. I am real bothered by his comments. And I am bothered by his sidekick Robin saying what she said too! The question is WHY DID HOWARD MAKE THESE COMMENTS AND WHY IS THIS NOT BIGGER THAN WHAT IT IS?
First of all Gab will find work again!!! She is looking over new roles right now Howard!!! And not only that I am sure OPRAH AND SPIKE AND DENZEL AND TYLER PERRY and others will make sure she will have a job acting in a movie!!! What a STUPID thing to say that Gabourey will not find another acting job!!!
It hurts me as African American that Howard would say that about her and hurts me even more that Gab's African American sista would also make negative comments about Sidibe!!!!
Gabourey seems like such a down to earth young lady with a great personality. Yes she is a large lady. This is true. And hopefully she will shed some pounds for her health. But when she is ready she will. She does not need CLOWNS like Howard and Robin blasting her on national radio!!
And here is a question. What kind of talent does Howard have or Robin have? I think the pitbulls that Shorty trains on "Pit Boss" on TV have more talent than Howard and Robin!!!!!!!!!!! All Robin does is laugh and makes a stupid comment after Howard's stupid comments!!!! It is beyond me why he makes millions. He is a no talent!!
These comments made by Howard and Robin should make Sidibe work harder and show the fool and crazy Howard that she is going to work and she will continue to be a wonderful actress and a great lady.
What Robin should have said on the radio as a African American female is how proud she was of Gabourey to be nominated for a Oscar and how proud she was of Monique to win a Oscar!!!! Instead of the very negative things said. Those comments make me angry and also very very sad.
What Howard said about Gabourey Sidibe is FLAT OUT WRONG AND TERRIBLE! I hope you readers are as bothered as I am by his comments.
Tags: acting,actress,african American,bigger,blasting,denzel washington,fat,gabourey Sidibe,gordon curvey,hollywood,howard,howard stern,huffington post,hurts,jock,lady,millions,monique,movies,music inner city,national,negative,online,oprah,oscar,personality,pitbulls,Podcast,precious,radio,robin,seattle,shed,shock,shorty,sista,size,spike lee,stern,stupid,talent,tyler perry,unfair,washington,webcast,weight,young