Tag Archive | "intelligent"
Posted on 27 March 2018 by curvey in Featured, Sports
"One Man's Opinion" by Gordon Curvey
My opinions on Seattle Times sports writer Matt Calkins AGAIN putting a African American on blast in his articles in the Times. He has done this over and over and over again. In my opinion Matt Calkins should be fired asap!!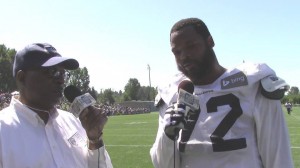 To my many FB friends the following is kind of long but it is my true feelings on the BOGUS charge against former Seahawk Michael Bennett. It is how I feel. It is a reply to motor mouth Matt Calkins of the Times who has made a habit of putting Bennett/Sherman on blast in the Times sports section. He should be fired!! PLEASE READ BELOW.
———————————————————————————————————
AGAIN Matt Calkins is giving his one-sided white man's views on a black man in the white owned media..The Times. A opinion on a intelligent, educated African American man in Bennett who is bold enough to challenge racism in America which has got worse with the fella in the White House.
Bennett also speaks out against police who has shot unarmed black men OVER AND OVER AND OVER AGAIN WITHOUT WHITE OFFICERS NOT SPENDING ONE DAY IN JAIL for their actions!! Hell Bennett has also spoke about the shooting and killing of the African American sista Charleena Lyles by the police in the area.
——————————————————————————————————-
BREAKING NEWS: TWO WHITE POLICE OFFICERS IN BATON ROUGE, LA WILL NOT BE CHARGED IN THE TERRIBLE AND WRONG KILLING OF 37 YEAR OLD ALTON STERLING. Again white police kill a African American and will NOT spend ONE DAY in jail and will NOT be charged!
Another black man has been shot and killed in Sacremento. Will the white officers who killed this African American brotha be charged? HELL NO!!!
——————————————————————————————————-
So we in the black community know black folks will NEVER see a white police officer get charged and convicted of killing a black man or lady. NEVER!! Including in Texas!!! These are some of the issues Michael Bennett AND Richard Sherman were bold enough to speak out about off the field.
So all of sudden in Trump loving Texas (who has a governor who is a friend and a tremendous supporter of Trump) Bennett a 6-4 265 pound HUGE black man is charged with pushing a 66 year old paraplegic lady after New England won the Super Bowl last year. A game in which Bennett's brother won as a member of NE. GIVE ME A FREAKIN BREAK!! This is a bunch of BS!! PLUS THEIR IS NO VIDEO OF THE ALLEGED INCIDENT!!!!!!!
When I saw all those white policemen in Texas hold that bogus press conference about the bogus charges on Michael Bennett I thought about racism against black folks in the 60's in Selma, Alabama or in Mississippi.
Don't get it twisted, IF Bennett did what he is charged with then BENNETT IS WRONG!! But in my strong opinion this is all about a outspoken, intelligent and educated African American man who has spoken out AGAINST white officers killing unarmed black folks, being retaliated against by white folks in a state that supports one of worse so called President's already in American history!! a ALLEGED INCIDENT THAT HAPPENED MORE THAN A YEAR AGO!!!!!!
Finally I continue to see Matt Calkins give his opinions on African Americans here in the Times. Calkins KNOWS ABSOLUTELY NOTHING ABOUT OUR AFRICAN AMERICAN CULTURE AND LIFESTYLE AND KNOWS NOTHING ABOUT THE DAILY RACISM WE BLACK FOLKS DEAL WITH EACH AND EVERY DAY IN WHITE AMERICA!!
It can be blatant or subtle but we African Americans deal with racism everyday when we walk out our doors. Has Calkins experienced this as white man putting African Americans on blast in the white owned Times? HELL NO!!
To have this blog with this title ("REACTIONS TO MICHAEL BENNETT ARREST WARRANT SHOWS THAT FACTS DON'T MATTER") AGAIN Matt Calkins as well as many other folks who have left their comments here are brainless with it comes to what black men like me or even a black man with money in Bennett go though EVERYDAY in white America. THESE CHARGES AGAINST BENNETT ARE BOGUS!!! REAL TALK!!! And again MATT CALKINS SHOULD BE FIRED BY THE TIMES!!
COMMENTS: gcurvey@yahoo.com or facebook.com/gordon.curvey or twitter.com/gcurvey
Tags: alton,bennett,bogus,bold,calkins,charged,fired,intelligent,jail,matt,media,michael,police,racism,richard,sacremento,sherman,Sports,sterling,trump,unarmed,unfair
Read More Comments Off on Matt Calkins Of The Seattle Times Should Be Fired!!
Posted on 11 March 2018 by curvey in Featured, Sports
ARTICLE FROM seattletimes.com (Full story click here)
"One Man's Opinion" by Gordon Curvey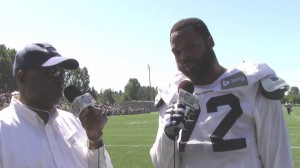 I knew this was going to happen sports fans. The removal of Micheal Bennett from the Seahawks or from my city of Seattle. And it happened because Bennett was traded to the champion Eagles for a 5th round pic and some dude no one knows of.
The Seahawks removed Bennett from the team because in my strong opinion him being a leader in speaking out on the way former guest on "Music Inner City TV" QB Colin Kaepernick was treated by the NFL. Plus Bennett took stands on the African American sista who was shot by the police here in Seattle and other issues that have to do with the African American community.
Now Richard Sherman is gone. Signed with the 49ers less than a day after being cut by the Seahawks. He signed a three year contract. Wow it will be very interesting when the Seahawks and 49ers meet.
Sherman did a lot in the community for inner city kids. Held a big softball game every year at Safeco Field. He did not have it last summer. Ummm I wonder if that was a signal of his departure from Seattle? Maybe so ladies and gentleman. All I know is Sherman and Bennett are gone. Sherman is a 49er and Bennett is a Eagle.
Bennett had became a leader in speaking up on issues PLUS he did a lot for young African American kids. Speaking at schools and community centers in the Seattle/Tacoma area. But I guess the Seahawks said enough is enough we have to get rid of you. Sherman did the same.
Of course Bennett took a stand for Kap in not standing for the anthem. As did Sherman. In the end the Seahawks said no more of this radical stuff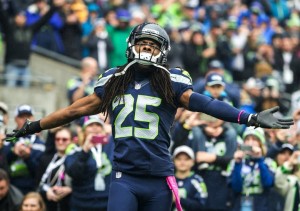 so bye bye Micheal Bennett and Philly will say hello Micheal Bennett. Surely it is not because of Bennett's play on the field he was traded.
This is a fact. Some say the "Legion Of Boom" for the Seattle Seahawks is over. The Seahawks have made massive changes to it's coaching staff. Hell just about everybody is new except for Coach Carroll.
In my opinion the Seahawks have got afraid after a 9-7 season. I just do not understand readers. Bennett has been traded and guess what sports fans? Richard Sherman another outspoken African American man who like Bennett are very intelligent, follows Bennett out of Seattle and maybe even Earl Thomas. This is crazy in my opinion.
Bennett and Sherman follow another African American sports star out of Seattle who took off their uniform and went on to help the African American community and youth. former Seattle Mariner Harold Reynolds.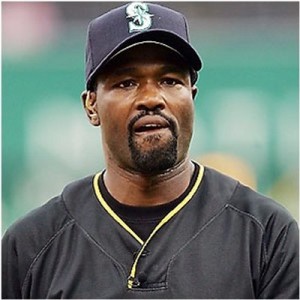 Reynolds along with Wayne Perryman formed a organization (read link above) to try to help young black kids to look good when looking for a job and other helpful things. Guess what readers? Soon Reynolds was shipped out of Seattle just like Sherman and Bennett were shipped out of Seattle by the Seahawks in my opinion.
Yes I know MANY will disagree with my thoughts. Guess what? I don't give a damn! I am hurt that Bennett and Sherman are gone from my city. Bennett has formed a relationship with schools and he said that will continue even if he is in Philly. I do not know about Sherman and the relationships he formed here.
Hell If I was a African American sports star in Seattle, I would be afraid to really speak up and help the African American community like Harold Reynolds and Bennett and Sherman. Because if they do, they are asking for a ticket out of Seattle!
Comments: gcurvey@yahoo.com or facebook.com/gordon.curvey or facebook.com/musicinnercityentertainment or twitter.com/gcurvey
Tags: 49ers,bennett,colin,community,eagles,intelligent,kaepernick,leader,micheal,opinion,outspoken,philly,removed,reynolds. harold,richard,schools,seahawks,seattle,sherman,shipped,signed,traded,uniform
Read More Comments Off on Bennett/Sherman Follow Reynolds Out Of Seattle!