Tag Archive | "james"
Posted on 22 May 2018 by curvey in Featured, Sports
"One Man's Opinion" by Gordon Curvey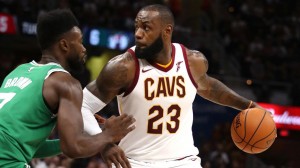 Back in 2002 I heard about this fella in high school who is crazy good out of Ohio. So good he can go into the NBA at the age of 15 or 16. He was that good in high school ladies and gentlemen. This young fella was named Lebron James.
He was one of the most hyped up high school players since Lew Alcindor aka Kareem Abdul Jabbar. And James has lived up to the hype. He has turned into one of the greatest players of all time. Some say he might be better than MJ.  James is 6-8  and 280 is strength and speed. He can play all positions on the court. He can play point, small forward and power forward and even center. Not many players can do this effectively.
James is very intelligent and is a student of the game. He can tell you about great players of past like Elgin Baylor and Wilt and Jerry West and The Big O and many more. He did not go to college but he is no dummy. This is a fact.
Look at what he has done. He might be in the NBA Finals AGAIN with the Cavs. Year after year after year Lebron is playing in the NBA Finals. With Cavs or the Heat, James is in the freakin Finals every year. If it was anyone else sports fans would say they are tired of seeing James in the Finals. I have not heard anyone say they are tired of James in the Finals I just have not. Sports fans love to watch greatness. In James we are watching greatness.
This fella is 33 years old and is showing zero signs of slowing down. Game after game after game, Lebron is getting 40 points, 15 rebounds and six dimes. He is making others on the Cavs better. He is pushing the Cavs to again be in the NBA Finals to maybe again match up against KD, Curry and Klay and the Golden State Warriors.
Everyone wants to see the Cavs-GS in the Finals again. I know ABC does. As I type this, the Celtics are pushing the Cavs. Making it hard for the Cavs to maybe be in the Finals again.  But folks while we watch great games in the playoffs by Curry, KD and others,  NO ONE can match Lebron and his great play in the 2018 NBA Playoffs. We are watching pure greatness by James. It is unreal folks.
Lebron is playing so great I wonder do sports take Lebron's greatness for granted. After a 40-15-6 game do we say "Oh it is just another game by Lebron". I know for sure I do not say that. As a NBA junky,  I KNOW I AM WATCHING GREATNESS!!
One thing for sure and that is Lebron James is a freak of nature! I hope all NBA junkies will realizing what we are watching. We are watching greatness by Lebron James and I know their will not be many if any one else like him.
Comments: gcurvey@yahoo.com
Tags: alcindor,cavs,celtics,curry,golden state,greatness,heat,james,jerry,kareem,kd. playoffs,lebron,lew,NBA,tired,warriors,watching,west
Read More Comments Off on Do We Take For Granted How Great Lebron James Is?
Posted on 28 June 2017 by curvey in Featured, Much More
ARTICLE FROM hiphollywood.com (Full story click here)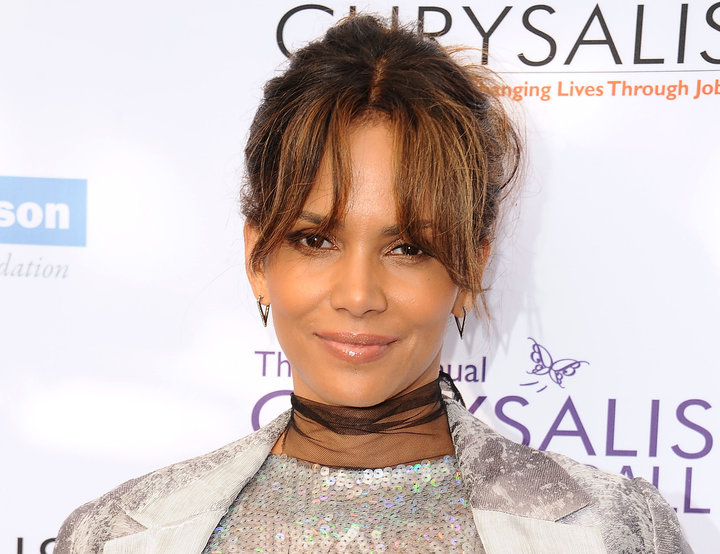 We have followed her career and the men have always said DAMN SHE IS FINE!!
After two decades men are still saying those words readers. And oh yeah she is a Academy Award winning actress.
But Halle Berry has something to say to the black community. We have to do more than talk about work in our community. We have to do some work.
Ms. Berry wants to say people have to do more than scream "Black Lives Matter" People in the community have too dig deep and give back in our communities and do some work.
The Academy Award winning actress wants to say a few things to her Hollywood friends say they support the "Black Lives Matter" movement.  She is tired of folks running their mouths but then do nothing to help make a change. I hear Halle on this!!
Berry said she is "tired" of folks complaining. She said recently "In my world, I get so tired of people complaining about oh Black lives matter and they pontificate and pontificate about it, and I say, well what are you doing about that? It may not seem significant to you, but that's how we start. Have you called your local politicians? Have you written a letter?"
Halle Berry went on to say "I don't have time for people who talk the talk but don't walk the walk" SAY THAT MS. BERRY!! I feel the same. That is why I respect singer John Legend and Lebron James the our Seattle Seahawks Micheal Bennett and his brother.
Unlike Micheal Jordan and Tiger Woods and even Kobe Bryant, and many Hollywood stars and music stars, Berry and the Bennett Brothers and John Legend and Lebron are not afraid to speak out on issues when it comes to the African American community. It think this is great for them to not sitting back on their cash. They want to make a difference.
Comments:gcurvey@yahoo.com or facebook.com/gordon.curvey or twitter.com/gcurvey
Tags: academy,actress,award,bennett,berry,black,community,complaining,difference,halle,james,john,jordam,lebron,legend,lives,matter,micheal,movement,significant,support,tiger,tired,woods
Read More Comments Off on Halle Berry Wants Folks To Do More Than Talking
Posted on 27 May 2011 by curvey in Sports
ARTICLE FROM miamiherald.com (Full story click here)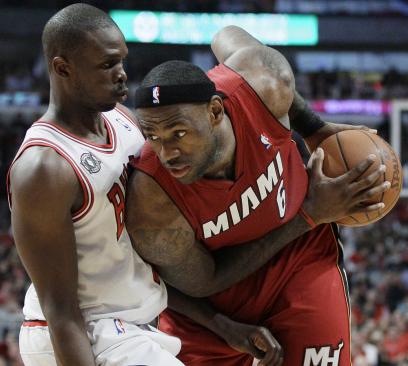 For all you LeBron haters out their I feel sorry for you. Because his Miami Heat are in the NBA Finals going up against Big Dirk, Seattle's own Jason Terry and the Dallas Mavericks.
This is what James wanted when he joined forces with D-Wade and Chis Bosh on the Heat. A chance to win a lot of NBA titles. Well in year one of the Big Three they will get their chance.
It is time to face reality. LeBron James is a GREAT player. At 25 he still can get better and better. Can you imagine that sports fans? James getting better? It is going to happen.
Cleveland Cavs fans have to feel terrible to see James in the finals. I know sports radio in Cleveland is buzzing with James haters. You that is the case.
Anyway it will be a real interesting NBA Finals. Who on the Heat will watch Big Dirk? This cat is on FIRE!! He is a 7 footer with a fall away jumper and other types of shots. Do not be surprised to see James watching him.
LeBron can play all five positions on the court. No other NBA player can do that. He is just a great player so all the haters against him need to stop and realize how great of a player he is.
Of course I want to see Seattle native Jason Terry win a ring. So I hope the Dallas Mavs win the NBA title. It will be a great series.   Gordon Curvey.
Also follow us on our "sister" site. "Sports Inner City Online" at www.sportsinnercity.comWith sports news and issues, Ustream TV, ESPN "Right Now" (updated all the time 24-7), "Sports Inner City Radio" and more!!
Tags: cavs,chis bosh,cleveland,d-wade,dirk,finals,haters,james,jason Terry,labron,mavs,miami,NBA,seattle
Posted on 02 December 2010 by curvey in Featured, Sports
ARTICLE FROM chron.com (Full story click here)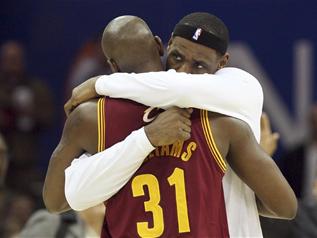 Sports fans what I saw tonight has me MAD as a guy who loves the sport of basketball. I was hyped up to watch LeBron James come back to Cleveland to play the Cavs. I was ready. I had my popcorn popped and was ready for a good game. Boy was I let down.
First of all I saw James come on the court smiling. But what really pissed me off was seeing a few of the Cavs players hugging James!! WHAT THE HELL!!! Why on earth would ANYONE on the Cavs want to hug LeBron after this cat left the Cavs last summer. When James left he was saying the Cavs team is not a team I can win a title with so I am cutting out of town.
James toyed with the pathetic Cavs. One time he hit a jumper from about twenty five feet right in front of the Cavs bench and he looked at a few of the Cavs smiling!! What the hell!!
The fans who yelled stuff at James had ZERO effect!!! NONE!!!! It was like a JV team playing against the varsity. Boys against men. I was real upset as a sports fan at the TOTAL lack of effect by the Cleveland Cavs in a game that should have been like their game seven. All Cavs fans should be real upset at the team and even head coach Byron Scott. They let their city down. And let me down as a basketball fan.
Again why would ANY Cavs player hug James before the game or after the game. That was terrible. If I was the owner of the Cavs I would be upset at his team. This kind of crap I saw tonight by the Cavs would NOT have happened back in the day when Rick Mahorn and his bad boy Detroit Pistons was playing.
James would have been laid out when he came into the lane for a dunk like he did tonight. The Cavs did not put a hand on LeBron!!!! What a joke!!! What a joke!!!   Gordon Curvey
"Music Inner City News Magazine" is the #1 urban website on the Internet from the Pacific Northwest!! To adversite with us via a banner or a TV/webcast commercial call 206-445-3989 or 206-414-6118
Get your headphones and enjoy our webcasts and podcasts. Just click the TV screen to the right and also the links above and enjoy!!
Tags: basketball,byron scott,cavs,cleveland,fans,hugs,james,lebron,seattle
Posted on 08 July 2010 by curvey in Featured, Sports
ARTICLE FROM clevelandplaindealer.com (Full story click here)
"One Man's Opinion" by Gordon Curvey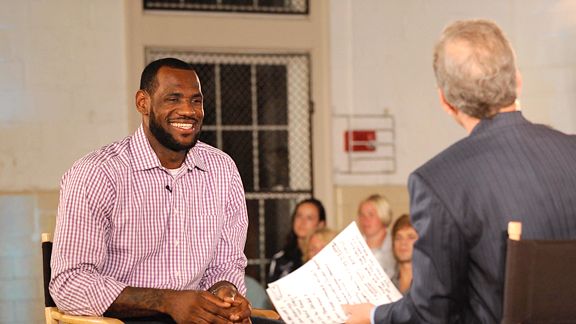 Well we all know now where LeBron James is going to play and that is with the Miami Heat with Dwayne Wade and Chris Bosh.
In my opinion I am pissed at James. Why? Because #1 he is arrogant. During his stupid hour long show on ESPN he talked in third person. #2 He flat out let the fans down in Cleveland. If I was in Cleveland or his hometown Akron, I would feel tremendously upset at self titled "King James". "King James" a cat who has ZERO RINGS!!!!  LET ME REPEAT ZERO RINGS!!!!! "King James" my a..!!!!!!
Having a team of Bosh, James and Wade is a cop out. And if they don't win, I will be happy. I hope the Celtics and Orlando and the Hawks kick the Heats ass!!!
I was a BIG fan of James. But I am not anymore. He thinks he is bigger than the game. His fame has gone to his head. James going to the Heat hurts me as a NBA fan. A NBA junky. I am real bothered by this move by James as a sports fan.
I just heard Chris Brussard on ESPN say James left $20 to $30 million on the table in order to win. Yo Chris…..I DON'T CARE!!!! i HAVE LOST RESPECT FOR THE SO CALLED "King James".
Well Cleveland fans I guess be happy you still have a NBA to cheer on even without James. Our Seattle Sonics left town after forty one years here. We don't have a team to cheer on at all. But as the late 2Pac rapped…..Yo Cleveland sports fans KEEP YOUR HEAD UP!!!!
Tags: Bosh,cleveland,d-wade,fan,heat,james,miami,NBA,Sports