Tag Archive | "jason Terry"
Posted on 27 May 2011 by curvey in Sports
ARTICLE FROM miamiherald.com (Full story click here)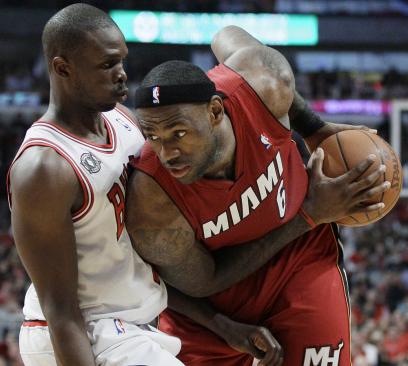 For all you LeBron haters out their I feel sorry for you. Because his Miami Heat are in the NBA Finals going up against Big Dirk, Seattle's own Jason Terry and the Dallas Mavericks.
This is what James wanted when he joined forces with D-Wade and Chis Bosh on the Heat. A chance to win a lot of NBA titles. Well in year one of the Big Three they will get their chance.
It is time to face reality. LeBron James is a GREAT player. At 25 he still can get better and better. Can you imagine that sports fans? James getting better? It is going to happen.
Cleveland Cavs fans have to feel terrible to see James in the finals. I know sports radio in Cleveland is buzzing with James haters. You that is the case.
Anyway it will be a real interesting NBA Finals. Who on the Heat will watch Big Dirk? This cat is on FIRE!! He is a 7 footer with a fall away jumper and other types of shots. Do not be surprised to see James watching him.
LeBron can play all five positions on the court. No other NBA player can do that. He is just a great player so all the haters against him need to stop and realize how great of a player he is.
Of course I want to see Seattle native Jason Terry win a ring. So I hope the Dallas Mavs win the NBA title. It will be a great series.   Gordon Curvey.
Also follow us on our "sister" site. "Sports Inner City Online" at www.sportsinnercity.comWith sports news and issues, Ustream TV, ESPN "Right Now" (updated all the time 24-7), "Sports Inner City Radio" and more!!
Tags: cavs,chis bosh,cleveland,d-wade,dirk,finals,haters,james,jason Terry,labron,mavs,miami,NBA,seattle
Posted on 29 April 2010 by curvey in Featured, Sports
ARTICLE FROM nba.com (Click here for full story)
"One Man's Opinion" by Gordon Curvey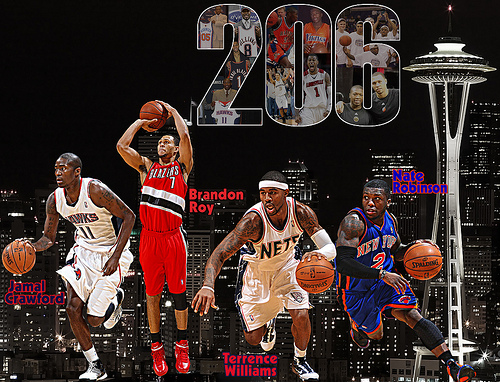 I do not think my home town of Seattle, Washington get enough ink in the media and over the air regarding all the talent from here doing well in the NBA.
S.I. did a great story on all the player from Seattle and surburbs who are in the NBA a few months ago.
That article I am sure made more sports fans aware of the basketball talent coming from the city of Seattle.
Having said that, a big shout out to the Atlanta Hawks Jamal Crawford who won the NBA "Sixth Man" award and to the Houston Rockets Aaron Brooks who won "Most Improved" for thr 2009-10 season.
Crawford went to Rainier Beach High and Brooks went to Franklin High. The schools are rivals here in Seattle and Jason Terry of the Mavericks also went to Franklin. And the Celtics Nate Robinson went to Rainier Beach and Brandon Roy went to Garfield High. There are about 13 players in the NBA from Seattle area and suburbs.
We hope to do interviews many of the Seattle NBA players this summer so look out for that.
Be sure to listen to "Music Inner City Radio" on KKNW 1150am every Friday night at 10pm in the Seattle area and suburbs and also online at www.1150kknw.com
You can also listen to podcasts of our radio shows right here. Just click "podcast" link above.
Tags: Aaron Brooks,basketball,celtics,hawks,interviews,Jamal Crawford,jason Terry,media,music,NBA,radio,season,seattle,Sports