Tag Archive | "jealous"
Posted on 28 January 2013 by curvey in Featured, Politics
"One Man's Opinion" by Gordon Curvey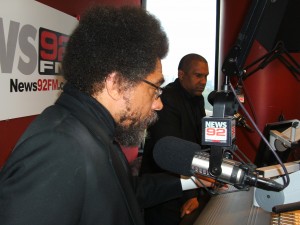 Something is going on that I am really tired of readers. It has got way out of hand in my opinion. It is going on with two people I used to respect. I said used to.
They are tv/radio host/author Tavis Smily and Prof. Cornell West and these two have been on a flat out mission against President Obama since he walked in the White House four years ago. The question is why? Well in my opinion the reason is they are flat out JEALOUS. Well let me say this. Tavis is jealous and also upset. Why you ask?
You see Tavis has had panels geared towards issues happening in the African American community to our families and also cities. He has invited the President to be on panels before he became President and the President never shown up to none of them. So this has made Tavis and his good friend Prof. West upset.
So Tavis has got busy and have put out a series of books putting the President on blast. These brothas think and say that the President does not do enough or speak out about things that are going on in the African American community. The first black President should do more for "his people"
West and Smily have went on nationwide tours over the last few years and have gone on many TV and radio shows putting down President Obama. I think they are WRONG! Flat out wrong. They need to chill out in my opinion and realize that President Obama is the President of all America. Not just African Americans.
Tavis and West want the President to have a major press conference on poverty in America and then set up a panel to work on this issue. They want this to happen asap.
What Smiley and West need to realize that the President has a lot on his plate. He does not have to lower himself to demands by Tavis and West and others who are just HATERS against the President and yes…..JEALOUS.
JEALOUS of a black man who was a community worker in Chicago and now is in his second term as our President. West has said some very nasty things about President Obama. Nasty as hell. In my opinion he can have his opinion but he needs to realize again the President Obama cannot just do things for the black community. He cannot.
So in ending, Tavis Smily and Prof. Cornell West need to back off the President and let him be the President. Just because he has not shown up at Smiley's panels is not reason to put the President on blast. Oh yeah another thing they are upset about is this.
Guys like Rev. Al Sharpton and other African American leaders have a "open door" to the White House and to the President. Rev. Sharpton has had the President on his radio show many times and is invited to meeting at the White House. BUT Smiley and West ARE NOT invited. So as a result, Smiley writes books and tours the country with West putting down the President. It is wrong and they need to stop hatin on the Prez right now!!
Comments on this article? gcurvey@yahoo.com   New "M.I.C-TV" or "M.I.C-Radio" webcast coming at ya soon right here!! Check out our sports site  "Sports Inner City Online" www.sportsinnercity.com 
Tags: america,community,house,jealous,mission,obama,opinion,president,smiley,west,white
Posted on 07 December 2011 by curvey in Featured, Much More
ARTICLE FROM s2smagazine.com (Full story click here)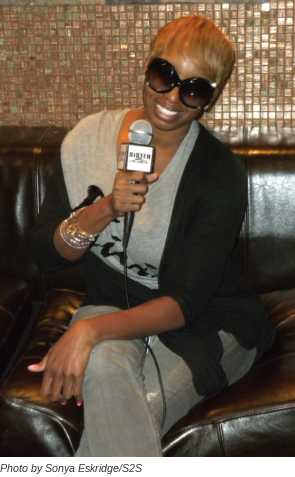 Found out some news you reality TV viewers might want to know. And that is motor mouth NeNe Leakes might be leaving "Real Housewives Of Atlanta" because she is upset.
Why is she upset? Well she is upset she is a hater and is jealous. She is jealous because Kim also of "RHOA" is getting a spinoff program and she is not.
NeNe thinks she is the star of "RHOA" for some reason. The question is why does she think she is the star of the program? In my opinion NeNe has the biggest mouth on the show! Real talk.
Readers I am TIRED of seeing these mouth mouth African American ladies on reality TV. "RHOA", "Basketball Wife's", "Single Ladie's", "Love And Hip-Hop" and more are full of loud mouth, foul mouth black women who have to cuss every other word.
So millions of white folks think that is the way most African American females really are. I don't understand why the African American community is not speaking out more about these reality shows that make black ladies look terrible.
I am pissed off about black ladies actions on these reality shows. I want to shout out singer Toni Braxton who is a former guest on Seattle's "Music Inner City TV". While her sister's run their mouths on "Braxton Family Values" she takes the high road and stays acting like a lady. Much love Toni!!   Gordon Curvey
Listen to "MUSIC INNER CITY RADIO" and "SPORTS INNER CITY RADIO" via Ustream TV right here! Just click the arrow. When we are off the air, you will not see the arrow. But we will be broadcasting most times during the day and ALL NIGHT! Playing classic soul, new and recent hip-hop and r&b music and exclusive interviews and more!
Tags: atlanta,basketball,black,braxton,cuss,hip-hop,housewives,jealous,ladies,leakes,nene,reality,RHOA,toni
Posted on 10 June 2010 by curvey in Featured, Sports
ARTICLE FROM si.com (Full story click here)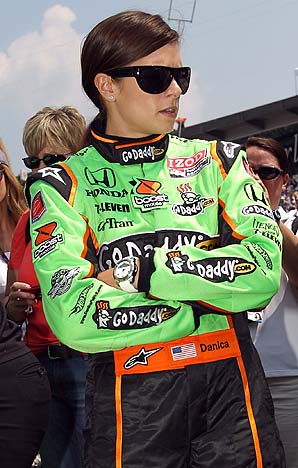 I noticed race car driver Danica Patrick came in second at a Indy Car race recently in Fort Worth Texas and I was very happy to see that happen.
Patrick is a very good driver who just happens of course to be a very nice looking female. And of course because of that she gets a lot of publicity. She is the spokesperson for a company that I use, Go Daddy.
And I think Go Daddy has got their monies worth in hiring her as a spokesperson. He has made great commercials for the company over the years including a new one with her grandparents.
Danica I don't think is well liked by fellow drivers because of all the off the course publicity she gets. Is it jealous feelings? I think so.
It seems Patrick is a very down to earth lady. I have seen her in different interviews and it seems her popularity has not got to her head.
 She races in the Indy cars and in stock cars. By finishing second last week it seems she is getting near to winning a race here in the U.S.
She has won a race but not in the U.S. We will be following Patrick and will do another story on her win she finally wins a race here in the U.S.
"Music Inner City TV" is on Comcast On Demand all over Western Washington state 24/7. Just grap your remote and go the "music" section and enjoy. We also have our programs right here via webcasts on "M.I.C News Magazine"
And watch video and more from MTV right here. Look for it on our home page and it is updated 24/7 with new stories and video.
Tags: danica Patrick,go daddy,Indy cars,jealous,lady,publicity,winning