Tag Archive | "justin bieber"
Posted on 06 June 2011 by curvey in Featured, Much More
ARTICLE FROM hiphollywood.com (Full story click here)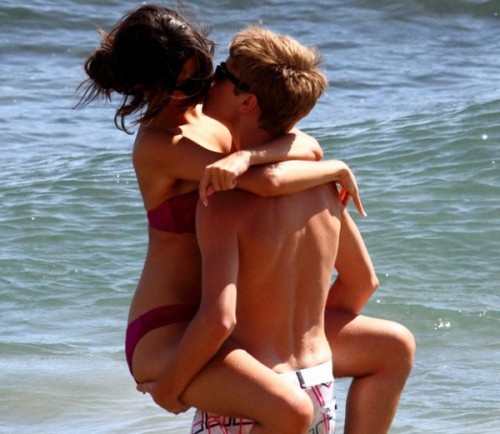 Check out the pic of pop star Justin Bieber and Selena Gomez in the water getting real busy on the kissing tip. Some may say this is real cute.
But remember readers. Justin Bieber is only 17 years old and Gomez is 18. Some may say this pic is showing these young people are moving to quick in their relationship.
In my opinion I think Bieber and Gomez are going to quick in the young puppy love relationship. They don't know what love is!! They don't readers. Pure and simple. Again it is PUPPY LOVE that Bow Wow rapped about when he was young.
I think he needs to worry about his huge career right now and put the love stuff to the side for now. He has plenty of time for that in my opinion and Gomez has time too.    Gordon Curvey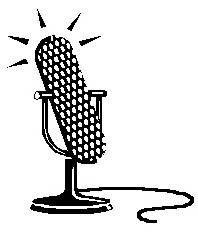 "SPORTS INNER CITY RADIO PODCAST" 6-6-2011. Urban sports news and issues. Classic soul and new and recent music, exclusive interviews, public service announcements and more. It is 24-7 on-demand. CLICK HERE TO LISTEN TO THE PROGRAM.
Tags: cute,justin bieber,kssing,pop,relationship,roll,selena gomez,slow,star,young
Posted on 14 February 2011 by curvey in Featured, Hip-Hop/R&B
ARTICLE FROM cnn.com (Full story click here)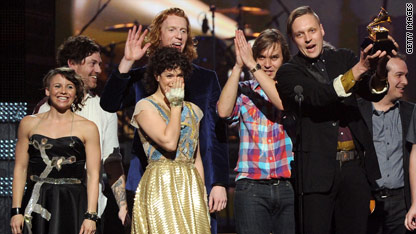 As a person who is in the music industry for more than twenty years I am shocked at what happened at the Grammy Awards I watched on CBS. What are people thinking?
How on earth did The Suburbs beat out mega star Eminem for Album of the Year? His "Recovery" was the year's best selling album. I cannot put in my brain how Slim Shady lost to The Suburbs. Something is very wrong there.
Also nothing against my African American sista Esperanza Spalding BUT how on earth did she win Best New Artist? What!! I had never even heard of her. She won the award beating Drake and a young talented young fella who has taken the industry by storm and even has a movie coming out, Justin Bieber. What!! How can that happen?
Shout out to the legendary Mavis Staples for finally winning a Grammy after decades in the industry. I was so happy to see her win. Also another legend Sir Paul McCartney won his first Grammy in 31 years for Best Solo Rock Performance for "Helter Skelter". A song his former group, you heard of them…The Beatles first recorded in 1968.
And if you don't know, Lady GaGa arrived to go down the red carpet in a big giant egg!! I am not lying folks she did!! You have to give it to GaGa. She is a for real entertainer with her own style. Unlike many many artists.
But I just cannot get over The Surburbs and Esperanza Spalding winning awards. Unreal folks.    Gordon Curvey
Tags: awards,cbs,drake,eminem,grammys,justin bieber,Laddy GaGa,Paul McCartney,The Suburbs
Posted on 22 November 2010 by curvey in Featured, Hip-Hop/R&B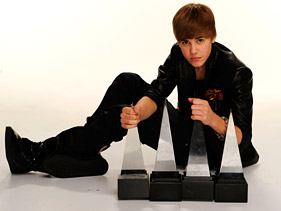 ARTICLE FROM mtv.com (Full story click here)
This year I was posted up in snowy and cold Seattle to watch the 2010 American Music Awards. I have been lucky enough to cover the AMA's only once. Why I do not understand but anyway I always give my opinions of the "urban" acts of the show right here.
The show started with a great with a performance by Rihanna. She looked a little nervous. Her dancing skills need to improve a little but the female can sing so she make up for the lack of dancing skills.
I enjoyed the song by rocker Kid Rock as well as the performance by Enrique Iglesias and Pitball. I really liked the performance.
I also enjoyed the performance by Ne-Yo. It was one of the best of the night. Also young Justin Bieber performance was real good with the gospal group in the background. He got a standing ovation. Bieber also won four awards.
Usher performance was great too. Full of energy and great dancing. The show ended with a performance by The Backstreet Boys and New Kids On The Block together. It was a great ending of the show. Shout out to the AMA's for putting on a energetic and exciting show year after year.     Gordon Curvey
Watch entire programs of "Music Inner City TV" RIGHT HERE on the #1 urban website on the Internet from the Northwest (U.S.) "Music Inner City New Magazine"
And listen to podcasts of "Music Inner City Radio" RIGHT HERE also. "Music Inner City TV" airs 24/7 on Comcast On Demand all over Western Washington state. Go to "get local" and then "around the sound" And "Music Inner City Radio" airs every Friday night in Seattle area on 1150am KKNW.
Future guests include former NBA player and Seattle Sonic Olden Polynice, the younger brother of super-producer Timberland, Sebastian, Mon E-G, L.E.S.G.O, Marcus Camby and Westley Matthews Jr. and much more!!!
Tags: ama's,american music awards,enrique Inlesias,justin bieber,music,performance,pitball,rihanna,Usher,webcasts