Tag Archive | "king"
Posted on 01 July 2014 by curvey in Featured, Sports
"One Man's Opinion" by Gordon Curvey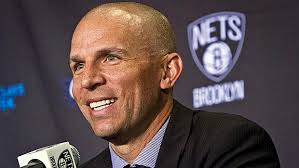 If you are a huge basketball fan like me then you would know about the "history" of Jason Kidd. Kidd is a Oakland, California legend just like Hall Of Famer and Seattle Sonics legend "The Glove" Gary Payton.
He had a 19 year NBA career in the NBA. And he will be a first ballot Hall Of Fame member in four years. Now let's get to the point. How in the HELL did Jason Kidd mover from a player to a head coach in the NBA in one year? Someone please explain this to me. Because I just do not understand why he becomes a head coach before guys like Patrick Ewing and others.
Kidd has not been a angel readers. Back in the day their was a big rumor concerning Kidd and ex NBA player Jim Jackson and singer Toni Braxton and it was all in the tabloids. The story was both of them was…….well you know with Toni.  Then their was a rumor he hit his ex wife and recently he was caught drinking and driving. And other things on the negative side with it comes to Jason Kidd.
Now Kidd it seems tried to pull a power move with the Brooklyn Nets. He was the head coach of the Nets and it is reported Kidd wanted  more money from the Nets after seeing Derek Fisher and Steve Kerr getting way more money for a first year coach. And he also wanted more power in player moves for the Nets and word is he did not see eye to eye with Net general manager Billy King.
So now for some reason he is the head coach of the Bucks and head coach Larry Drew was fired after one year. Kidd is good friends with the new owner of the Bucks.  Why does Kidd go from one head coaching position to another? HOW CAN THIS HAPPEN? Why Jason Kidd? I just do not understand. Hearing all this negative crap on Kidd makes me want to see him fail as a head coach. I just do not like this power move by Kidd.
Listen to "The Hot 12″with D Duane RIGHT HERE!! Just click "podcast" above and grab your headphones and enjoy the program. Two new programs a month. 24-7 on-demand.
Tags: billy,brooklyn,bucks,coach,derek,drew,head,jason,kerr. fisher,kidd,king,larry,NBA,nets,player,power
Read More Comments Off on What The Hell Is Going On With Jason Kidd?
Posted on 05 March 2010 by curvey in Featured, Sports
"One Man's Opinion" by Gordon Curvey
Well former B.E.T owner Bob Johnson finally got tired of owning a basketball team and sold it MJ. The person some people say was the greatest basketball player of all time. I say Magic Johnson though.
Jordan has a very very hard job ahead of him. Will he want to keep Hall of Fame member Larry Brown next season as the head coach? This will be interesting because truth be told the Bobcats have improved this year under Coach Brown.
They have a few pieces in place to have a good team with some added additions. They Have Gerald Wallace and Stephen Jackson on the team. The question is this how will MJ be as a owner?

Because MJ might have been a great great player but so far as a GM in Washington and with Bobcats in another position, he has not done a good job. Let's just tell the truth folks. (yours truly Gordon C. with MJ pic to the right)
One thing for sure it is great that MJ is involved in the NBA in anyway because he is a basketball icon. A sports icon. A flat out legend. I know David Stern is happy to have him around too.
Will he be a owner like Mark Cuban of the Mavericks? Who is at EVERY game sitting right behind the bench of his team? Who knows we will see.
Everyone will be watching Jordan to see what he can do to make the Bobcats a team that can make the playoffs in the future and draw some fans to the arena because when you see a Bobcat game on TV, you will notice a whole lot of empty seats.
So let's see what the REAL KING (not James) can do as the new owner of the Bobcats in Charlotte.
"MUSIC INNER CITY NEWS MAGAZINE" The #1 urban online news magazine in the Northwest!!
Be sure to listen to "Sports Inner City Radio" right here on "S.I.C-Online" Urban sports news and issues from the studios of "Music Inner City TV" in Seattle, Washington.
"Music Inner City TV" is the ONLY locally produced urban music video/interview program in the Northwest (U.S.) On the air for going on 20 years!!
Part 2 EXCLUSIVE webcast from the 2010 Clive Davis Pre-Grammy Party in Los Angeles is now online!
Tags: audio,basketball,bobcats,Charlotte,inner city,interviews,johnson,king,legend,Magic,mavericks,Michael Jordan,MJ,music,music inner city,northwest,online,opinion,owner,player,seattle,sold,Sports,stern,team,webcast
Read More Comments Off on Micheal Jordan New Owner Of The Charlotte Bobcats