Tag Archive | "lakers"
Posted on 10 August 2012 by curvey in Featured, Sports
ARTICLE FROM latimes.com (Full story click here)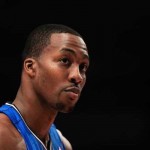 Well the Los Angeles Lakers are going to have another great center to roam the middle in Dwight Howard. He will follow Wilt, Shag, Miken and Kareem.  It is amazing that the Lakers always obtain great centers to play for them. How does this happen? It is crazy. But anyway it has happned. Dwight Howard will be playing for the Lakers. Wow!
Howard will join two of the greatest players of all time on the Lakers, Steve Nash and of course Kobe. Yes Nash is 38 and Kobe is 34. But Nash can still play at  his age as long as the Lakers control his minutes and the same for Kobe. Dwight also joins Pau Gasol and Ron Artest to make a dynamite starting line up that will be very hard to beat. PLUS the Lakers signed Antwon Jamiason during the off-season. A proven vet who can get 20 at any time.
If you are a NBA fan you have to be excited to see this trade happen. I have a friend who says I am a NBA fan instead of a writer. I have to admit now that yes I am a fan. I love basketball. It is my favorite sport BY FAR. I can watch a NBA game, college game, high school game etc. I love the game of basketball.
Dwight Howard just had a back operation and may not start the season but that is O.K. He is a Laker and will play. Howard has personality, a smile and is a killer on the court. he will shut down the middle big time for the Lakers. He blocks more shots than any player in the NBA. The only problem I have is this readers and it could be a big problem.
Age may come into play with the Lakers.  Kobe is 34. Nash is 38,  Gasol is 31 and Artest is 33.  Head coach Brown will have to do a great job in trying to manage minutes for his older players.  This a fact. But all one is for sure. Howard, Kobe, Gasol, Nash and Artest keep in great shape so let's see what happens next season when it comes to minutes.
I am listening to L.A. sports radio and the fans and media are excited.  Man cannot wait to see the games between the Lakers and the improved L.A. Clippers next season. And also when the Lakers meet the champs….Miami Heat and other games. It will be off the hook.
Since our beloved Seattle Sonics left town in 2008, I have followed the L.A. Lakers. This goes back to when I was young. The Lakers and the Sonics were my favorite teams. Thank god for NBA-TV. Counting down the days until the start of training camps and the start of the NBA season.      Gordon Curvey
New "Sports Inner City Radio" podcast coming at ya a little later on Sunday. Urban sports news and issues PLUS classic soul and smooth jazz music and sports interviews. A one of a kind broadcast from the Northwest.
Tags: age,artest,champs,clippers,dwiight,game. blocks,Gasol,howard,kobe,lakers,Los Angeles,media,miami,NBA,pau,personality,radio,Sports,superman,trade,wilt,wow
Posted on 12 December 2011 by curvey in Featured, Sports
ARTICLE FROM latimes.com (Full story click here)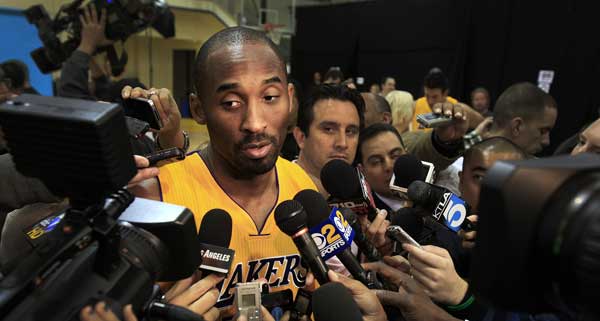 This past week has been a crazy week for the Los Angeles Lakers and the NBA. A big monster trade was suppose to take place but David Stern said "Sorry no go" And stopped the big trade that would brought "CB3" Chris Paul to the Lakers.
Now the word is Lamar Odom who was suppose to go to the Hornets, asked the Lakers to trade him. He felt unwanted by the Lakers who wanted to trade him. So guess what? He was traded to the the champs Dallas Mavericks!! What???? And guess who is upset?
Yep Kobe Bryant is unhappy with his friend being traded to a team that blasted the Lakers out of the playoffs last season. With a unhappy Bryant I see possible problems down the road if the Lakers do not replace Odom with another good player. The thing is…….who?
Lamar Odom might have got traded because the Lakers were not happy with the off season TV reality shows with his wife etc. But that cannot be because the brotha won the Sixth Man Of The Year award. He should have made the all-star team at mid-season too. The Lakers traded Lamar to the Mavs for basically nothing.
There is some strange things going on in the NBA. I am VERY glad my favorite sport is coming back on Xmas Day but this trade, then no trade, then trade has bothered me as a NBA fan.   Gordon Curvey
Watch "Music Inner City Video Podcast" below. Coming at ya from the studios of "M.I.C Entertainment" in Seattle, Washington. 24-7 on-demand! Entertainment and sports news PLUS urban music videos!

Posted on 26 November 2011 by curvey in Featured, Sports
"One Man's Opinion" by Gordon Curvey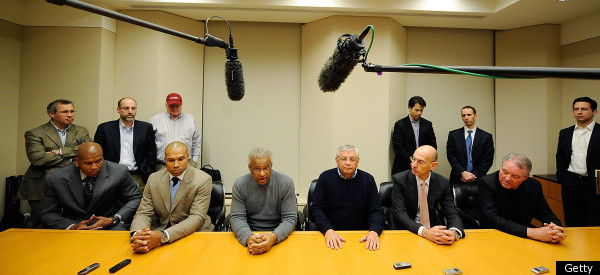 Last night after downing some more Thanksgiving food in my tummy, I flipped on to NBA-TV for the latest news on the NBA lockout. Because I knew the players and owners were meeting in New York.
And BAM! Breaking news! A tentative settlement has been reached between the players and owners. As a basketball junky I am happy as hell that the sport I love is coming back. The NBA is the #1 sport for me as a sports fan followed by football and baseball.
When the NBA season ends I get depressed as a sports fan. Real talk. And of course being here in Seattle, our Sonics left town for the one horse dust town Oklahoma City so I have to follow the many players from the Seattle area playing in the NBA like Jamal Crawford, Nate Robinson, Jason Terry, Brandon Roy, Spencer Hawes and many more.
If every thing goes right, training camp and free agent movement will start December 9th and the NBA season will FINALLY start on Xmas Day with a great triple header. The Knicks vs. Celtics, Lakers vs Bulls and a NBA finals matchup with the champ Mavs vs Heat.
Here is the thing readers. Why in the HELL did it take the owners and players this long to work this out? I just do not understand it. They had been having meetings for two years. Crazy folks.
But anyway I am just glad the NBA is back and I can sit in front of my big screen and enjoy the best atheletes in the world. Yes it is just a 66 game season. But guess what? A 66 game season is better than no season.
Gordon Curvey
Watch "Music Inner City TV" via Ustream TV. Recent and older programs with exclusive interviews, underground music videos and more! Plus watch the most recent program right here! From our program on Comcast/Xfinity On Demand.
And watch HOURS of more "M.I.C-TV" programs by just clicking the "Television Show" link above and listen to HOURS of "M.I.C Radio" programs from our program on 1150am KKNW here in Seattle.
Tags: baseball,basketball,bulls,finally,finalsout,football,heat,knicks,lakers,lockout,NBA,owners,players,settlement,television,tentative,tv
Posted on 30 June 2010 by curvey in Featured, Sports
ARTICLE FROM bostonherald.com (Full story click here)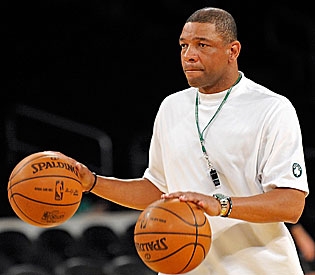 Doc Rivers is returning to be the head coach of the Boston Celtics who lost to the champs, the L.A. Lakers in seven games. With Rivers returning, it seems the big three of Pierce, Garnett and Allen will return for another try run at a NBA title. Pierce opted out of his contract, but with Rivers back, he should return too.     Gordon Curvey
Tags: allen,celtics,doc rivers,garnett,lakers,paul pierce