Tag Archive | "mariners"
Posted on 09 April 2013 by curvey in Featured, Sports
ARTICLE FROM usatoday.com (Click here for full story)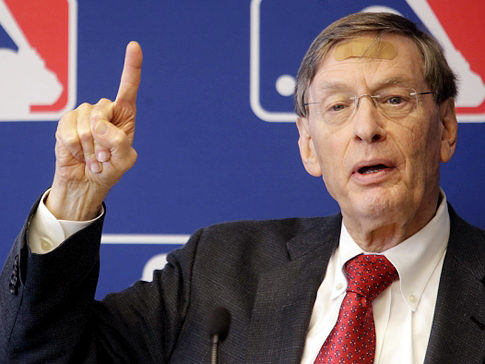 I saw this happening folks. I look at our Seattle Mariners and I no why a task force is being started by MLB head Bud Selig concerning the alarming decline of African Americans playing Major League Baseball. Our Mariners have zero African Americans on the team this year. This is sad readers.
Currently 7.7% of players in MLB are African American. Why is this alarming to Mr.Selig and many others? Well look at the NBA and NFL. Enough said. MLB has done a TERRIBLE TERRIBLE job in marketing to the African American community. They have started the RBI League to "try" to reach young inner city kids but that is token and it is not working.
Young African American kids are turning to football and basketball when they turn 11 or 12 years old and can care less about playing baseball. When a African American kid turns on the TV they see LeBron James, Dwayne Wade, Shaq, Kevin Durant, Kereem, Magic, Kobe, the Manning Brothers, Drew Brees, Chris Paul, Charles Barkley and more. The only MLB players you see are Ryan Howard for Subway and that's about it. Locally we see former player Jay Buhner doing commercials for goodness sake!! Yes Jay Buhner folks.
Young inner city kids need to see more African American baseball players doing marketing like CeCe Sabathia, Matt Kemp, Adam Jones, Torii Hunter and the Upton Brothers etc. When they see these players they might say "I want to play baseball like Matt Kemp"
As I type this blog, the Mariners are playing the Houston Astros here in Safeco Field. Readers I am searching to see ONE black face in the crowd. The three games so far at Safeco I turn on the TV and cannot find ONE African American in the crowd. Something is very very wrong on the field and off when it comes to African Americans and Major League Baseball.
So Commissioner Selig is starting this task force to see what in the world is going on when it comes to the huge decline of African Americans playing Major League Baseball.  I am glad to see Hall of Fame member Frank Robinson on the task force. As a sports fan it hurts to see the Seattle Mariners with a all white team along with players from South America etc. This week the Texas Rangers will hit Seattle with another team that has zero African Americans on the team. A African American manager but no African American players. WHAT? Their will be two teams on the field with ZERO African Americans on the field and in the dugout. Something is wrong.
This week a new movie on the late great Jackie Robinson hits the theaters. And on the 15th it is Jackie Robinson Day in MLB. I will be writing another story on my views of MLB and celebrating Jackie Robinson Day right here in the next few days. Comments? gcurvey@yahoo.com    Gordon Curvey
-Watch "Music Inner City Internet TV" covering politics, entertainment and more PLUS music videos! Just click the screen to the right and enjoy the show!/Music Inner City Store! Check it out!! HATS, T-SHIRTS, MUGS AND MUCH MORE!! SAFE AND SECURE!! www.cafepress.com/musicinnercityentertainment
Tags: 7.7%,african,American,baseball,bud,crowd,decline,field,force,jackie,league,major,mariners,NBA,nfl,players,playing
Posted on 10 May 2011 by curvey in Featured, Sports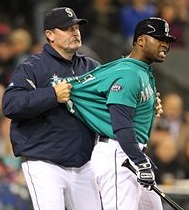 "One Man's Opinion" by Gordon Curvey
In the sports scene here in Seattle, the Seattle Mariners cut outfielder Milton Bradley from the team and I think it was the right move for the team to do.
Bradley was just not producing. He is getting paid $12 million and is hitting .213. I am sorry that is not cutting it. I am tired of seeing cats getting paid millions and not producing when I am out here trying to pay my bills, put gas in my car and food on my table.
Truth be told Milton Bradley has some problems. Yes I know the fans were getting on his case on the road and at home but why where ear plugs? I have never seen a baseball player do that. Never. Most likely fans were calling him the "n" word. But to wear earplugs?
Now I am on Bradley's side when it comes to not doing interviews with local sports radio stations KJR and 710 ESPN. Because he and Mariner player Chone Figgins are the sports radio hosts and callers favorite "whipping boy"
KJR host Dave Mahler even called Figgins "a common criminal" over the air a few weeks ago over the air because he was mad that Figgins did not answer KJR reporters questions after a loss.
KJR management has covered up Mahler's comments. I went to KJR to ask for a copy of Mahler's problem and management told me "it was not recorded" Which is a flat out LIE! I have not given up on Mahler and his comment because the NAACP is upset at Mahler's comment regarding Figgins.
Will I listen to KJR and 710 ESPN about the cutting of Bradley? Hell no!! Because I know they will be blasting Bradley and it will go over the line.
What I am saying here is that the cutting of Milton Bradley from the Seattle Mariners was the correct move for the team. I am glad another brotha Mike Wilson came up from the minors. Why am I glad?
Because I want to see more African American young kids playing baseball. So when local Seattle area kids in the inner city see a Chone Figgins or a Mike Wilson playing for the Mariners that look like they are, they might want to try playing baseball along with football and basketball.
Tags: baseball,blasting,chone figgins,espn,fans,mariners,milton bradley,opinion,seattle