Tag Archive | "media"
Posted on 27 March 2018 by curvey in Featured, Sports
"One Man's Opinion" by Gordon Curvey
My opinions on Seattle Times sports writer Matt Calkins AGAIN putting a African American on blast in his articles in the Times. He has done this over and over and over again. In my opinion Matt Calkins should be fired asap!!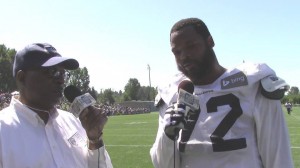 To my many FB friends the following is kind of long but it is my true feelings on the BOGUS charge against former Seahawk Michael Bennett. It is how I feel. It is a reply to motor mouth Matt Calkins of the Times who has made a habit of putting Bennett/Sherman on blast in the Times sports section. He should be fired!! PLEASE READ BELOW.
———————————————————————————————————
AGAIN Matt Calkins is giving his one-sided white man's views on a black man in the white owned media..The Times. A opinion on a intelligent, educated African American man in Bennett who is bold enough to challenge racism in America which has got worse with the fella in the White House.
Bennett also speaks out against police who has shot unarmed black men OVER AND OVER AND OVER AGAIN WITHOUT WHITE OFFICERS NOT SPENDING ONE DAY IN JAIL for their actions!! Hell Bennett has also spoke about the shooting and killing of the African American sista Charleena Lyles by the police in the area.
——————————————————————————————————-
BREAKING NEWS: TWO WHITE POLICE OFFICERS IN BATON ROUGE, LA WILL NOT BE CHARGED IN THE TERRIBLE AND WRONG KILLING OF 37 YEAR OLD ALTON STERLING. Again white police kill a African American and will NOT spend ONE DAY in jail and will NOT be charged!
Another black man has been shot and killed in Sacremento. Will the white officers who killed this African American brotha be charged? HELL NO!!!
——————————————————————————————————-
So we in the black community know black folks will NEVER see a white police officer get charged and convicted of killing a black man or lady. NEVER!! Including in Texas!!! These are some of the issues Michael Bennett AND Richard Sherman were bold enough to speak out about off the field.
So all of sudden in Trump loving Texas (who has a governor who is a friend and a tremendous supporter of Trump) Bennett a 6-4 265 pound HUGE black man is charged with pushing a 66 year old paraplegic lady after New England won the Super Bowl last year. A game in which Bennett's brother won as a member of NE. GIVE ME A FREAKIN BREAK!! This is a bunch of BS!! PLUS THEIR IS NO VIDEO OF THE ALLEGED INCIDENT!!!!!!!
When I saw all those white policemen in Texas hold that bogus press conference about the bogus charges on Michael Bennett I thought about racism against black folks in the 60's in Selma, Alabama or in Mississippi.
Don't get it twisted, IF Bennett did what he is charged with then BENNETT IS WRONG!! But in my strong opinion this is all about a outspoken, intelligent and educated African American man who has spoken out AGAINST white officers killing unarmed black folks, being retaliated against by white folks in a state that supports one of worse so called President's already in American history!! a ALLEGED INCIDENT THAT HAPPENED MORE THAN A YEAR AGO!!!!!!
Finally I continue to see Matt Calkins give his opinions on African Americans here in the Times. Calkins KNOWS ABSOLUTELY NOTHING ABOUT OUR AFRICAN AMERICAN CULTURE AND LIFESTYLE AND KNOWS NOTHING ABOUT THE DAILY RACISM WE BLACK FOLKS DEAL WITH EACH AND EVERY DAY IN WHITE AMERICA!!
It can be blatant or subtle but we African Americans deal with racism everyday when we walk out our doors. Has Calkins experienced this as white man putting African Americans on blast in the white owned Times? HELL NO!!
To have this blog with this title ("REACTIONS TO MICHAEL BENNETT ARREST WARRANT SHOWS THAT FACTS DON'T MATTER") AGAIN Matt Calkins as well as many other folks who have left their comments here are brainless with it comes to what black men like me or even a black man with money in Bennett go though EVERYDAY in white America. THESE CHARGES AGAINST BENNETT ARE BOGUS!!! REAL TALK!!! And again MATT CALKINS SHOULD BE FIRED BY THE TIMES!!
COMMENTS: gcurvey@yahoo.com or facebook.com/gordon.curvey or twitter.com/gcurvey
Tags: alton,bennett,bogus,bold,calkins,charged,fired,intelligent,jail,matt,media,michael,police,racism,richard,sacremento,sherman,Sports,sterling,trump,unarmed,unfair
Read More Comments Off on Matt Calkins Of The Seattle Times Should Be Fired!!
Posted on 28 June 2016 by curvey in Featured, Much More
"Music Inner City TV" Bio: Cathy Hughes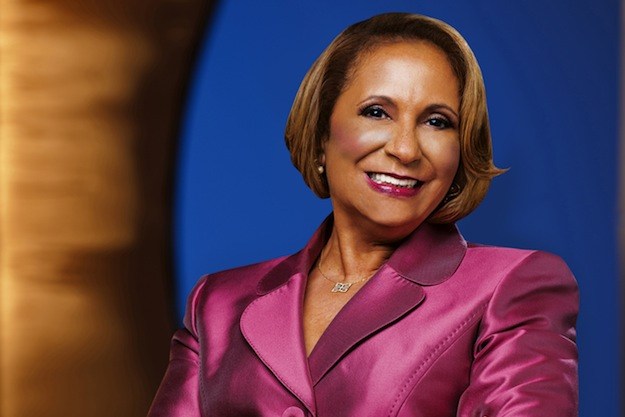 Cathy Hughes is a African American entrepreneur, radio and TV personality and business executive. Hughes founded the media company called Radio One and started TV One.
The company went public in 1998, making Cathy the first and only African American woman to head a publicity traded corporation at the time. She is for sure a trailblazer who has helped put African American owned media on the map.
In the 70's, Hughes created the urban radio format called "The Quiet Storm" on Howard University's radio station WHUR, with it's very first DJ she decided on the late Melvin Lindsey. Before radio, Hughes worked for a African American newspaper called "The Omaha Star" Hughes started her career in 1969 at KOWH in Omaha, but then left for job in Washington D.C.
In 1973, Hughes became the General Sales Manager of Howard University's radio station WHUR-FM and helped to increase station revenue from $250,000 to $3 million in it's first year!!
Soon in 1975, Cathy became the first woman Vice President and GM of a station in the nation's capital. In 1980, Hughes founded Radio One, and with former husband Dewey Hughes, bought  WOL-AM 1450 in D.C. After the previous employees had destroyed the facility, she faced financial problems and soon lost her home and moved with her young son to live at the station.
Cathy Hughes fortunes started to change when revamped the r&b station to a 24-7 talk radio format with the theme "Information Is Power" Hughes served as the stations morning show host for 11 years. WOL is still the most listed to talk radio station in D.C.
Radio One went on to own 70 radio stations in nine major markets in the U.S.  As of 2007, Hughes son Alfred Liggins serves as CEO and president of Radio One and Hughes as chairperson.
In January 2004, Cathy started TV One, a national cable and satellite TV network which bills itself as the "lifestyle and entertainment network for African American adults". Both Cathy and her son have been named Entrepreneur of the Year by the company Ernst & Young. In 2015, a local business organization unofficially named the corner of 4th Street and H Street NE in Washington D.C. "Cathy Hughes Corner"
I have a lot of respect for Cathy Hughes. She is a strong lady in a man dominated field. She is bringing to the table something that is needed in media and that is diversity. Diversity is badly needed in radio and tv. For instance here in Seattle, there is ONE African American true news reporter in our area in Essix Porter on KIRO-TV. On radio in a market where Ms. Hughes does not have a station, there is barely a regular African American voice on radio.
One of my favorite programs is a program called "Unsung" on TV One. I never miss it. "Unsung" and "Shark Tank" (not on TV One) are my favorite programs on TV. So I hope Ms Hughes and TV One would open a new radio station here in Seattle with a strong signal. That would be great.  I hope you will support TV One and Radio One. A TRUE African American owned and operated media company.
Gordon Curvey
Tags: cathy,chairperson,DJ,format,howard,hughes,media,one,r&b,seattle,shark,tank,university,unsung,WHUR
Read More Comments Off on Music Inner City TV Bio: TV One & Radio One Founder Cathy Hughes
Posted on 20 March 2016 by curvey in Featured, Much More
"One Man's Opinion" by Gordon Curvey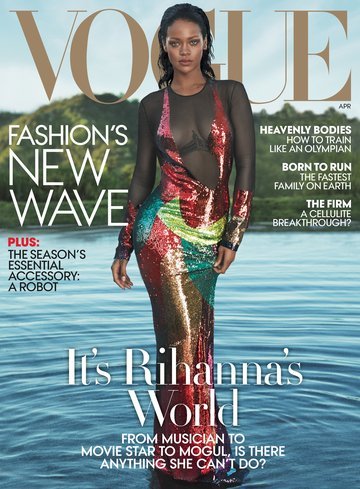 I am always looking for stories for my websites and I saw this story to write about here on "Music Inner City News Magazine" It is a rumor that Beyonce and Rihanna are having a so called "beef"
Word is Beyonce was due to drop her new song song "Formation", days before Rihanna's new release "ANTI", but Rihanna dropped her new release like it was due to be dropped.  So there is word out and about that Beyonce has tried to outshine Rihanna.
Recently Rihanna did a interview with Vogue and she addressed the ongoing talk about her rivalry with Beyonce. She said "Here's the deal, people just get excited to feast on something that's negative. Something that's competitive. Something that's, you know, a rivalry. And that's just not what I wake up to. Because I can only do me. And nobody else is going to be able to do that."
I agree with Rihanna. The media is looking for a beef. Just because Ri is signed to Beyonce's husband, Jay Z's label and this release stuff happened the media saying wow what is really going on. When in reality most likely nothing is going on.
As a fan of good music, I do not give a damn who release was out first or not. Who gives a damn ladies and gentlemen? Both of ladies are very very talented as we all know. At times I really worry about Rihanna. It seems she is confused. At times she seems to be really out there mentally with some of stuff she says and some of outfits she wears. Just like Miley Cyrus.
And word is her career is suffering right now. Because it is a fact, her sales of her music is down. Unlike Adele or Taylor Swift. People are asking what is wrong with Rihanna. Well let's see what the future holds. Ri is younger than B. I will be listening and watching what is really going on with Rihanna. Because I am not worried about Beyonce. She will always stand above the rest in book.
Comments? gcurvey@yahoo.com
Tags: adele,ANTI,beef,beyonce,cyrus,formation,husband,interview,Jay z,label,media,miley,ri,rihanna,rivalry,song,swift,taylor
Read More Comments Off on What Is Going On Between Beyonce And Rihanna?
Posted on 30 January 2013 by curvey in Featured, Sports
"One Man's Opinion" by Gordon Curvey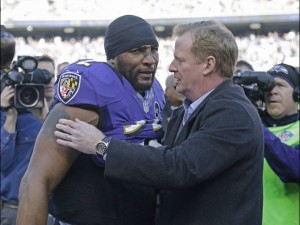 Here in my hometown of Seattle, Washington certain so called sports jocks on sports radio are letting their feeling known on Baltimore Ravens future Hall of Fame member Ray Lewis. And it is getting worse by the day. And in my opinion unfair!!
Of course certain clowns like KJR's Ian Furness and fellow clown Jason Puckett are blasting Lewis and bringing up the 1999 case in which two people were murdered in Atlanta. The murders are unsolved. Some think Lewis was a part of it & he knows what happened and who killed who. But Lewis has "tried" to move on from the case but this situation will follow Lewis until he dies.
Furness and others in sports media get behind the microphone and just down right say "I don't like the guy" And they are tired of "his act" and are tired of his "preaching and dancing". Which in my opinion is borderline racism. Today I heard a former NFL player say he is tired of Lewis and his "act" and cannot wait until his last game is over. Ian agreed with him. Those comments were BS!!!!
Myself, I am not tired of Lewis dancing and his so called "preaching". Ray Lewis since the case in 1999 has tried to be a first class role model for kids. His record is clean for the last 13 years. He goes to community centers and schools and he talks to the kids about staying in school and etc. He has tried to be a first class role model for milllions of kids all over the world who loves his play off the field and on the field.
But the now the media is jumping on a SI story that Lewis may have used a deer spray that might have helped him recover from a serious injury he had during the season. This deer spray is banned by the NFL. Lewis has said the story is not true. So readers what side are you on? I want to know WHY SI came out with this stuff about Lewis ON THE SAME DAY AS MEDIA DAY FOR THE SUPER BOWL???? WHY? Was this planned by SI to make Lewis look bad because he is riding on such a high in helping his team reach the Super Bowl? I say YES!!
So now Lewis is fighting the 1999 murder case and the deer spray story instead of discussing the Baltimore Ravens in the Super Bowl vs the 49ers. This is crazy!! Real crazy.
But certains fools like Ian Furness and Randy Cross and others do not like Ray Lewis as a person. They can care less about his Hall of Fame play for 17 years on the field. They want Lewis to suffer. They want to make Lewis look bad just like they wanted Mick Vick and OJ to look bad.
I think Ray Lewis is the best linebacker of his day. And one of best of all time in the NFL. When I watch the Super Bowl I want to see Lewis win and go out into retirement a winner. And I want to see him do his dance at the start of the game for the last time. And I want to hear what he wants to say after the game too.
Others want to say he is "preaching". I call it putting down knowledge. This is what I call it. I hope sports radio will get off the 1999 case and this deer spray SET UP by SI and disgame in which one of the best NFL players of all time will play his last game.  Hopefully one day the real truth will come out about really happened that day in Atlanta. For everyones sake including the family of the deceased!
Is SI trying to sell magazines with this Lewis story put out on press day at the Super Bowl? HELL YESSSSS!!!!
Tags: baltimore,bowl,case,dancing,deer,fame,football,kids,lewis,media,model,nfl,opinion,preaching,radio,ravens,ray,role,seattle,SI,Sports,spray,super,unfair
Posted on 10 August 2012 by curvey in Featured, Sports
ARTICLE FROM latimes.com (Full story click here)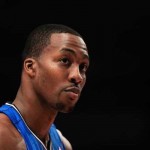 Well the Los Angeles Lakers are going to have another great center to roam the middle in Dwight Howard. He will follow Wilt, Shag, Miken and Kareem.  It is amazing that the Lakers always obtain great centers to play for them. How does this happen? It is crazy. But anyway it has happned. Dwight Howard will be playing for the Lakers. Wow!
Howard will join two of the greatest players of all time on the Lakers, Steve Nash and of course Kobe. Yes Nash is 38 and Kobe is 34. But Nash can still play at  his age as long as the Lakers control his minutes and the same for Kobe. Dwight also joins Pau Gasol and Ron Artest to make a dynamite starting line up that will be very hard to beat. PLUS the Lakers signed Antwon Jamiason during the off-season. A proven vet who can get 20 at any time.
If you are a NBA fan you have to be excited to see this trade happen. I have a friend who says I am a NBA fan instead of a writer. I have to admit now that yes I am a fan. I love basketball. It is my favorite sport BY FAR. I can watch a NBA game, college game, high school game etc. I love the game of basketball.
Dwight Howard just had a back operation and may not start the season but that is O.K. He is a Laker and will play. Howard has personality, a smile and is a killer on the court. he will shut down the middle big time for the Lakers. He blocks more shots than any player in the NBA. The only problem I have is this readers and it could be a big problem.
Age may come into play with the Lakers.  Kobe is 34. Nash is 38,  Gasol is 31 and Artest is 33.  Head coach Brown will have to do a great job in trying to manage minutes for his older players.  This a fact. But all one is for sure. Howard, Kobe, Gasol, Nash and Artest keep in great shape so let's see what happens next season when it comes to minutes.
I am listening to L.A. sports radio and the fans and media are excited.  Man cannot wait to see the games between the Lakers and the improved L.A. Clippers next season. And also when the Lakers meet the champs….Miami Heat and other games. It will be off the hook.
Since our beloved Seattle Sonics left town in 2008, I have followed the L.A. Lakers. This goes back to when I was young. The Lakers and the Sonics were my favorite teams. Thank god for NBA-TV. Counting down the days until the start of training camps and the start of the NBA season.      Gordon Curvey
New "Sports Inner City Radio" podcast coming at ya a little later on Sunday. Urban sports news and issues PLUS classic soul and smooth jazz music and sports interviews. A one of a kind broadcast from the Northwest.
Tags: age,artest,champs,clippers,dwiight,game. blocks,Gasol,howard,kobe,lakers,Los Angeles,media,miami,NBA,pau,personality,radio,Sports,superman,trade,wilt,wow
Posted on 06 December 2010 by curvey in Featured, Hip-Hop/R&B
ARTICLE FROM msnbc.com (Full story click here)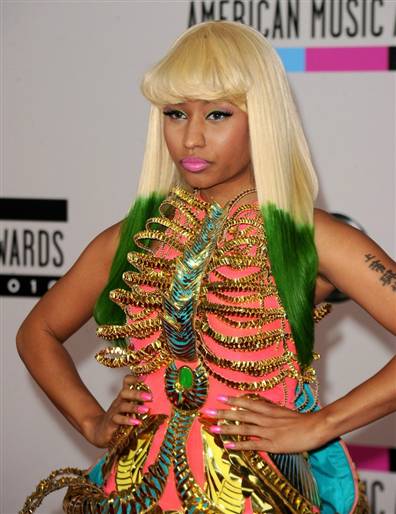 Here is question a question for you. Has Nicki Minaj stole or ripped off Lil Kim style? Has she used Lil Kim to build her own image?
Word is Lil Kim is upset and their is a new beef in hip-hop. But it is a new beef when it is lady vs lady. Do you feel Lil Kim should just chill out and just do her and put out good music and let Nicki Minaj music shine?
Minaj is for sure making a name for herself in the music game with her wild attire and her music. Just like Lil Kim has done.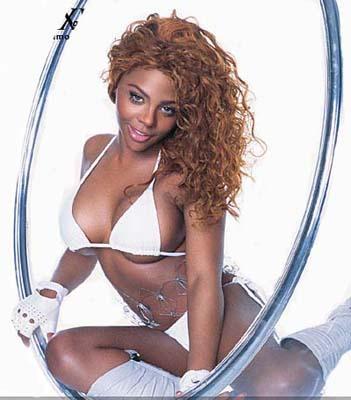 And Minaj has a mouth on her just like Lil Kim. I just sit back and watch all the give and take between the two divas. It is very intersting.  The media is jumping all over this so-called beef between Kim and Nicki and what is really going on.
My opinion is I think Minaj has stole some of Lil Kim's style and has used it for her benefit. And she has used it very very well. Her name is all over the place just like Lil Kim used to be. For Kim's sake I hope she can make a "comeback" and have her name out their just like Minaj is now. Because truth be told, Lil Kim is the original. That is for sure.
Hs Minaj ripped off Lil Kim's image and style? That is up to you to decide. I think she has. But if she did, she is riding all the way to the bank with it for sure.  Gordon Curvey
Tags: beef,diva,hip-hop,image,lil kim,media,msnbc,nicki minaj,style
Posted on 10 October 2010 by curvey in Television Show
To celebrate media icon Oprah Winfrey ending the 25 year run of the "Oprah Winfrey Show", and the start of her own network, O.W.N (Oprah Winfrey Network) in January 2011, we are broadcasting our EXCLUSIVE interview with Ms. O with Gordon Curvey that took place here in Seattle a few years ago PLUS some of the hottest videos of today!!
Tags: brordcasting,exclusive,interview,media,music videos,oprah winfrey,OWN,seattle,television
Posted on 29 April 2010 by curvey in Featured, Sports
ARTICLE FROM nba.com (Click here for full story)
"One Man's Opinion" by Gordon Curvey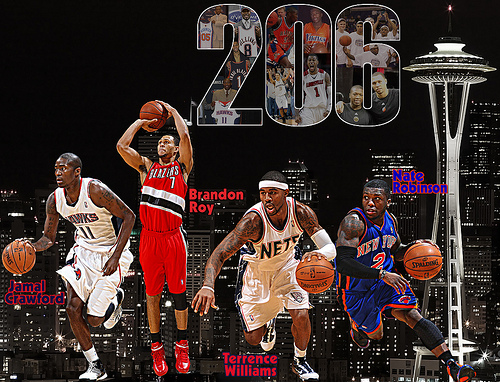 I do not think my home town of Seattle, Washington get enough ink in the media and over the air regarding all the talent from here doing well in the NBA.
S.I. did a great story on all the player from Seattle and surburbs who are in the NBA a few months ago.
That article I am sure made more sports fans aware of the basketball talent coming from the city of Seattle.
Having said that, a big shout out to the Atlanta Hawks Jamal Crawford who won the NBA "Sixth Man" award and to the Houston Rockets Aaron Brooks who won "Most Improved" for thr 2009-10 season.
Crawford went to Rainier Beach High and Brooks went to Franklin High. The schools are rivals here in Seattle and Jason Terry of the Mavericks also went to Franklin. And the Celtics Nate Robinson went to Rainier Beach and Brandon Roy went to Garfield High. There are about 13 players in the NBA from Seattle area and suburbs.
We hope to do interviews many of the Seattle NBA players this summer so look out for that.
Be sure to listen to "Music Inner City Radio" on KKNW 1150am every Friday night at 10pm in the Seattle area and suburbs and also online at www.1150kknw.com
You can also listen to podcasts of our radio shows right here. Just click "podcast" link above.
Tags: Aaron Brooks,basketball,celtics,hawks,interviews,Jamal Crawford,jason Terry,media,music,NBA,radio,season,seattle,Sports