Tag Archive | "michelle"
Posted on 03 April 2018 by curvey in Featured, Politics
ARTICLE FROM politico.com (Full story click here)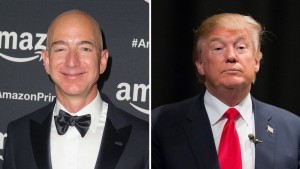 I am here in Seattle, Washington where huge corporations like Microsoft, Starbucks and yes Amazon main headquarters are in the area. And it seems your President (not mine) Trump is going after one of these huge corporations. The questions is why?
It seems Trump is going after Amazon for one reason and one reason only. It is because he knows that Amazon leader Jeff Bezos also owns the Washington Post. A news organization that has been a big time critic of Donald Trump since he has been a so called President. So Trump is going after Bezos.
So the pathetic Trump is now making threats to raise postal rates on the tech giant Amazon which many consider this a war between Trump and Bezos. This threat cost Amazon over $35 billion in stock on April 2nd.
It seems higher postal rates could hurt Amazons online profits which depends on the Post Office. Come on ladies and gentlemen unless you are the great and former guest on "Music Inner City TV" Stevie Wonder you can see what is going on. It is like what the another former guest on "M.I.C-TV" the late great James Brown sang "It Is The Big Payback" by Trump. It is a outrage!!
Trump is trying to lower the boom on Bezos and Amazon because of the Washington Post. People are saying Trump's charges that Amazon is exploiting the U.S. Postal Service is "made up" and Trump's charges are hurting Amazon and it's shares.
What Donald Trump is doing to Amazon is just plain stupid and just plain wrong. It is a perfect example of retaliation by the arrogant Trump. It again shows me what a REAL PRESIDENT and a man with style and class in President Barack Obama and the great former First Lady Michelle Obama and Sen. Hilary Clinton said and that is Donald J. Trump is unfit to be President.
Comments: gcurvey@yahoo.com or facebook.com/gordon.curvey or twitter.com/gcurvey
Tags: amazon,bezos,charges,giant raise hurting,higher,michelle,microsoft,post,seattle,starbucks,tech,threats,trump,washington
Read More Comments Off on Why Is Trump Going After Amazon? It Is Obvious!!
Posted on 15 November 2017 by curvey in Featured, Politics
"One Man's Opinion" by Gordon Curvey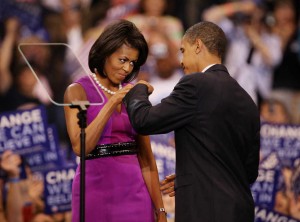 I think back nine years ago when President Barack Obama became the first African American President Of The United States and Michelle Obama became the first African American First Lady. As a African American I was so very very happy. I am not going to lie, I cried!!
I never thought I would ever see a black man as the most powerful person in the world. But it happened. When President Obama became President millions and millions of citizens felt proud. Proud to be a American. I should say more proud to be a American. Truth be told, every time I saw President Obama or First Lady Michelle I was happy. When EVER I saw Prez Obama or Michelle on TV I stopped what I was doing to watch. Press conference after press conference. Speech after speech.
Of course President Obama and First Lady Michelle became role models for millions and millions young African Americans and people of color and we felt it was great to have someone who looks like us in the White House.
Of course the President could have done more as a African American in the White House. He could have spoken out more on all the killings in his home city of Chicago. He could have made more visits to Chicago. And he could done more on the unemployment situation going on in the African American community. We can also say of course all President's could have done more….right?
But again millions of us felt happy and proud to have a African American as President and felt proud Michelle Obama was our First Lady. Michelle Obama used her platform to speak to young African American girls. Asking them to take education serious and stay out of gangs and do not use drugs. She was a TREMENDOUS First Lady. Hell many say she was more popular than her husband. And she is popular as hell right now as is her husband.
As we know, President Obama not only won the first time he ran he won a second term also! A African American man won two terms as President Of The United States. Unreal ladies and gentlemen.
Readers I was lucky enough to cover President Obama aboard Air Force One when ever he visited my city of Seattle, Washington. In the eight years he was President I covered Air Force One at Seattle-Tacoma International airport five times and EVERY time it was a thrill to see the big 747 with the United States Of America land and then finally stop about a 100 feet from all the reporters.
It was just great!! I can go on and on about my thoughts on the eight years of the first black President of the U.S. During the last few years in the White House, this businessman Donald J. Trump said over and over that President Obama was born in Kenya. Even with the President showing his birth certificate that let EVERYONE see Barack Obama was born in Hawaii. Last time I checked Hawaii is a state in the U.S.
Trump continued time and time again to say Barack Obama was born in Kenya. Today as the so called President, Trump STILL thinks President Obama was born in Kenya. It is a fact that Donald Trump (will NEVER call him President) has shown that he HATES President Obama!!
Since he has been in office Trump has NEVER said ANYTHING positive about the eight years of President Obama. NEVER ladies and gentlemen has Trump said anything positive regarding President Obama. This is just flat out wrong!! Keep in mind readers, President Obama walked out the White House with a WHOPPING 60% APPROVAL RATING!! Currently Trump's approval rating is at a VERY VERY LOW 36%!!
President Obama is smooth! He knows how to handle Trump. Yes I wish Prez Obama would speak out more when Trump criticizes him over and over but this is the way he has decided to handle Trump right now. But Prez Obama is writing a book.
Cannot wait until his book comes out. It should be VERY VERY interesting!! I just am thankful that I had a chance to witness eight years of President Obama and First Lady Michelle. A dynamic couple. Two very intelligent people. Two tremendous role models for younger African Americans and people of color. And oh yeah it has been great to see Malia and Sasha grow up to be beautiful young ladies.
For sure from time to time I will be writing about President Obama and First Lady Michelle (will ALWAYS be First Lady to me)  activities as private citizens. Slowly Prez Obama is doing more public speaking and Michelle also. Hopefully both of them will soon give their honest feelings on this fella who lost by a 3 MILLION votes and a man who is totally unfit to be President…Donald J. Trump.
Tags: america,book,color,criticizes,first,hates,lady,malia,michelle,model,obama,office,people,president,role,Sasha,smooth,trump,whopping
Read More Comments Off on Why Millions Of Americans Miss The Obama's
Posted on 07 November 2012 by curvey in Featured, Politics
"One Man's Opinion" by Gordon Curvey
Students held big protest over the re-election of President Barack Obama Tuesday night on the University of Mississippi campus. Why did this happen folks? This is crazy. (Read story from washingtonpost.com right here)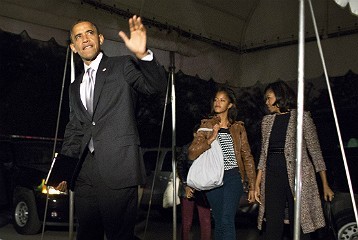 Tonight was a very happy night for me as I sat and watched the first African American President of the United States Barack Obama, win re-election to a second term as President.  I never thought I would see a African American President, now he has four more years!
To see President Obama walk on stage before a wild and cheering crowd in Chicago with First Lady Michelle Obama and their beautiful children, it just made me very happy.  And if you are a supporter of the President I am sure you are happy too because in my opinion it would have been a huge mistake to elect Mitt Romney.
If Romney was elected it would be President George W. Bush all over again. Romney said if elected he would make cuts to Medicare, Amtrack, Planned Parenthood, Social Sucurity, FEMA, food stamps and much more. It would have been terrible. How anyone would vote for Romney is beyond me readers. But then again Romney had Fox News on his side led by Sean Hanitty.
I watched Fox News after CNN said that President had won and this crazy Karl Rove was making excuses and was saying he did not think the President had won yet. Rove is crazy! Can't wait to hear Hannity cry like a baby because his guy Romney was beat. But you can bet that Hannity will continue to talk negative about President Obama on a nightly basis during his second term just like he did during the first term.
Finally, as I watched the crowd when Romney gave his speech after his loss, I could not see a black face. It was a sea of white faces. The Republicans need to realize that America is not all white. It is a melting pot of African Americans, Asians, Latinos, East Africans etc. The right needs to start RIGHT NOW to reach into the black community and latino community etc and show that they care about our plight in America.
Romney won big time in states like Arizona and Utah and Montana and Wyoming where there is hardly a black face in sight. The Republicans have have a long long history of not reaching African Americans and people of color and showing us they care about us. When you watched the crowd in Chicago after President Obama won you saw whites cheering, Asians cheering, East Africans cheering, African Americans cheering,
This is America folks. And on November 6th, Americans voted for President Obama to serve four more years. He has a lot of work to do. People need jobs etc but I think the President will try to work hard to improve some of the problems that are going on today. Hopefully the Republicans will FINALLY work with him because so far they have not. I am happy that President Obama won a second term now as Big Ed says on his show on MSNBC "Let's get to work"
Tags: african,American,barack,chicago,cnn,election,hanitty,karl,michelle,mitt,obama,president,republicans,romney,rove,second,term,years
Posted on 06 September 2012 by curvey in Featured, Politics
"One Man's Opinion" by Gordon Curvey
I don't know if you are a supporter of President Obama or Mitt Romney but I will tell you what. I am a supporter of President Obama and I am going to support his re-election for four more years.
This week I watched great speech after great speech at the Convention in Charlette. Unlike the BORING Republican convention in Tampa Bay where they told lie after lie after lie about President Obama. Remember one thing readers and that is from day one the right had one thing in mind and one thing only and that is to make President Obama a one term President of the United States. Period.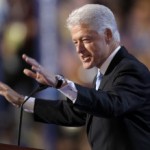 They had a meeting with Republican leaders on the day the President was sworn in to plan on making him a one term President. And they have tried to do every thing that goes against our President. Heck some of them still think President Obama is not a American. Or he is "not one of us"
But in Charlette I watched some of the best political speeches I have ever seen. First Lady Michelle Obama walked onstage in Tampa with a great looking dress and gave a great speech. She knocked it out the park. The governor of Ohio gave a great speech. He knocked it out the park.
Vice-President Joe Biden gave a great speech too. Brought the house down and yes he knocked it out the park. And the best hitters in my opinion were President Bill Clinton and of course President Obama. The President NEVER gives a boring speech. When he speaks it is like a African American minister giving a sermon on Sunday morning. I feel insprired every time I here a speech by our President. Real talk.
But to be truthful the best speech in my opinion was by President Bill Clinton. It was a 45 min political lecture by the former President. I am not going to lie. It was the best speech I have ever heard. He just broke it down about the Republicans and Paul Ryan and Mit Romney. Point by point and issue by issue. Bill Clinton is one thing folks…a politician and that is what he is. Clinton in my opinion won the race against Romney with his speech.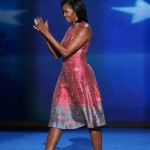 The Democratic Convention was the most diverse event I have seen. All races and creeds. Keep this in mind readers. And that is the Republicans only had 47 African American delegates out of thousands. Only 47!! That is not American folks.
So let's see what happens now that the two conventions are in our past. I hope President Clinton and others help out the President out on the road  to help re-elect President Obama so he can finish what he has started.
After all as Clinton said it is no way he can get every thing done the way President Obama wants in one term.  He has to have another term to help people get back to work.
If Mitt Romney and Paul Ryan wins well I might as well pack my bags and move to Africa or something. In my opinion if the Republicans win minorities are in trouble in America. This is a fact. It just cannot happen.
Gordon Curvey
Tags: American,charlette,convention,Democrat,fist,lady,michelle,mitt,obama,paul,president,race,republican,romney,ryan,speech,tampa
Posted on 19 August 2012 by curvey in Featured, Politics
ARTICLE FROM huffingtonpost.com (Full story click here)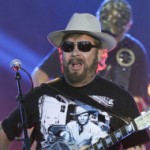 Hank Williams Jr. is a real clown and should be a part of the Ringling Bros Circus! One thing for sure he lets everyone knows how he feels about President Obama. For the second time he has said in public how he REALLY feels about our President.
At a recent event Williams told the crowd that the President "hates America" "is a Muslim" and other crazy things. Dude is a far right clown and he is also dangerous. Why is he dangerous readers? Because fools like him brings many other racists out of the closet. And brings out more hate groups against the first African American President.
What also does not help is Sean Hannity and Fox News who on a night basis put President Obama on full blast on national TV and also helps bigots like Williams Jr stay strong against the President. After all have you heard Hannity and O'Reilly say that fools like Williams Jr. are wrong in their unfair treatment of President Obama? Have you heard Rush or Beck say it is wrong for guys like Williams Jr. to say the president is "a muslim" or that the President "hates America"?
As a supporter of President Obama I am asking that other supporters stand up for the President. The election is in November. If you are a supporter of President Obama and Vice-President Joe Biden and even First Lady Michelle Obama, it is time to stand up and do what you can to help our President. I am going to do my small part for sure.
Gordon Curvey
Tags: beck,bigots,circus,clown,crazy,dangerous,election,fox news,hank,Hannity,hates,michelle,muslim,national,obama,politcs,president,public,ringling,rush,sean,second,supporter,unfair,williams