Tag Archive | "movies"
Posted on 31 December 2017 by curvey in Featured, Much More
ARTICLE FROM huffingtonpost.com (full story click here)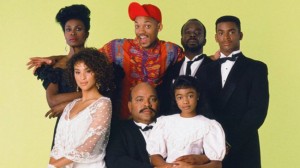 I was looking online for stories to talk about on my two websites "Music Inner City News Magazine" and "Sports Inner City Online" www.sportsinnercity.com And I saw information about actor Will Smith and I said this is kind of interesting.
Some of you reading this were not even alive when Will Smith first came on the scene as part of the hip hop group Jazzy Jeff and the Fresh Prince which had a big hit with "Parents Just Don't Understand" in the late 80's. And that was the start of super stardom for Will Smith. Man..no one knew how huge of a performer Smith would become.
In the early 90's a TV show was made to make Smith a star on tv and in music. The program was called "Fresh Prince Of Bel-Air". It became a instant hit. It was a very funny show with a great cast.
Of course the star of the show was Will Smith. "Fresh Prince Of Bel-Air" lasted a long time on tv. And it ended the way the cast/producers wanted it to end. Truth be told, the program had good ratings even after six or seven years on the air. But this is what happened.
While Smith was still doing "Fresh Prince" he started making and staring in big Hollywood movies. Movies that did very well when it comes to the box office. So Will said enough with the tv program and went on to super stardom in Hollywood. He became one of only a few African American male actors.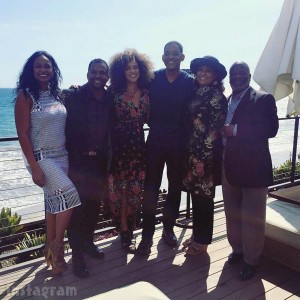 Will became one of the highest paid actors in Hollywood. Yes some of his movies did not do well in the box office like "Wild Wild West" and others but that is the way it is in Hollywood. When you are a actor or actress every movie you are in cannot be big hits.
Recently their has been talk in social media regarding Will and the cast of "Fresh Prince" getting together for a reunion show etc. But other cast members said no way without the actor James Avery who passed away a few years ago. Of course he played Uncle Phil on the show.
Smith said the other day that he cannot look at reruns of the "Fresh Prince". Which by the way is running every day and still a funny program to watch.
He said when he first started he mouthed his words and we can see Smith mouth moving when other actors/actresses said their lines. And you know what? Will is true readers. I went to You Tube to view "Fresh Prince" shows from 1990-1991.
The mouth was moving when others said their lines!! Wow! Plus Will said he is 49 years old soon to turn 50. But that means nothing because I see "Rosanne" is returning on the air and she is older too. Anyway let's see what happens in the future if Will and the cast of "The Fresh Prince Of Bel-Air" will return for a reunion program.
Comments: gcurvey@yahoo.com or www.facebook.com/gordon.curvey or www.twitter.com/gcurvey
Tags: bel-air,cannot,fresh prince,future,inner city,jazzy,jeff,magazine,movies,older,parents,phil,reunion,rosanne,smith,uncle,watch,will
Read More Comments Off on Will Smith Cannot Watch "Fresh Prince Of Bel-Air" On TV
Posted on 23 December 2012 by curvey in Featured, Hip-Hop/R&B
ARTICLE/BIO from wikipedia.com click here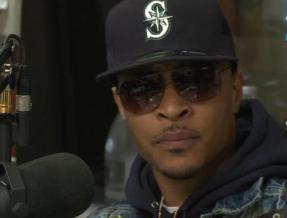 Lately I noticed a lot of positive press on Clifford Harris aka T.I. and this is a good thing. Because for awhile it was nothing but negative when it came to the rapper, actor and business owner.
He has got a pretty long rap sheet when it comes to breaking the law but it seems he has learned his lesson after his last visit to the pen. He is trying to be a great father to his kids and a role model for other kids and is trying to make his company Grand Hustle  something to deal with in music, tv and in Hollywood.
T.I. (pic with our own Seattle Mariner hat on) has shown on his reality show on TV with his wive Tiny that he does not want to be a father his kids do not know. He  is a caring dad to his kids and it seems he has a great relationship with Tiny who he has been with a long time.
With a lot of hip-hop these days sounding the same, when you hear a joint by T.I. you know it is T.I. He is one of my favorite hip-hop artists for sure. He has a new cd coming out soon and like the rest of his past cd's it will sell big time because T.I. knows how to put out hits. That's for sure. And he is a good actor too unlike many other rappers who try to act in Hollywood. He can really act. If you have seen his acting you will agree.
And it seems he is doing a lot in the community with toy giveaways at Xmas and turkey giveaways at Thanksgiving and he recently said he would not let a daughter of his date Chris Brown if they were old enough to date Brezzy. We all know what Brown did to Rihanna. That was a great statement.
So a big shout out to T.I. for getting his stuff together on the behalf of his family and fans. The future looks good for him in music and in Hollywood.    Gordon Curvey
Grab your headphones and listen to "Music Inner City Radio" Entertainment/political news plus classic soul and classic hip-hop music! And log on to "Sports Inner City Online" at www.sportsinnercity.com  for "Sports Inner City TV"!!
Tags: clifford,harris,hip-hop,hollywood,model,movies,pen,role,seattle,T.I.,tiny,tv,wive
Posted on 09 March 2010 by curvey in Featured
ARTICLE FROM huffingtonpost.com (Full story click here)
"One Man's Opinion" by Gordon Curvey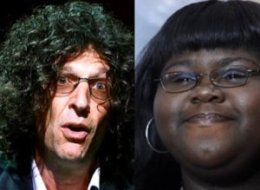 I CANNOT believe what so called "shock jock" Howard Stern said about Oscar nominee actress Gabourey Sidibe over the air about her size!
Please listen to his STUPID and yes RACIST comments about Ms. Sidibe by clicking the link above. I am real bothered by his comments. And I am bothered by his sidekick Robin saying what she said too! The question is WHY DID HOWARD MAKE THESE COMMENTS AND WHY IS THIS NOT BIGGER THAN WHAT IT IS?
First of all Gab will find work again!!! She is looking over new roles right now Howard!!! And not only that I am sure OPRAH AND SPIKE AND DENZEL AND TYLER PERRY and others will make sure she will have a job acting in a movie!!! What a STUPID thing to say that Gabourey will not find another acting job!!!
It hurts me as African American that Howard would say that about her and hurts me even more that Gab's African American sista would also make negative comments about Sidibe!!!!
Gabourey seems like such a down to earth young lady with a great personality. Yes she is a large lady. This is true. And hopefully she will shed some pounds for her health. But when she is ready she will. She does not need CLOWNS like Howard and Robin blasting her on national radio!!
And here is a question. What kind of talent does Howard have or Robin have? I think the pitbulls that Shorty trains on "Pit Boss" on TV have more talent than Howard and Robin!!!!!!!!!!! All Robin does is laugh and makes a stupid comment after Howard's stupid comments!!!! It is beyond me why he makes millions. He is a no talent!!
These comments made by Howard and Robin should make Sidibe work harder and show the fool and crazy Howard that she is going to work and she will continue to be a wonderful actress and a great lady.
What Robin should have said on the radio as a African American female is how proud she was of Gabourey to be nominated for a Oscar and how proud she was of Monique to win a Oscar!!!! Instead of the very negative things said. Those comments make me angry and also very very sad.
What Howard said about Gabourey Sidibe is FLAT OUT WRONG AND TERRIBLE! I hope you readers are as bothered as I am by his comments.
Tags: acting,actress,african American,bigger,blasting,denzel washington,fat,gabourey Sidibe,gordon curvey,hollywood,howard,howard stern,huffington post,hurts,jock,lady,millions,monique,movies,music inner city,national,negative,online,oprah,oscar,personality,pitbulls,Podcast,precious,radio,robin,seattle,shed,shock,shorty,sista,size,spike lee,stern,stupid,talent,tyler perry,unfair,washington,webcast,weight,young