Tag Archive | "music inner city tv"
Posted on 25 March 2010 by curvey in Featured, Sports
I watched the University of Washington Huskies get beat by West Virginia I just though of a flashback of sports radio hosts here in Seattle not wanting Lorenzo Romar.
Few years ago the Huskies were looking for a new head basketball coach here in Seattle. A lot of names were mentioned at the time. One of which was current head basketball coach Lorenzo Romar.
Also mentioned was the head coach at Gonzaga, Mark Few and local high school star and at the time college head coach Quinn Snyder and others.
On local sports radio KJR here in Seattle, talk show hosts Mitch Levy and Dave "Softy" Mahler and Steve Sandmayer got on the radio and demanded the UW DO NOT HIRE ROMAR. They did it over and over and over again over the air.
They said "what has he done" as a head coach etc. Mahler was the most vocal. The day of the press conference at the UW naming Romar as head coach at the UW, Mahler was blasting the head people at the UW for hiring Romar. The Mahler and Levy at KJR wanted a guy like Snyder or Few. No Romar!!!
I went to the press conference to confront Mahler and ask him why is he there covering the press conference and asking questions when he was on the air blasting Romar the SAME MORNING!! I will admit things got a little heated between myself and Mahler. I did not like him being there acting like everything is cool when he and others at KJR did not want Romar as the new head basketball coach at the University of Washington.
Well a few years later, look at the University of Washington basketball program now!! They were in the Sweet 16!! And Romar has helped send players like Brandon Roy and Nate Robinson and Spencer Hawes to the NBA. Even former player Will Conroy has been up and down in the NBA. Lorenzo Romar has put the U-Dub on the NCAA basketball map.
I get kind of upset when I hear Levy and Mahler on KJR kissing his butt now, knowing they DID NOT want Romar as the head coach. I wish I had a recording of the negative stuff Mahler and Levy was saying about the possible hiring of Romar.
Anyway big shout out to Romar, Quincy Pondexter, Isaiah Thomas, Matthew Bryan-Amanings and the rest of the University of Washington Huskies for going all the way to the Sweet 16. You made us Seattle area sports fan happy!
And also watch ESPN "Right Now" for more news and video from NCAA basketball games and the march to the final four.
Tags: basketball,kjr,music inner city tv,NCAA,podcasts,romar,seattle,Sports,sweet 16,University of Washington,washington,webcasts,West Virginia
Posted on 12 March 2010 by curvey in Featured, Hip-Hop/R&B
ARTICLE FROM essence.com (Full story click here)
"One Man's Opinion" by Gordon Curvey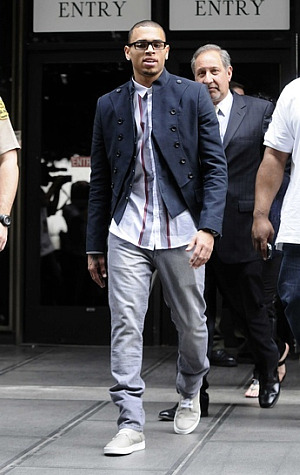 Singer Chris Brown is doing something he thought he would never do. And that is to ask for his fans support in buying his new cd and is also asking radio to play his music.
Ever since his problem of beating of singer Rihanna, he has had problems with his career.
It is for sure not like it was before the problems came down on him.
But in reality Brown cannot blame anyone but himself for his problems. He brought them on himself. He should have did what he did to the beautiful Rihanna.
Having said that, the question is this. Is it time for fans to forgive Brown and buy his music? Is it time for radio to start playing his music again? Truth be told I do not even hear any past Chris Brown music on the radio like "Kiss-Kiss-Kiss" and others. Do you?
Brown is doing every thing courts have asked him to do and more. He is even going to schools and community centers to talk to talk to youth etc.
What will it take for radio and fans to support Chris Brown like before the Rihanna incident? It does not help when programs on TV like "The Insider" and "Showbiz Tonight" continue to blast Brown when ever they can.
This story is very very interesting. Let' see if the negative treatment of Chris Brown will continue. For his sake and career, I hope the negativity stops.
"Music Inner City News Magazine" The #1 urban online news magazine in the Northwest (U.S.) A spinoff of "Music Inner City TV" on Comcast On-Demand all over Western Washington state 24/7! Just grap your remote and go to the "music" list.
Tags: 24/7,beautiful,blast,brown,centers,comcast,community,continue,courts,crhis brown,entertainment,forgive,help,incident,inner city,magazine,music,music inner city tv,negative,northwest,on-demand,play,podcasts,r&b,radio,remote,rihanna,showbiz tonight,singer,spinoff,television,the insiders,treatment,urban,washington,webcasts