Tag Archive | "nbc"
Posted on 24 August 2012 by curvey in Featured, Politics
ARTICLE FROM bet.com (Full story click here)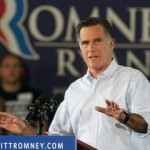 I was really not shocked when I saw this story regarding Mitt Romney. The story says Romney has ZERO support from African American voters according to a new poll by NBC/Wall Street Journal. Again I was really not shocked.
Republicans have a LONG history of little outreach to the African American community. It is like they do not care. Yes Romney made a "fake" showing at the NAACP convention a few months back and he met with a few black folks concerned with education but that has been it readers.
When Romney spoke at the NAACP event he told the crowd "I am your man to help with problems in the African American community" I almost to call 911 when he said that!! We heard cheers. But we found out later that the "cheers" came from his supporters that were planted in the crowd to cheer for him!! I am telling you the truth folks! That really happened.
Of course President Obama has a 94% ratings in the poll. That is not a shock right? And of course our First Lady Michelle Obama is VERY popular. She is just a great lady.
It is no surprise that I am a supporter of our President. And like Spike Lee told Piers Morgan the other day, I am going to do my part, little as it is to help him get re-elected in November.
It is a fact that the Republicans led by Romney are trying to STOP AFRICAN AMERICANS FROM VOTING IN KEY SWING STATES LIKE OHIO AND FLORIDA. This cannot happen!! It is a fact that the race between Romney and President Obama is a dead heat right now and the right is trying to play games with African American voters. IT HAS TO STOP AND STOP NOW readers. This cannot happen!
So Mitt Romney with ZERO support among African Americans…..not a surprise.   Gordon Curvey
NEW "Music Inner City TV" video podcast coming at ya on Friday. "Mixing Music & Sports" plus underground music videos and interviews and more! Watch via smartphones, MAC's, PC's, tablets.
Tags: african American,crowd,First Lady,florida,history,interviews,journal,michele,mitt,morgan,music,naacp,nbc,obama,ohio,piers,Podcast,poll,popular,ratings,republicans,romney,shocked,states,swing,underground
Posted on 06 August 2012 by curvey in Featured, Sports
ARTICLE FROM huffingtonpost.com (Full story click here)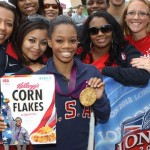 I watched the Olympics in great joy as little Gabby Douglas put herself for ever on the sports map as she let everyone know how great she is in gymnastics and she did it with a great smile and personality. It brought tears to my eyes seeing this 16 ye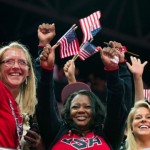 ar old African American girl do such great things. I am sure some of you reading this feel the same way I do.
But then NBC took the happiness away from me. Right after NBC's coverage of Gappy's great performance, they quickly went to a commercial that featured a monkey on gymnastics rings. I said to myself "I know I am not seeing things" I thought to myself if others are as angry and bothered by this as I am.
How can NBC be so STUPID readers? Did they even think that this was wrong and that folks in the African American community will be upset with NBC by them showing a monkey on gymnastics rings? To make matters worse, NBC does not think it is a problem and they say it was not intentional on there part.
All I can say is NBC is guilty of being stupid. Pure and simple. For them to play that commercial after Gabby's win was just plain stupid. But truth be told I have a problem with any commercial that features a monkey or a gorilla. To me it saying a monkey or a gorilla is like a African American.
Another thing I am bothered by is this. When you see young Gabby in London doing what she does best, her mom Natalie Hawkins is always ther. Here is a question. Where is Gabby's father? Is he anywhere in her live? To many times young African Americans are shown with just their mom and their dad is nowhere around. I would like to know where is Gabby's father. Gabby and her mom is making a apperence on CNN's Piers Morgan. I wish Gabby's father was on Morgan's program too.
I am not hear trying to knock African American moms. I am saying this readers. Stats show that 7 out of 10 African American kids are growing up without a dad in the household. It is a HUGE problem. A huge problem folks. In my opinion a black child needs BOTH parents in the houshold. So a child will know their daddy. Have a male image at home. Here that "deep" voice of their dad.
I hope Gabby has a relationship with her dad like for instance Venus and Serena Williams have a relationship with there dad. When you see a tennis event with Venus and Serena you will see their mom AND THEIR DAD and they are divorced. But they show up. I hope it happens for Gappy.   Gordon Curvey
Music Inner City – Popup Player

Podcast: Play in new window | Download
Tags: 16,african American,commercial,Douglas,father. natalie,Gabby,gold,guilty,gymnastics,Hawkins,joy,london,mom,mother,nbc,olympics,performance,smile,Sports,stupid,where
Posted on 16 March 2010 by curvey in Featured, Sports
ARTICLE FROM pga.com (Full story click here)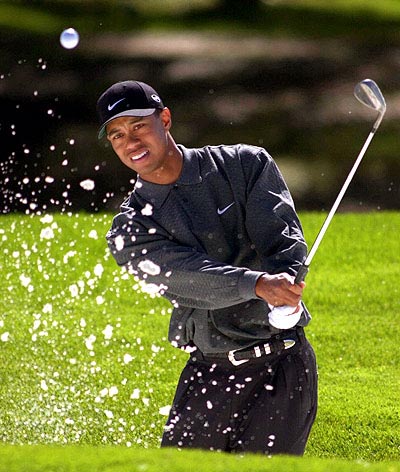 Well it is about time. The #1 player in the world of golf Tiger Woods is returning to competition on the course at the 2010 Masters in April.
I know fans are happy, CBS, NBC, ESPN, ABC etc is happy, advertisers are happy.
If you are a golf fan, you are happy that Tiger is returning to play.
With Woods returning, that is more cash for everyone. No matter what you think about the problems of Tiger's love life, one thing is for sure. He is the best golfer maybe in the history of the game and the game needs Tiger Woods.
Yes certain players on the tour blasted Tiger about his problems. Even a older legend like Tom Watson said some things about Tiger. But I am sure Tiger will make folks forget all that win he starts kicking their butt on the golf course and wins events just like before.
Commercials are running already on CBS about the Masters and the return of Tiger. When Tiger arrives at Augusta, it will be one of the biggest days in the history of sports on TV or TV period besides President Obama taking office.
I will be watching. Like I said before the only time I watch golf is when Tiger is near the lead and maybe John Daly. That's it.
So welcome back Tiger. The sports world needs you and golf needs you. I hope Tiger learned from his huge mistakes and becomes a better man, a better husband and a better father.
BREAKING NEWS: You can now watch ESPN's "Right Now" right here on "M.I.C News Magazine"!! Basketball, football and baseball news and much more. Updated all the time, 24 hours a day!!
"Music Inner City News Magazine" The #1 urban online magazine in the Northwest (U.S)
Tags: 24/7,abc,advertisers,augusta,baseball,basketball,cbs,comcast,espn,football,golf,hip-hop,history,john daly,legend,magazine,masters,nbc,online,Podcast,pop,president obama,r&b,rap,right now,tiger,tiger woods,tom watson,tv,updated,urban,webcast,win,woods