Tag Archive | "nfl"
Posted on 29 August 2016 by curvey in Featured, Sports
"One Man's Opinion" by Gordon Curvey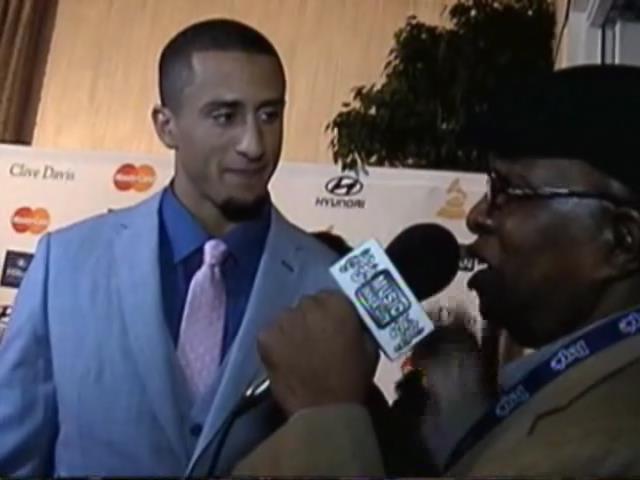 Watch "Sports Inner City TV" webcast right here. Just click the screen on the right.
Which features comments from a few Seahawks from the locker room of Century Link after the Seahawks/Cowboys game. PLUS watch a program from Seahawks Training Camp/Vmac in Renton, Washington. Player interviews plus hip-hop/r&b/pop music videos!
Watch via smartphones, tablets, mac or pc! Special thanks to the Seattle Seahawks!!
I am sure that many many of you will disagree with me and what I am about to say here on my website. If so, I am sorry but it is truly how I feel about 49er QB and former guest on "Music Inner City Television" Colin Kaepernick. (pic with myself and Kaepernick)
First of all I am sure many of you have never met Colin. Well I have met him and interviewed him. He has appeared on "M.I.C-TV" two times. I interviewed him a few years ago in Los Angeles at the Clive Davis Pre-Grammy Party. And he also appeared on our program a few years ago at the Body@ESPYs pre show for the ESPYs also in L.A. Interviewed by Curtis "Boss" Elerson.
Kaepernick is a very intelligent young man. I am hearing and reading a bunch of crap from mostly white folks concerning Colin and his decision not to stand for the national anthem before a 49er per-season game. Ladies and gentlemen I DO NOT have a problem with Kaepernick and his protest.
And if he wants to not stand for the anthem all season, I do not have a problem with that. Colin feels America has not treated African Americans and people of color well and it is the truth. Kaepernick feels America allows racial inequality. Well it is the truth. If you think racism has got better in America because the first African American President..President Barack Obama was elected  and re-elected, you are wrong folks.
It does not matter if you have millions like Colin or if you are homeless, a black man experiences racism in one way or another EACH AND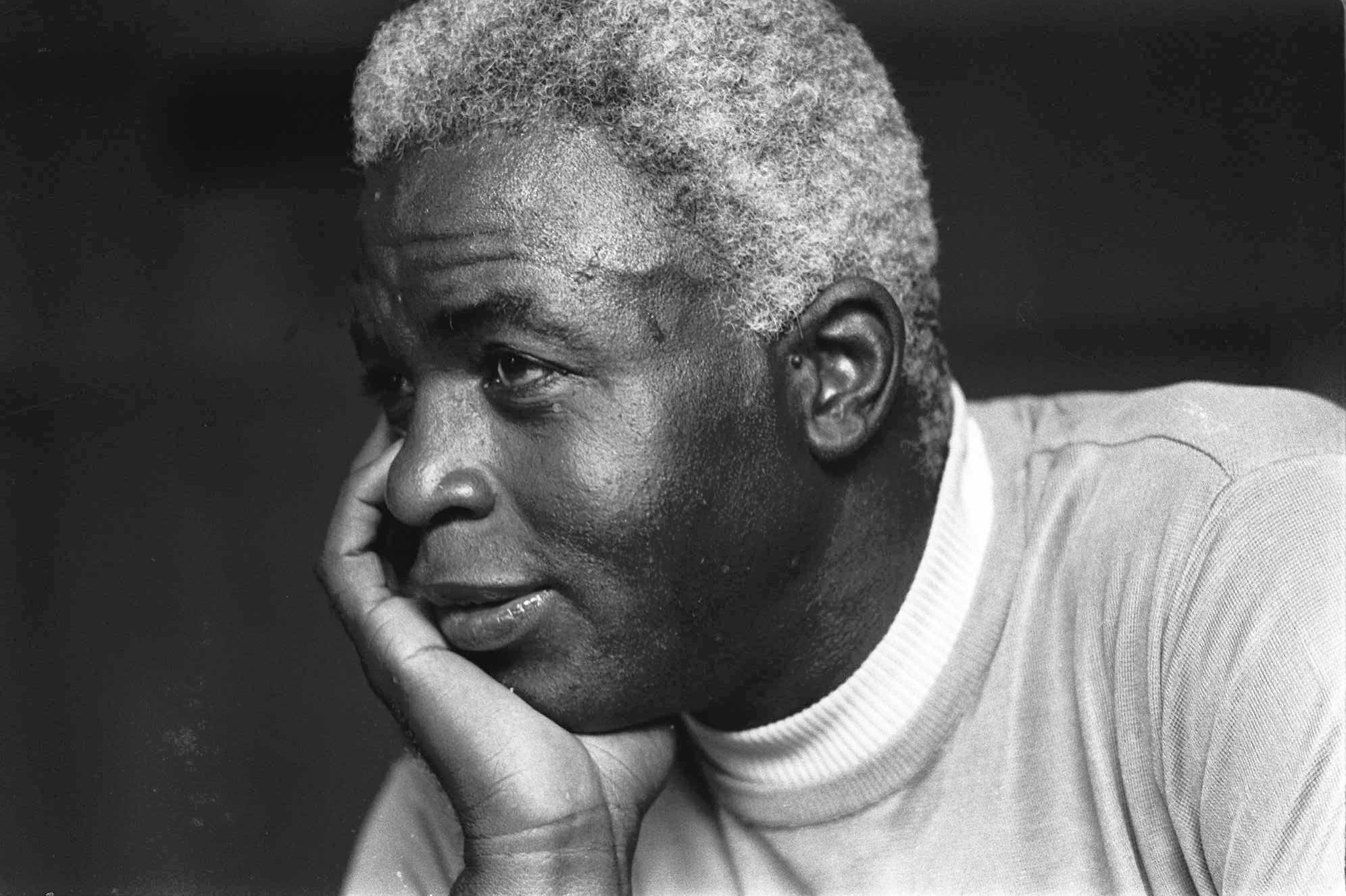 EVERY DAY! This is a fact. When Colin says his stance is bigger than football and it would be selfish on his part to look at it any other way. I agree again with Colin. He said that he was not going to stand up to show pride in a flag for a country that oppresses Black people and people of color. He also said there are bodies in the street and people are getting paid leave and getting away with murder.
Yes, many folks think Kaepernick not standing for the anthem is disrespectful to America. People are saying he picked the wrong way of taking a stance. Well who says? In his mind he feels his way was the way to get attention. I do not have a problem with his feelings.
I have just learned that the great Jackie Robinson said in 1972 that he does not stand up and sing the anthem because of what black people experience in America. WOW!! Jackie Robinson said this folks!! A sports icon and legend! Now decades later, Kaepernick is basically saying what the great Jackie Robinson said decades ago. So now are certain people are going to bash Robinson in his grave? Ummm?
Guys like Seattle Seahawks player Richard Sherman says Colin could have picked another way of speaking up. Well I disagree with Sherman and by the way this is not the first time I have disagreed with Sherman. Real talk. A lot of times I agree with him, a lot of times I do not.
Some say he has basically made his way out of the 49ers camp by taking his stance. He was in a battle for the starting QB position. Head coach Chip Kelly already has a rep for really not getting along with African American players. Would it be a good look for Kelly to cut Colin now? I would say HELL NO!! He would catch hell from the NAACP, the Urban League, Rev Al Sharpton's National Action League and Rev. Jesse Jackson's Rainbow Coalition. Not a good look.
You know what REALLY REALLY GETS ME PISSED? It is listening to sports radio hosts who let's keep it real, who are mainly white, TRYING to discuss a issue THAT THEY DO NOT HAVE A CLUE ABOUT!! And that is the topic of RACE AND RACISM.
I just listened sports radio KJR and Dave Mahler on the Kaepernick situation. I listened to a point then I had to turn the radio off with a quickness and that is for sure.  Mahler TRIED to give his CLUELESS opinions on race and racism. DAVE MAHLER AND MOST WHITE SPORTS RADIO HOSTS DO NOT HAVE A CLUE ABOUT THE EXPERIENCES OF AFRICAN AMERICANS AND PEOPLE OF COLOR IN WHITE DOMINATED AMERICA!!!!!
It turned the radio off when Mahler started to take calls from KJR's target audience….white suburb living, no African American friends or associates, no knowledge of our society or our culture listeners. Who of course would get on the radio and blast Kaepernick. Then Mahler had the nerve to have a African American former Seattle Seahawks player , Bryce Fisher on his show. I did not have to listen to know what Fisher was going to say because the brotha is a former member of the Air Force. You know he was going to disagree with Kaepernick and his protest.
It again shows something I have fought for and spoken out about for years and that is the inclusion, not the exclusion of African Americans as sports jocks on sports radio. Because readers IT IS A FACT, that whites and African Americans think differently on just about EVERYTHING, including the topics of race and racism.
Keep in mind readers that Colin has NOT broken any NFL rules. The 49ers released a statement supporting Kaepernick's right to choose whether or not to acknowledge the national anthem.
I saw online that some brainless clowns have burned Kaepernick jerseys to protest the national anthem. Give me a break folks. Of course the folks doing this are NOT African Americans. Today thank goodness I have heard the leading scorer of all time in the NBA and now a community activist the great Kareem Abdul-Jabbar and Seahawk player Michael Bennett and other sports stars support Colin and his protest. Including a mannwho is known for his famous protest in the Olympic's back in the 60's, Tommy Smith. That makes me very very happy. If you disagree me…sorry.
This young man is joining Lebron, Melo, CP3, D-Wade, WNBA players and more in speaking out in there own ways about police shooting of African Americans. Readers we know it is WRONG for police getting shot and killed. THIS IS A FACT. Also a fact is this. what Colin Kaepernick said is flat out true. And that is in just about EVERY killing of a African American by cops, they have not been charged or on PAID leave!! This hurts me, it hurts Kaepernick, hurts Melo, CP3, Lebron and D-Wade and millions of other folks.
YES, black on black crime is WRONG and it needs to stop. But also the killing of African Americans by police needs to stop. Sports radio hosts like Dave Mahler and others DO NOT spend time around African Americans in our community. They know NOTHING about us. They are guessing. They "wonder" about us. Guys like Dave Mahler on KJR here in Seattle NEED DIVERSITY TRAINING in a worst way!! It stands out like two left shoes the lack of knowledge guys like Mahler and other folks in the media when issues of race and racism like this Kaepernick protest comes up.
So again I am proud of Colin and protest. It makes me proud to see a man who in reality can take his millions and say f..k black folks! And not say anything about race or racism like Tiger Woods. Micheal Jordan in a surprise to everyone, recently donated to African American organizations and even spoke out about black folks getting shot by police as well as police getting shot. Colin can just get his millions, drive his Jag or Benz and be happy. He has decided not to do that!! He cares about the plight of black people.
The NBA and now the NFL. I am waiting on a few African American Major League Baseball players to stand up and speak out. Let's see if this will ever happen. Until that time, shout out to Colin Kaepernick. A brotha who even with MILLIONS in the bank has not forgot where he has come from. That is a good look!!
Comments: gcurvey@yahoo.com or www.facebook.com/gordon.curvey or www.twitter.com/gucrvey
Tags: 49ers,abdul,anthem,bennett,black,burning,clueless,colin,color,community,cops. paid,cp3,d-wade,dave,diversity,exclusion,folks,jabbar,jordan,kaepernick,kareem,kjr,lebron,mahler,melo,national,nfl,protest,qb,race,racial,racism,radio,richard,seahawks,sherman,tiger,woods
Read More Comments Off on Icon Jackie Robinson Would Not Stand For Anthem Too!
Posted on 09 April 2013 by curvey in Featured, Sports
ARTICLE FROM usatoday.com (Click here for full story)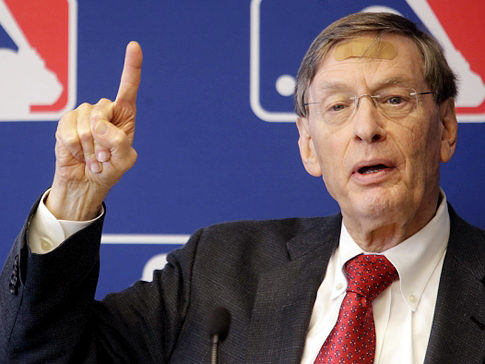 I saw this happening folks. I look at our Seattle Mariners and I no why a task force is being started by MLB head Bud Selig concerning the alarming decline of African Americans playing Major League Baseball. Our Mariners have zero African Americans on the team this year. This is sad readers.
Currently 7.7% of players in MLB are African American. Why is this alarming to Mr.Selig and many others? Well look at the NBA and NFL. Enough said. MLB has done a TERRIBLE TERRIBLE job in marketing to the African American community. They have started the RBI League to "try" to reach young inner city kids but that is token and it is not working.
Young African American kids are turning to football and basketball when they turn 11 or 12 years old and can care less about playing baseball. When a African American kid turns on the TV they see LeBron James, Dwayne Wade, Shaq, Kevin Durant, Kereem, Magic, Kobe, the Manning Brothers, Drew Brees, Chris Paul, Charles Barkley and more. The only MLB players you see are Ryan Howard for Subway and that's about it. Locally we see former player Jay Buhner doing commercials for goodness sake!! Yes Jay Buhner folks.
Young inner city kids need to see more African American baseball players doing marketing like CeCe Sabathia, Matt Kemp, Adam Jones, Torii Hunter and the Upton Brothers etc. When they see these players they might say "I want to play baseball like Matt Kemp"
As I type this blog, the Mariners are playing the Houston Astros here in Safeco Field. Readers I am searching to see ONE black face in the crowd. The three games so far at Safeco I turn on the TV and cannot find ONE African American in the crowd. Something is very very wrong on the field and off when it comes to African Americans and Major League Baseball.
So Commissioner Selig is starting this task force to see what in the world is going on when it comes to the huge decline of African Americans playing Major League Baseball.  I am glad to see Hall of Fame member Frank Robinson on the task force. As a sports fan it hurts to see the Seattle Mariners with a all white team along with players from South America etc. This week the Texas Rangers will hit Seattle with another team that has zero African Americans on the team. A African American manager but no African American players. WHAT? Their will be two teams on the field with ZERO African Americans on the field and in the dugout. Something is wrong.
This week a new movie on the late great Jackie Robinson hits the theaters. And on the 15th it is Jackie Robinson Day in MLB. I will be writing another story on my views of MLB and celebrating Jackie Robinson Day right here in the next few days. Comments? gcurvey@yahoo.com    Gordon Curvey
-Watch "Music Inner City Internet TV" covering politics, entertainment and more PLUS music videos! Just click the screen to the right and enjoy the show!/Music Inner City Store! Check it out!! HATS, T-SHIRTS, MUGS AND MUCH MORE!! SAFE AND SECURE!! www.cafepress.com/musicinnercityentertainment
Tags: 7.7%,african,American,baseball,bud,crowd,decline,field,force,jackie,league,major,mariners,NBA,nfl,players,playing
Posted on 30 January 2013 by curvey in Featured, Sports
"One Man's Opinion" by Gordon Curvey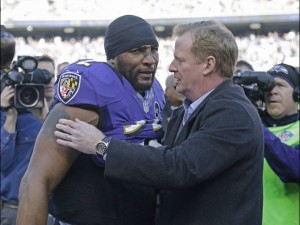 Here in my hometown of Seattle, Washington certain so called sports jocks on sports radio are letting their feeling known on Baltimore Ravens future Hall of Fame member Ray Lewis. And it is getting worse by the day. And in my opinion unfair!!
Of course certain clowns like KJR's Ian Furness and fellow clown Jason Puckett are blasting Lewis and bringing up the 1999 case in which two people were murdered in Atlanta. The murders are unsolved. Some think Lewis was a part of it & he knows what happened and who killed who. But Lewis has "tried" to move on from the case but this situation will follow Lewis until he dies.
Furness and others in sports media get behind the microphone and just down right say "I don't like the guy" And they are tired of "his act" and are tired of his "preaching and dancing". Which in my opinion is borderline racism. Today I heard a former NFL player say he is tired of Lewis and his "act" and cannot wait until his last game is over. Ian agreed with him. Those comments were BS!!!!
Myself, I am not tired of Lewis dancing and his so called "preaching". Ray Lewis since the case in 1999 has tried to be a first class role model for kids. His record is clean for the last 13 years. He goes to community centers and schools and he talks to the kids about staying in school and etc. He has tried to be a first class role model for milllions of kids all over the world who loves his play off the field and on the field.
But the now the media is jumping on a SI story that Lewis may have used a deer spray that might have helped him recover from a serious injury he had during the season. This deer spray is banned by the NFL. Lewis has said the story is not true. So readers what side are you on? I want to know WHY SI came out with this stuff about Lewis ON THE SAME DAY AS MEDIA DAY FOR THE SUPER BOWL???? WHY? Was this planned by SI to make Lewis look bad because he is riding on such a high in helping his team reach the Super Bowl? I say YES!!
So now Lewis is fighting the 1999 murder case and the deer spray story instead of discussing the Baltimore Ravens in the Super Bowl vs the 49ers. This is crazy!! Real crazy.
But certains fools like Ian Furness and Randy Cross and others do not like Ray Lewis as a person. They can care less about his Hall of Fame play for 17 years on the field. They want Lewis to suffer. They want to make Lewis look bad just like they wanted Mick Vick and OJ to look bad.
I think Ray Lewis is the best linebacker of his day. And one of best of all time in the NFL. When I watch the Super Bowl I want to see Lewis win and go out into retirement a winner. And I want to see him do his dance at the start of the game for the last time. And I want to hear what he wants to say after the game too.
Others want to say he is "preaching". I call it putting down knowledge. This is what I call it. I hope sports radio will get off the 1999 case and this deer spray SET UP by SI and disgame in which one of the best NFL players of all time will play his last game.  Hopefully one day the real truth will come out about really happened that day in Atlanta. For everyones sake including the family of the deceased!
Is SI trying to sell magazines with this Lewis story put out on press day at the Super Bowl? HELL YESSSSS!!!!
Tags: baltimore,bowl,case,dancing,deer,fame,football,kids,lewis,media,model,nfl,opinion,preaching,radio,ravens,ray,role,seattle,SI,Sports,spray,super,unfair
Posted on 12 August 2012 by curvey in Featured, Sports
ARTICLE FROM nydailynews.com (Click here for full story)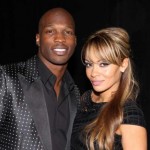 I don't know about you but I saw this happening a long time ago. I KNEW this so called relationship between reality tv motor-mouth Evelyn Lozada and NFL player Chad Johnson was not going to last ONE YEAR!! Man was I right. Johnson gets charged with "headbutting" Lozada. Yeah right! If you think that happned I have a bridge I want to sell in China.
Do not think this really happened readers. It is a bunch a BS! First of all, Evelyn is a loud mouth so called lady. All you have to do is watch "Basketball Wives" over and over. In the many many fights on the show she is the ring leader. Tossing fists, bottles, shoes and anything that moves.
When I first saw that Chad and Evelyn was a item I said no way! This cannot be real. It is not going to last. Lozada is a gold digger and Johnson was a high paid NFL star. He should have stayed away from her. I guess he fell for the sex right? Here is what is going to happened to Chad in my opinion. He will be broke soon. The Jets just cut him. Did he save his cash? No way. Dude was buying Bentley's and Bugutti's etc.
So let's see what is going to happen to Chad Johnson. It will be very interesting to see. He made a serious mistake in hooking up with Evelyn. Is this all a set up for another reality show "Chad and Evelyn"? We will see.   Gordon Curvey
Music Inner City – Popup Player

Podcast: Play in new window | Download
Tags: bentley,broke,cash,chad,charged,china,city,evely,inner,jets,johnson,loxada,mistake,nfl,paid,player,Podcast,popup,program,reality,seattle,serious,star,washington
Posted on 24 December 2011 by curvey in Featured, Sports
ARTICLE FROM profootballtalk.com (Full story click here)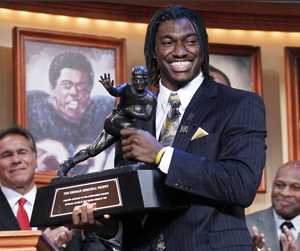 It seems EVERY sports outlet is talking about Stanford QB being the best thing since sliced bread and a for sure #1 draft pick in NFL draft.
But check this out readers, IF he comes out who said Heisman Trophy winner Robert Griffin III can't be the #1 choice by a NFL team? I think he is better than Luck and many others feel the same way! But if you liste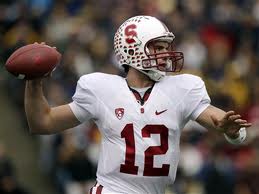 n to sports radio hosts and watch ESPN etc it is Andrew Luck…Andrew Luck…Andrew Luck. I don't think this is right and a put down of Grif III and what he did on the field at Baylor.
Many think Grif III is a better athlete than Luck, has a better arm than Luck, and don't get it twisted folks, Just because Luck went to Stanford that does not mean he is more intelligent than Grif III. By the way Grif III is a very intelligent young man, just like Luck. Did you hear his speech win he won the Heisman? Cat ain't no dummy! Real talk!!
Of course Grif III has not decided if he is coming back to Baylor or if he is tossing his hat in the ring for the NFL draft. We will have to see what happens. By the way Grif III Baylor Bears is playing our Washington Huskies in a few days in the Alomo Bowl.
Is Heisman Trophy winner Robert Griffin III better than "The People's Choice" Andrew Luck? I join others who say yes!!  Gordon Curvey
Tags: andrew luck,football,heisman,nfl,robert griffin III,stanford
Posted on 06 February 2011 by curvey in Featured, Sports
ARTICLE FROM nfl.com (Full story click here)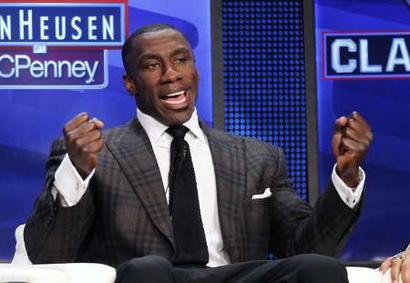 The class of the 2011 NFL Hall Of Fame has some great and very familiar names going in. One of which some say was the great athlete in the history of the NFL.
Marshall Faulk, Shannon Sharpe and Deion Sanders plus the founder of NFL Films Ed Sabol are going in the NFL Hall Of Fame.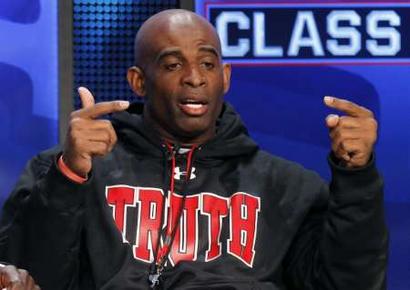 Some people say "Neon Deion" is the greatest athlete to ever play in the NFL. He was a great defender, and great punt returner and while he played in the NFL, he also played major league baseball AT THE SAME TIME!!! That was unreal readers.
Sharpe was one of the best tight ends in the history of the NFL with the Denver and Baltimore. He got into the HOF after two tries. And Faulk was a great running back with the Colts and Rams. He was part of the "Greatest Show On Turf" while with the Rams.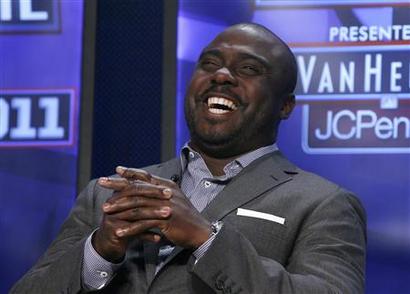 Can't wait to here the HOF speeches by Sanders and Sharpe because both of them are never at a lost for words. They will tell you what is on there mind.
Ed Sabol is innovator of filming pro sports. In my opinion he and his son should have been in the NFL Hall Of Fame years ago.  Gordon Curvey
"Music Inner City News Magazine" is the #1 urban news magazine on the Internet from the Northwest.
A spinoff of "Music Inner City TV" on Comcast On Demand that airs 24/7 all over Western Washington state. Just go to "get local" and then "around the sound" and enjoy three to four programs any time you want.
And real soon watch "Music Inner City Broadband TV" a online version of our Comcast TV program. With hot music videos (some of which you cannot watch on other video outlets), entertainment and sports news and more.
And listen to "Music Inner City Radio" With classic soul, new and recent hip-hop and r&b plus entertainment and sports news and more.
Tags: deion sanders,ed sabol,hall of fame,innovator,marshell faulk,nfl
Posted on 14 December 2010 by curvey in Featured, Sports
ARTICLE FROM eurweb.com (Full story click here)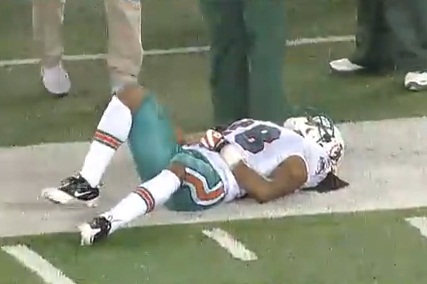 As a sports fan I saw one of the worst things I have ever seen on the field or court in the game between the Jets and Dolphins. It was TERRIBLE!!
The Dolphins Nolan Carroll was jetting down the sidelines on his way to a possible touchdown when all of a sudden the Jet strength and conditioning coach Sal Alosi put his knee and foot out from the sidelines and tripped Carroll!! THAT WAS A LOW DOWN DIRTY MOVE on the part of Alosi.
I just cannot believe the NFL did not suspend this guy. And I cannot believe the New York Jets did not fired him. The Jets suspended Alosi him for the last few games and fined him $25,000. That is not enough in my opinion.
Carrol could have been hurt real bad by the stupid and crazy actions by Alosi. I have never seen anything like that on the football field.
Again readers, Sal Alosi should be fired by the New York Jets and fined big time by the NFL. That is for sure.  Gordon Curvey
Adverise with the #1 urban website on the Internet from the Northwest "Music Inner City News Magazine" and reach thousands of people all over the world.
And advertise on "Music Inner City TV" that airs all over Western Washington state 24/7 on Comcast On-Demand. If you are in the Seattle area or Western Washington state go to "get local" and then "around the sound" Advertise and reach up to 2 million homes!
Call us at 206-445-3989 or send us a e-mail at gcurvey@yahoo.com for more information and we will send you are rate card with our VERY low prices.
Tags: Dolphins,fined,fired,miami,New York Jets,nfl,Nolan Carroll,Sal Alosi,sidelines
Posted on 16 November 2010 by curvey in Featured, Sports
ARTICLE FROM philly.com (Full article click here)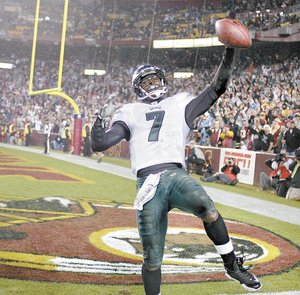 The performance I watched by Micheal Vick is the best I have ever seen by a athlete. PERIOD! It was something that leaves me thinking about why our Seahawks did not sign Vick.
Because what I saw by Micheal Vick against the Redskins and Donavan McNabb was something I have never seen folks. The first play of the game….BAM!! A long TD pass by Vick. First play of the game. A on point pass for a TD. I could not believe it.
Micheal Vick and LeBron James are two players I would pay to see play any day, all the time!! Vick is a changed QB than the player he was in Atlanta. A totally different player. And it seems as a person as well.
We all know what he did. It was wrong. But he served his dues. Hell Vick just got caught dog fighting. You can come in any hood in the U.S and see dog fighting. That is a fact. Does not make it right but it is a fact.
But like I said, Vick served his dues and as a teammate of Vick I just heard of sports radio say "It is water under the bridge"
As sports fans, let's enjoy players like Vick and James and Kobe and other great players. They are the guys who make all of us love sports.
It burns me up to hear these "angels" calling on sports radio putting down Vick. That is a felon and saying he should not be playing in the NFL etc. That is pure BS!!! All you angels need to chill out because look at actor Tim Allen.
He sold coccaine and served time for it. Was he given a second chance? The answer is yes. And he has made millions of dollars. Allen by the way is a felon.
I want to say thanks to Mike Vick for providing me a sports performance I will NEVER forget.  Yo Seahawks, you should have signed Micheal Vick!!! Gordon Curvey
Listen to entire programs via podcasts of Seattle's "Music Inner City Radio" which airs every Friday at 10pm on 1150am KKNW. Classic soul, new and recent hip-hop and r&b, exclusive interviews, urban sports and entertainment news and much more.
Just click "podcast" link above, grab your headphones and enjoy the shows!! Also watch entire webcasts of "Music Inner City TV" which airs 24/7 on Comcast On-Demand all over Western Washington state. Urban and pop music videos, exclusive interviews and more!! Just click "Television Show" link above. And also watch a program here on the home page.
Why not ADVERTISE with us on TV, on radio and on the net for one VERY VERY low price and reach thousands of people!! "Music Inner City News Magazine" is the #1 urban website on the Internet from the Northwest!! Call us at 206-445-3989 or 206-414-6118 or email us at gcurvey@yahoo.com
Tags: donavan mcnabb,football,nfl,performance,philidelphia,redskins,seahawks,teammate,vick
Posted on 01 November 2010 by curvey in Featured, Sports
ARTICLE FROM nfl.com (Full story click here)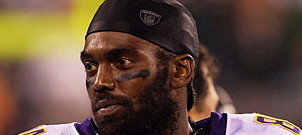 NFL player and future Hall Of Famer Randy Moss was released today by the Minnesota Vikings a day after the Vikings was beat by Randy's former team New England.
Moss at the post game press conference for some reason praised his former team and the head coach and to me that might be a reason for his release but truth be told, something happened in the locker room or on the team plane that got Moss cut from the team.
Head Coach Brad Childress has the power to cut players and he did just that to Moss. But fans are wondering one thing……..why?
I am confused just like Viking fans are confused. I know Vikings players have to be confused and even angry at what happened to Randy Moss.
So now here is the question. Who will pick Moss up? Miami? What about here in my hometown of Seattle with the Seahawks? Our O line is not the best in the NFL but let's see what happens. Rumor is the Seahawks have connected Randy's people.
Or what about going back with New England? I guess we have to wait and see. We will report on it when Moss signs with another team right here on "Music Inner City News Magazine"    Gordon Curvey
"Music Inner City News Magazine" is the #1 urban website on the Internet from the Northwest (U.S.) Spread the word!!
Tags: cut,former,magazine,minnesota,new england,nfl,press,randy moss,released,seahawks,seattle,team,Vikings
Posted on 27 September 2010 by curvey in Featured, Sports
ARTICLE FROM yahoosports.com (Full story click here)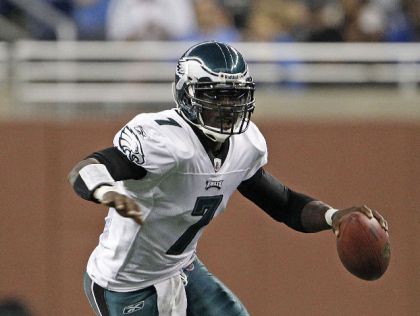 Micheal Vick once again has shown football fans and just sports fans that he is one of the most dynamic athletes in ANY sport.
Vick was involved in four TD's in the Eagles rout of the Jags 28-3 this past Sunday. The threw for three TD's and ran for another. Some of the plays Vick made, no other QB in the NFL could have made. This is a fact.
He has shown us fans and even Philly coaches that he is a different player than the player a few years ago in Atlanta. He is a much smarter player. He is not taking off running all the time like he used to do because he is hanging in the pocket looking for a receiver.
Coach Reid made the correct decision in starting Mike Vick. But here is question for you guys. Why did the camera keep showing second string QB Kevin Kolb on the sideline all the time? I have never seen a second string QB get so much air time.
Kolb is not the QB of the Eagles right now. Micheal Vick. Coach Reid named Vick the starter. So why did the cameras focus on Kolb so much? I just don't understand.
Next week is a game NFL fans will be watching. It is the Washington Redskins against the Eagles in Philly and the return of former longtime Eagle QB Donovan McNabb. This is going to be a great game!!
We will give you our views of the game next week. Shout out to Mike Vick for showing us he is a great NFL QB. It shows what second chances can do.       Gordon Curvey
"Music Inner City News Magazine" is the #1 urban entertainment and sports website from the Northwest! Spread the word about our site. Webcasts, podcasts, news, Ustream TV, MTV news and views and much more!! Based in Seattle, Washington USA
And watch "Music Inner City TV" on Comcast On Demand all over Western Washington state 24/7. Just go to "get local" and then "around the sound" and enjoy.
And listen to "Music Inner City Radio" every Friday night at 10pm on 1150am KKNW. Streaming live online at www.1150kknw.com And if you miss the programs, listen to ENTIRE podcasts RIGHT HERE!! Just click "podcast" link above.
Tags: coach reid,eagles,football,game,kevin kolb,mcnabb,nfl,qb,redskins,sidelines,washington
Posted on 07 September 2010 by curvey in Featured, Sports
ARTICLE FROM baltimoresun.com (Full story click here)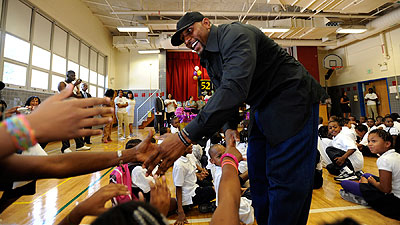 I saw this article online while online at the Baltimore Sun newspapers website and I thought I would share it with the readers here on "Music Inner City News Magazine"
I wanted to share this article with you because so many times we learn about NFL players and yes……African Americans doing bad things. Being caught with drugs or beating up their wife or getting in a fight at 3am in a nightclub.
I want share this article about future Hall Of Fame member and current member of the Baltimore Ravens, Ray Lewis, visiting a school in Baltimore. A positive story on a NFL player.
When Lewis was in trouble a few years ago, it was headline news on Sportscenter and CNN etc. This story about Lewis visiting a school is just on the Baltimore Sun newspapers website. In my opinion this story should be talked about more.
These kids will remember Ray Lewis visiting their school forever. But what I have learned about Lewis, he does this all time as far as reaching back and putting smiles on inner city kids faces. As well as talking to the kids about staying in school and getting a good education.
A BIG shout out to Ray Lewis for being a superstar on the field and off!! This is "One Man's Opinion" by Gordon Curvey
Tags: baltimore,football,hall of fame,kids,nfl,players,ravens,ray lewis,youth
Posted on 17 March 2010 by curvey in Featured, Politics
ARTICLE FROM huffingtonpost.com (Full story click here)
"One Man's Opinion" by Gordon Curvey

I just saw the so-called interview that this so called host on Fox News did with President Obama. I will not use the clowns name in my article.
It was one of the worst things I have seen on TV. This dude interrupted the President over and over and over again in this interview on Fox News. Look up the word disrespect. This is what the so called interview was.
If I was the President, I would have worked out of the room and ended the interview. This was planned by Fox News to try to make the President look bad.
In my opinion, President Obama did not have to go on Fox to pitch his health care plan. That would have been the last place I would have went.
Hannity, O'Reilly and others on Fox News treat President Obama like dirt. They don't even call him President Obama. They call him 'this guy" or "that guy" or even just "Obama". But they will call W. Bush "President".
And by the way, do you think Fox would have treated treated W. Bush in the manner they treated President Obama? The answer is NO!
Check out how the fella treated the President in the link above.
Watch for all the highlights of the NCAA basketball games as well as NBA and spring training baseball highlights, NFL news and more right here on ESPN "Right Now".
It is updated 24/7 morning noon and night. Also listen to "Music Inner City Radio" podcasts. Entertainment news, classic soul, hip-hop and r&b, and much more.
Tags: article,basketball,Bush,clowns,disrespect,entertainment,fox news,games,gordon curvey,Hannity,interview,music inner city,news,nfl,O'Reilly,Podcast,president obama,seattle,sports inner city,washington,webcast
Posted on 14 March 2010 by curvey in Sports
ARTICLE FROM huffingtonpost.com (Full story click here)
"One Man's Opinion" by Gordon Curvey
I am happy as
hell that NFL player Chad Ochocinco has fired back at ESPN Radio host Colin Cowherd about Colin's constant blasting of him on his radio show.
Cowherd seems to think he is a Mr. Know It All when it comes to sports and even life. He comes off as a tremendously arrogant fella who speaks out on folks at will on his program and seems to think guys like Chad will not retaliate. Chad has.
People don't understand Ochocinco. He is a young fella having fun. He likes to use the technology available like computers etc. He uses Ustream.tv and does his Ustream show when he is on the road via his iphone etc.
He is having fun. I rather have Chad around to read about than baseball players who have personalities of a rock outside on the street. That is way you don't see any baseball players besides Derek Jeter doing commercials on TV. But you see Chad, Barkley, D-Wade, Dwight Howard, Manning and others with personalities.
Colin does not say you don't read about Chad doing drugs, clubbing at a nightclub at 2am, beating up his wife atc. He is at home on the computer etc having fun. Now during the off-season he is going to be in "Dancing With The Stars"
I am tired of clowns like Cowherd and even this other motor mouth "JT-The Brick" on Fox Sports Radio who also likes to blast Ochocinco at will in negative ways. Calling him negative names over the air. J.T. and Colin are two peas on a pod. Two motor mouth so called talk show hosts who like to talk about African Americans in negative ways all the time over the air.
J.T. was just on the air giving his opinion as to why African Americans kids are not playing baseball. He does not know what the hell he is talking about unless you walk in our shoes!!!
This just shows once again, about sports radio. Their is a MAJOR PROBLEM in AM sports radio in Seattle and the U.S. The problem is a lack of African Americans in sports radio. It is dominated by white men who know NOTHING about the African American culture or lifestyle. Nothing.
In Seattle, sports radio KJR and 710ESPN have a grand total of ZERO African Americans with his or hers own program. THIS IS A PROBLEM WHEN AFRICAN AMERICANS DOMINATE THE MAJOR SPORTS IN THE U.S.
Thank god for Stephen A. Smith and Mike Wilborn and the "Two Live Stews" and a few others in sports radio. We need more. At KJR and 710ESPN here in Seattle their is no African Americans as producers, in sales, in management and of course over the air.
This is why I have started "Sports Inner City Online". A site that has the African American point of view when it comes to sports.
"Sports Inner City Online" is one of only a few urban sports websites on the Internet. PLEASE spread the word about our site. Please send us a e-mail at gcurvey@yahoo.com and tell us how we can improve the site. It is at www.sportsinnercity.com

Tags: 710espn,african americans,barkley,baseball,blog,Chad cchochico,clubbing,comments,commercials,computer,d-wade,dwight howard,espn,football,inner city,jeter,jt,manning,music,negative,nfl,players,pod,Podcast,seattle,sports radio,website,yahoo