Tag Archive | "officer"
Posted on 15 January 2018 by curvey in Featured, Politics
"One Man's Opinion" by Gordon Curvey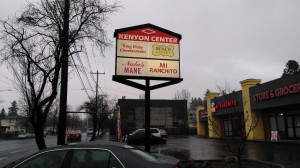 Ladies and gentlemen thanks for coming to my website to read my posts and my thoughts here on "Music Inner City News Magazine" and "Sports Inner City Online" www.sportsinnercity.com  It means a lot. It really does. One thing that bothers me is MLK Day here in Seattle.
WHY do African Americans get together every year at Garfield High School to talk so called "unity" and to speak about racism and exclusion of African Americans and people of color and more topics concerning people of color? Why? To me every MLK Day here in Seattle gets me very very upset! People then march to downtown. FOR WHAT????
Watching African Americans "trying" to have some type of unity FOR ONE FREAKIN DAY!!! It is a damn joke ladies and gentlemen! Do we as African Americans have unity during the year? I SAY HELL NO!!
Readers AFRICAN AMERICANS HAVE NO UNITY IN SEATTLE as far as I am concerned. African Americans have ZERO mom and pops stores in the Central Area or Rainier Valley. ZERO folks!! Also African Americans have ZERO malls full of businesses like the picture here of a mall on Rainier Ave South here in Seattle FULL OF BUSINESSES RAN BY CITIZENS OF KENYA!!
I ask you readers how come we do not a mall full of businesses ran by African Americans? NOT ONE!! The Asian American community and now East Africans HAVE MALL AFTER MALL AFTER MALL AFTER MALL of businesses. AFRICAN AMERICANS A GRAND TOTAL OF ZERO!! Asians run Viet Wah grocery stores and of course have a community in the INTERNATIONAL DISTRICT/CHINATOWN FULL OF BUSINESSES RAN BY ASIAN-AMERICANS!!
I listened online to the MLK Jr. event at Garfield High here in Seattle. I did NOT hear speakers telling us or asking us African Americans to be small businesses owners like other races. What I did hear is the same ole same ole blaming the white man for our condition.
This is BS!! Truth be told my worse enemies as a business man HAS BEEN MY AFRICAN AMERICAN PEOPLE!! Real talk ladies and gentlemen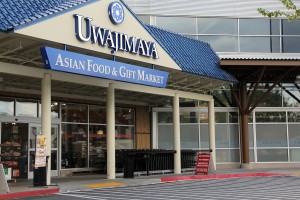 real talk for sure. Blaming Trump for everything. Can we blame Trump for African Americans not opening up MALL AFTER MALL of Asian and now East African businesses? HELL NO!! Can we blame Trump for many young poeple buying $5,000 rims to put on a 1989 Monte Carlo?
Buying rims instead of pooling our money like the Asians and East Africans and having a meeting at someone residence to discuss opening up a new business. This is what African Americans as a whole in Seattle like to do. Buy a new car etc instead of opening a new business.
Asians and East Africans have total unity. They do not wait until a special day to unite. Truth be told I have a story to tell but NO AFRICAN AMERICAN has asked me to speak on MLK Jr. Day. I had and still have a dream. I wanted to be a broadcaster when I was a teenager and I worked my ass off to have a name all over the music industry. I have TWO PROGRAMS that air 24-7 all over the west coast and stream online. Now I am trying to blow up my NBA webcast "Sports Inner City/Off The Court"
Hopefully I will obtain a badly needed Angel Investor or major sponsor. I say a prayer everyday. I don't wait until MLK Jr. to try to act African American for a day and then the next day back to the same. That ain't me. I can go on and on about the fake MLK Jr. Day here in Seattle.
Where are these so called leaders who show up at MLK Jr. Day every year when ANOTHER young brotha or sista is shot and killed in the streets of Seattle? WHERE IS THE DAMN OUTRAGE??? I don't see it!! But let a white officer shoot a black person we are outraged. Give me a break readers. This upsets me big time.
So in ending, why do African Americans march on MLK Jr. Day in Seattle? Sorry to say to me it is a joke and total waste of time. I am sure many of you will not agree. That's ok. I am a big boy.
Comments: gcurvey@yahoo.com  or facebook.com/gordon.curvey or twitter.com/gcurvey
Tags: angel,asian,blame,broadcaster,businesses,event,fake,industry,investor,mall,mlk. races,officer,outraged,residence,seattle,small,streets,trump
Read More Comments Off
Posted on 22 September 2011 by curvey in Featured, Much More
ARTICLE FROM www.bbc.co.uk (Full story click here)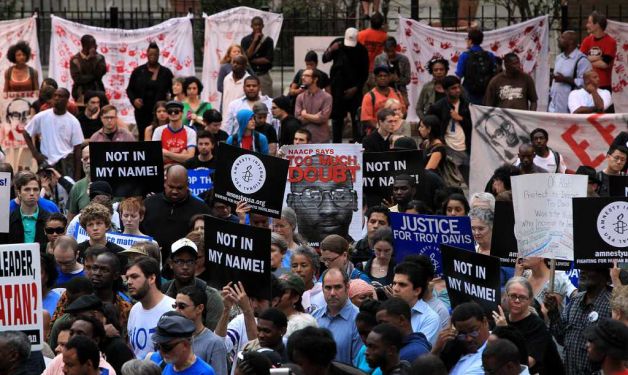 Troy Davis was executed in Georgia for the 1989 killing of a off duty police officer. But there is a huge problem that happened. Their is a very good chance a innocent man was killed by the state of Georgia.
Former President Jimmy Carter and other national and even world promenent people said that Troy Davis should not die.
Here is question. Where was the voices of Bill Clinton and Rev. Jesse Jackson and Tavis Smiley and Pro. Cornel West?
As always Rev Al Sharpton made his voice heard about the execution of Davis on his Radio One radio show and on his TV show on MSNBC. Rev. Sharpton is always on the front line.
No evidence was ever given that Davis killed the officer. And seven people have said they do not think Davis killed the officer. These are people who at first said he was guilty. Their is even a fella who said HE KILLED THE OFFICER!! But Troy Davis spent 22 years in jail and then finally he was put to death. A innocent man may have died by a lethal injection.
For more details read the link above. But the killing of a man who the state of Georgia has no evidence on in the killing of the police officer should be a wake up call. The United States should do away with the death penelty. Because maybe innocent people will be put to death. The killing of Troy Anthony Davis is very very upsetting and very very wrong.     Gordon Curvey
Listen to "Music Inner City Radio" LIVE every Friday night at 11:05pm Pacific Time. The program airs via Ustream TV. Just click the arrow. Classic soul music and urban sports talk.
Tags: davis,evidence,executed,georgia,killing,officer,police,state,troy
Posted on 16 June 2010 by curvey in Featured, Much More
ARTICLE FROM komonews.com (Full story click here)
One Man's Opinion" By Gordon Curvey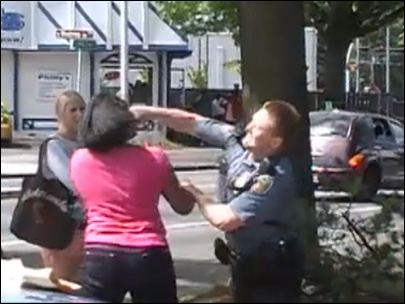 Unless you have been under a rock somewhere you should know about the terrible story of a Seattle Police officer punching a 17 year old young lady here in Seattle the other day.
As you can see by the picture the officer looks like a lightweight boxer in the ring hitting a opponent. But this was not in the boxing ring. It was on a street corner only four blocks from where I live near Franklin High School.
It appears in the tape that is everywhere on CNN, MSNBC, Fox News, You Tube etc, that 17 year old Marilyn Levios pushed Officer Ian Walsh. Then the officer hit the young girl with a round house punch to the face to young Levios.
The question is why the officer did what he did. Was the punch needed? Where was his pepper spray? Where was his back up?
Here is another thing that is going here in Seattle. It seems that most of the Seattle Police officers that patrol the areas where African Americans and people of color are, are not African Americans. So the question is do these non-black officers have the training to deal with young and older "inner city" citizens?
I think this is a major problem readers. I feel if you are a Seattle Police officer or any officer, you should know how to relate to African Americans and people of color. Because most minorities have a very negative feeling about police officers. This is a fact.
Finally another thing I have a problem with is this. I have a problem with "so called" community leaders calling press conferences as soon as it appears a white officer etc does something to a African American.
BUT where are these so called "community leaders" when it comes to BLACK ON BLACK CRIME!!! Where is the press conferences by these "so called" community leaders? They are nowhere in sight. For instance, their was a 12 year old kid shot and killed a few weeks ago in cross fire in the Skyway area of Seattle and the killers are still on the run. WHERE ARE THE COMMUNITY LEADERS? WHERE ARE THE PRESS CONFERENCES BY THESE SO CALLED COMMUNITY LEADERS??
Young Ms Levios was wrong to push a police officer. This is a fact. But Officer Ian Walsh was wrong too in punching the young girl. Very very wrong.
If you have a opinion/comment on these articles and my feelings feel free to leave it here.
Please watch "Music Inner City TV" via Ustream TV right now! Just click the "Ustream TV" link above. New programs every other day with entertainment and urban sports news, underground music videos and more. Videos you don't see on VH1, MTV, BET, FUSE and more!!
Tags: african American,community,crime,leaders,officer,police,punched,seattle,unfair