Tag Archive | "performance"
Posted on 06 August 2012 by curvey in Featured, Sports
ARTICLE FROM huffingtonpost.com (Full story click here)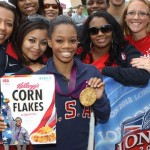 I watched the Olympics in great joy as little Gabby Douglas put herself for ever on the sports map as she let everyone know how great she is in gymnastics and she did it with a great smile and personality. It brought tears to my eyes seeing this 16 ye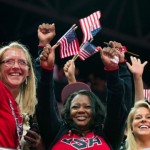 ar old African American girl do such great things. I am sure some of you reading this feel the same way I do.
But then NBC took the happiness away from me. Right after NBC's coverage of Gappy's great performance, they quickly went to a commercial that featured a monkey on gymnastics rings. I said to myself "I know I am not seeing things" I thought to myself if others are as angry and bothered by this as I am.
How can NBC be so STUPID readers? Did they even think that this was wrong and that folks in the African American community will be upset with NBC by them showing a monkey on gymnastics rings? To make matters worse, NBC does not think it is a problem and they say it was not intentional on there part.
All I can say is NBC is guilty of being stupid. Pure and simple. For them to play that commercial after Gabby's win was just plain stupid. But truth be told I have a problem with any commercial that features a monkey or a gorilla. To me it saying a monkey or a gorilla is like a African American.
Another thing I am bothered by is this. When you see young Gabby in London doing what she does best, her mom Natalie Hawkins is always ther. Here is a question. Where is Gabby's father? Is he anywhere in her live? To many times young African Americans are shown with just their mom and their dad is nowhere around. I would like to know where is Gabby's father. Gabby and her mom is making a apperence on CNN's Piers Morgan. I wish Gabby's father was on Morgan's program too.
I am not hear trying to knock African American moms. I am saying this readers. Stats show that 7 out of 10 African American kids are growing up without a dad in the household. It is a HUGE problem. A huge problem folks. In my opinion a black child needs BOTH parents in the houshold. So a child will know their daddy. Have a male image at home. Here that "deep" voice of their dad.
I hope Gabby has a relationship with her dad like for instance Venus and Serena Williams have a relationship with there dad. When you see a tennis event with Venus and Serena you will see their mom AND THEIR DAD and they are divorced. But they show up. I hope it happens for Gappy.   Gordon Curvey
Music Inner City – Popup Player

Tags: 16,african American,commercial,Douglas,father. natalie,Gabby,gold,guilty,gymnastics,Hawkins,joy,london,mom,mother,nbc,olympics,performance,smile,Sports,stupid,where
Posted on 22 November 2010 by curvey in Featured, Hip-Hop/R&B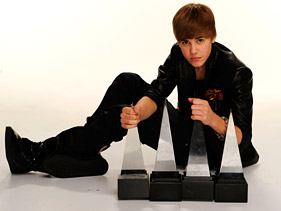 ARTICLE FROM mtv.com (Full story click here)
This year I was posted up in snowy and cold Seattle to watch the 2010 American Music Awards. I have been lucky enough to cover the AMA's only once. Why I do not understand but anyway I always give my opinions of the "urban" acts of the show right here.
The show started with a great with a performance by Rihanna. She looked a little nervous. Her dancing skills need to improve a little but the female can sing so she make up for the lack of dancing skills.
I enjoyed the song by rocker Kid Rock as well as the performance by Enrique Iglesias and Pitball. I really liked the performance.
I also enjoyed the performance by Ne-Yo. It was one of the best of the night. Also young Justin Bieber performance was real good with the gospal group in the background. He got a standing ovation. Bieber also won four awards.
Usher performance was great too. Full of energy and great dancing. The show ended with a performance by The Backstreet Boys and New Kids On The Block together. It was a great ending of the show. Shout out to the AMA's for putting on a energetic and exciting show year after year.     Gordon Curvey
Watch entire programs of "Music Inner City TV" RIGHT HERE on the #1 urban website on the Internet from the Northwest (U.S.) "Music Inner City New Magazine"
And listen to podcasts of "Music Inner City Radio" RIGHT HERE also. "Music Inner City TV" airs 24/7 on Comcast On Demand all over Western Washington state. Go to "get local" and then "around the sound" And "Music Inner City Radio" airs every Friday night in Seattle area on 1150am KKNW.
Future guests include former NBA player and Seattle Sonic Olden Polynice, the younger brother of super-producer Timberland, Sebastian, Mon E-G, L.E.S.G.O, Marcus Camby and Westley Matthews Jr. and much more!!!
Tags: ama's,american music awards,enrique Inlesias,justin bieber,music,performance,pitball,rihanna,Usher,webcasts
Posted on 16 November 2010 by curvey in Featured, Sports
ARTICLE FROM philly.com (Full article click here)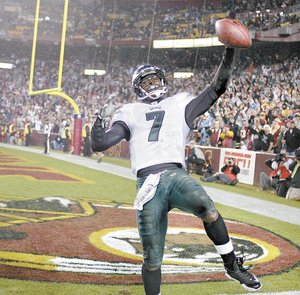 The performance I watched by Micheal Vick is the best I have ever seen by a athlete. PERIOD! It was something that leaves me thinking about why our Seahawks did not sign Vick.
Because what I saw by Micheal Vick against the Redskins and Donavan McNabb was something I have never seen folks. The first play of the game….BAM!! A long TD pass by Vick. First play of the game. A on point pass for a TD. I could not believe it.
Micheal Vick and LeBron James are two players I would pay to see play any day, all the time!! Vick is a changed QB than the player he was in Atlanta. A totally different player. And it seems as a person as well.
We all know what he did. It was wrong. But he served his dues. Hell Vick just got caught dog fighting. You can come in any hood in the U.S and see dog fighting. That is a fact. Does not make it right but it is a fact.
But like I said, Vick served his dues and as a teammate of Vick I just heard of sports radio say "It is water under the bridge"
As sports fans, let's enjoy players like Vick and James and Kobe and other great players. They are the guys who make all of us love sports.
It burns me up to hear these "angels" calling on sports radio putting down Vick. That is a felon and saying he should not be playing in the NFL etc. That is pure BS!!! All you angels need to chill out because look at actor Tim Allen.
He sold coccaine and served time for it. Was he given a second chance? The answer is yes. And he has made millions of dollars. Allen by the way is a felon.
I want to say thanks to Mike Vick for providing me a sports performance I will NEVER forget.  Yo Seahawks, you should have signed Micheal Vick!!! Gordon Curvey
Listen to entire programs via podcasts of Seattle's "Music Inner City Radio" which airs every Friday at 10pm on 1150am KKNW. Classic soul, new and recent hip-hop and r&b, exclusive interviews, urban sports and entertainment news and much more.
Just click "podcast" link above, grab your headphones and enjoy the shows!! Also watch entire webcasts of "Music Inner City TV" which airs 24/7 on Comcast On-Demand all over Western Washington state. Urban and pop music videos, exclusive interviews and more!! Just click "Television Show" link above. And also watch a program here on the home page.
Why not ADVERTISE with us on TV, on radio and on the net for one VERY VERY low price and reach thousands of people!! "Music Inner City News Magazine" is the #1 urban website on the Internet from the Northwest!! Call us at 206-445-3989 or 206-414-6118 or email us at gcurvey@yahoo.com
Tags: donavan mcnabb,football,nfl,performance,philidelphia,redskins,seahawks,teammate,vick
Posted on 09 March 2010 by curvey in Featured, Hip-Hop/R&B
"One Man's Opinion" by Gordon Curvey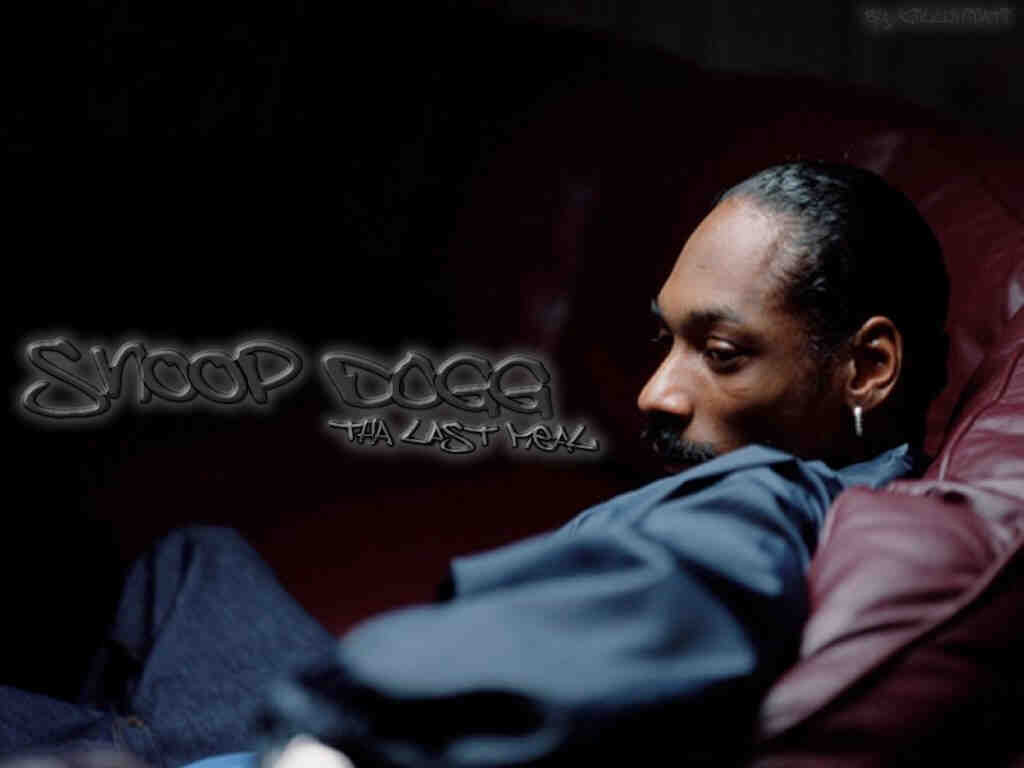 This past Friday and Saturday rap legend Snoop Dogg was in the Seatown to perform at the Showbox Sodo. And I want to tell you my feelings as a vet in this music game.
First of all I tried like hell to obtain a one on one interview with Snoop via the phone or in person but again got nothing as far as a interview. The only time I have interviewed Snoop was at the B.E.T. Awards in L.A. a few years ago for a minute.
I will keep trying and maybe the Dogg will finally do a interview with us at Music Inner City TV and Music Inner City News Magazine. I have enough videos by Snoop to do a great program. A "Snoop Dogg Special"
Anyway, the Friday show was sold out. I was told by Snoop's manangement that I was allowed to cover the Saturday show to write about it here at M.I.C News Magazine.
I got to the venue around 10:45pm because I was told Snoop would hit the stage around 11pm. But I know the game folks. If I was told 11pm, that meant midnight. I was right. The crowd waited for more than a hour before Snoop finally hit the stage. He hit the stage about 12:10am But before that, the crowd started to boo. Then the lights finally went down and the show started.
Snoop's set started with a short film with Snoop from one of his movies etc. That lasted about a minute or so and then Snoop pimped on stage. The crowd went CRAZY!
By the way, there was people of all races and ages at the show. Even little kids, which I did not understand with all the language being used by Snoop. There was people from 12 to 60 in the crowd.
Snoop started to perform all of his hits from "What's My Name" from earlier in his career to his recent hits "I Wanna Rock" and "Gangsta Luv" The crowd was jumping and dancing to all of his hits.
One thing for sure, their was plenty of folks in the crowd taping some of the show on their cell phones so most likley you can go to You Tube and see videos from the Seattle show. I was not one of them doing that.
Since I was told no for a interview with Snoop, I went to the show to watch it and review it for the thousands of you who visit our site. I knew I was going to watch a vet at work and that is what I saw.
Snoop along with a few of his homies like Daz and Kurupt put on a show done by vets in the rap game. The same thing happened when I went to shows by Ice Cube and DJ Quik. All three of them can perform hit after hit for their fans unlike young performers who have only a few hits in their bag.
I think everyone left the Showbox satisfied. It was a good performance by a cat who knows what he is doing on stage to satisfy his fans. A big shout out to big Snoop Dogg for his longevity in the music industry. Keep doing what ya doing SD!!
"Music Inner City News Magazine" Entertainment and urban sports news, politics, webcasts and podcasts, MTV News, links and more!
The #1 urban online magazine in the Northwest (United States).
Tags: B.E.T,career,daz,DJ Quik,fans,game,gordon curvey,hip-hop,homies,ice Cube,industry,interview,kurupt,legend,longivity,mtv,music,online,opinion,perform,performance,Podcast,radio,rap,seatown,seattle,showbox,Snoop Dogg,television,tv,vet,washington,watch