Tag Archive | "philidelphia"
Posted on 16 November 2010 by curvey in Featured, Sports
ARTICLE FROM philly.com (Full article click here)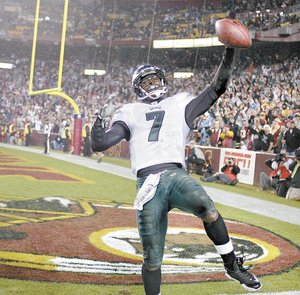 The performance I watched by Micheal Vick is the best I have ever seen by a athlete. PERIOD! It was something that leaves me thinking about why our Seahawks did not sign Vick.
Because what I saw by Micheal Vick against the Redskins and Donavan McNabb was something I have never seen folks. The first play of the game….BAM!! A long TD pass by Vick. First play of the game. A on point pass for a TD. I could not believe it.
Micheal Vick and LeBron James are two players I would pay to see play any day, all the time!! Vick is a changed QB than the player he was in Atlanta. A totally different player. And it seems as a person as well.
We all know what he did. It was wrong. But he served his dues. Hell Vick just got caught dog fighting. You can come in any hood in the U.S and see dog fighting. That is a fact. Does not make it right but it is a fact.
But like I said, Vick served his dues and as a teammate of Vick I just heard of sports radio say "It is water under the bridge"
As sports fans, let's enjoy players like Vick and James and Kobe and other great players. They are the guys who make all of us love sports.
It burns me up to hear these "angels" calling on sports radio putting down Vick. That is a felon and saying he should not be playing in the NFL etc. That is pure BS!!! All you angels need to chill out because look at actor Tim Allen.
He sold coccaine and served time for it. Was he given a second chance? The answer is yes. And he has made millions of dollars. Allen by the way is a felon.
I want to say thanks to Mike Vick for providing me a sports performance I will NEVER forget.  Yo Seahawks, you should have signed Micheal Vick!!! Gordon Curvey
Listen to entire programs via podcasts of Seattle's "Music Inner City Radio" which airs every Friday at 10pm on 1150am KKNW. Classic soul, new and recent hip-hop and r&b, exclusive interviews, urban sports and entertainment news and much more.
Just click "podcast" link above, grab your headphones and enjoy the shows!! Also watch entire webcasts of "Music Inner City TV" which airs 24/7 on Comcast On-Demand all over Western Washington state. Urban and pop music videos, exclusive interviews and more!! Just click "Television Show" link above. And also watch a program here on the home page.
Why not ADVERTISE with us on TV, on radio and on the net for one VERY VERY low price and reach thousands of people!! "Music Inner City News Magazine" is the #1 urban website on the Internet from the Northwest!! Call us at 206-445-3989 or 206-414-6118 or email us at gcurvey@yahoo.com
Tags: donavan mcnabb,football,nfl,performance,philidelphia,redskins,seahawks,teammate,vick