Tag Archive | "spike lee"
Posted on 20 January 2012 by curvey in Featured, Politics
ARTICLE FROM eurweb.com (Full story click here)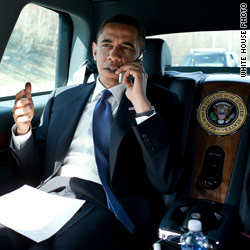 President Barack Obama flew into the Big Apple for a fundraiser after a trip to Disney World In Florida for a major announcement. This is 2012 the year of the big election for his current job so he is hitting the road to talk to the people.
He is letting the people know that his job will take longer than one term. And he asking his supporters to support him in the elections so he can finish his job that he started. He has a hard job in front of him but but we here at "Music Inner City" is a supporter of the President.
Yes things are rough. Companies like Clear Channel are cutting back big time but slowly but surely things are getting better. He needs another term to help get people back to work.
I watched the CNN Debate on TV from South Carolina and it was a outrage what the candidates was saying about the President of United States. Romney said the President is "dangerous" Readers how can President Obama be "dangerous" when under the Prez, the most dangerous man in the world Bin Liden was caught and killed. A man who killed more than 3,000 folks in 9-11. How can Romney say the President is "dangerous" I do not understand this AT ALL.
The other candidates also blasted the President at will. Remember one of them called President Obama "a food stamp President" What kind of insane comment is that? It has to stop.
While in New York he went to a fundraiser at the home of filmmaker Spike Lee that brought in a lot of money and then he went to the legendary Apollo Theater in Harlem to speak. In the crowd was another legend. Former guest on Seattle's "Music Inner City TV" Rev. Al Green.
President Obama noticed Rev. Green was in the audience so he said a few things about Rev. Green and then sang a few words from a Green hit "Let's Stay Together" and the crowd went crazy. President Obama can hold a tune folks. Click the link above to see the Prez at the Apollo. Gordon Curvey
New "Music Inner City" webcast on Saturday right here! Stay tuned.
Tags: apollo,crowd,danderous,fundraiser,money new york,president obama,seattle,spike lee
Posted on 09 March 2010 by curvey in Featured
ARTICLE FROM huffingtonpost.com (Full story click here)
"One Man's Opinion" by Gordon Curvey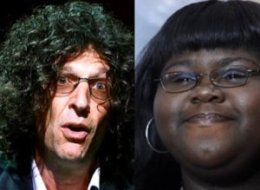 I CANNOT believe what so called "shock jock" Howard Stern said about Oscar nominee actress Gabourey Sidibe over the air about her size!
Please listen to his STUPID and yes RACIST comments about Ms. Sidibe by clicking the link above. I am real bothered by his comments. And I am bothered by his sidekick Robin saying what she said too! The question is WHY DID HOWARD MAKE THESE COMMENTS AND WHY IS THIS NOT BIGGER THAN WHAT IT IS?
First of all Gab will find work again!!! She is looking over new roles right now Howard!!! And not only that I am sure OPRAH AND SPIKE AND DENZEL AND TYLER PERRY and others will make sure she will have a job acting in a movie!!! What a STUPID thing to say that Gabourey will not find another acting job!!!
It hurts me as African American that Howard would say that about her and hurts me even more that Gab's African American sista would also make negative comments about Sidibe!!!!
Gabourey seems like such a down to earth young lady with a great personality. Yes she is a large lady. This is true. And hopefully she will shed some pounds for her health. But when she is ready she will. She does not need CLOWNS like Howard and Robin blasting her on national radio!!
And here is a question. What kind of talent does Howard have or Robin have? I think the pitbulls that Shorty trains on "Pit Boss" on TV have more talent than Howard and Robin!!!!!!!!!!! All Robin does is laugh and makes a stupid comment after Howard's stupid comments!!!! It is beyond me why he makes millions. He is a no talent!!
These comments made by Howard and Robin should make Sidibe work harder and show the fool and crazy Howard that she is going to work and she will continue to be a wonderful actress and a great lady.
What Robin should have said on the radio as a African American female is how proud she was of Gabourey to be nominated for a Oscar and how proud she was of Monique to win a Oscar!!!! Instead of the very negative things said. Those comments make me angry and also very very sad.
What Howard said about Gabourey Sidibe is FLAT OUT WRONG AND TERRIBLE! I hope you readers are as bothered as I am by his comments.
Tags: acting,actress,african American,bigger,blasting,denzel washington,fat,gabourey Sidibe,gordon curvey,hollywood,howard,howard stern,huffington post,hurts,jock,lady,millions,monique,movies,music inner city,national,negative,online,oprah,oscar,personality,pitbulls,Podcast,precious,radio,robin,seattle,shed,shock,shorty,sista,size,spike lee,stern,stupid,talent,tyler perry,unfair,washington,webcast,weight,young