Tag Archive | "stern"
Posted on 14 November 2011 by curvey in Featured, Sports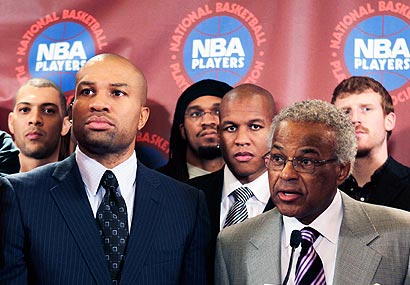 ARTICLE FROM nba.com (Full story click here)
I was thinking positive regarding today would be a good day as far as ending the NBA lockout but I was wrong big time because the NBA players rejected the owners deal.
The owners led by David Stern had a deal on the table that would have started the season on December 15th and the season would be a 72 game season instead of 82. But that ain't going to happen.
The way it looks now readers NBA fans will have to look at old games from the 70's and 80's and 90's on NBA-TV instead of watching KD, KG and Kobe. This is truly truly sad.
I am on the players side big time. The players make the NBA so the owners can bank BIG dollars. Fans pack NBA arenas to see D-Wade, LeBron, Dirk, Seattle's own Jamal Crawford and Jason Terry and others play but it looks like we will not watch NBA games for awhile.
If you listened to Stern today, the owners will not back down and he blasted Billy Hunter who works for the players. He sounded very arrount and uppity. Like what Bryant Gumbel and another person said about Stern that he acts like a "platation owner and the players are his slaves" This is outrage!! Remember the NBA players are majority African American or a person of color and the owners are 99% white. Micheal Jordan is the only black owner.
Being in Seattle, I cannot watch live NBA basketball anymore so I hav to watch on TV or go to Portland or watch a game their games are always sold out. I have to watch the games on NBA-TV or TNT or ESPN. I just want to see the season start. That's all I want as a sports fan.   Gordon Curvey
Tags: basketball,games,kobe,NBA,players,portland,seattle,stern,ustream,walkout
Posted on 09 March 2010 by curvey in Featured
ARTICLE FROM huffingtonpost.com (Full story click here)
"One Man's Opinion" by Gordon Curvey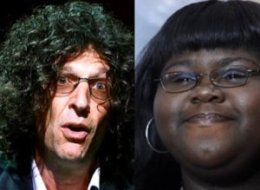 I CANNOT believe what so called "shock jock" Howard Stern said about Oscar nominee actress Gabourey Sidibe over the air about her size!
Please listen to his STUPID and yes RACIST comments about Ms. Sidibe by clicking the link above. I am real bothered by his comments. And I am bothered by his sidekick Robin saying what she said too! The question is WHY DID HOWARD MAKE THESE COMMENTS AND WHY IS THIS NOT BIGGER THAN WHAT IT IS?
First of all Gab will find work again!!! She is looking over new roles right now Howard!!! And not only that I am sure OPRAH AND SPIKE AND DENZEL AND TYLER PERRY and others will make sure she will have a job acting in a movie!!! What a STUPID thing to say that Gabourey will not find another acting job!!!
It hurts me as African American that Howard would say that about her and hurts me even more that Gab's African American sista would also make negative comments about Sidibe!!!!
Gabourey seems like such a down to earth young lady with a great personality. Yes she is a large lady. This is true. And hopefully she will shed some pounds for her health. But when she is ready she will. She does not need CLOWNS like Howard and Robin blasting her on national radio!!
And here is a question. What kind of talent does Howard have or Robin have? I think the pitbulls that Shorty trains on "Pit Boss" on TV have more talent than Howard and Robin!!!!!!!!!!! All Robin does is laugh and makes a stupid comment after Howard's stupid comments!!!! It is beyond me why he makes millions. He is a no talent!!
These comments made by Howard and Robin should make Sidibe work harder and show the fool and crazy Howard that she is going to work and she will continue to be a wonderful actress and a great lady.
What Robin should have said on the radio as a African American female is how proud she was of Gabourey to be nominated for a Oscar and how proud she was of Monique to win a Oscar!!!! Instead of the very negative things said. Those comments make me angry and also very very sad.
What Howard said about Gabourey Sidibe is FLAT OUT WRONG AND TERRIBLE! I hope you readers are as bothered as I am by his comments.
Tags: acting,actress,african American,bigger,blasting,denzel washington,fat,gabourey Sidibe,gordon curvey,hollywood,howard,howard stern,huffington post,hurts,jock,lady,millions,monique,movies,music inner city,national,negative,online,oprah,oscar,personality,pitbulls,Podcast,precious,radio,robin,seattle,shed,shock,shorty,sista,size,spike lee,stern,stupid,talent,tyler perry,unfair,washington,webcast,weight,young
Posted on 05 March 2010 by curvey in Featured, Sports
"One Man's Opinion" by Gordon Curvey
Well former B.E.T owner Bob Johnson finally got tired of owning a basketball team and sold it MJ. The person some people say was the greatest basketball player of all time. I say Magic Johnson though.
Jordan has a very very hard job ahead of him. Will he want to keep Hall of Fame member Larry Brown next season as the head coach? This will be interesting because truth be told the Bobcats have improved this year under Coach Brown.
They have a few pieces in place to have a good team with some added additions. They Have Gerald Wallace and Stephen Jackson on the team. The question is this how will MJ be as a owner?

Because MJ might have been a great great player but so far as a GM in Washington and with Bobcats in another position, he has not done a good job. Let's just tell the truth folks. (yours truly Gordon C. with MJ pic to the right)
One thing for sure it is great that MJ is involved in the NBA in anyway because he is a basketball icon. A sports icon. A flat out legend. I know David Stern is happy to have him around too.
Will he be a owner like Mark Cuban of the Mavericks? Who is at EVERY game sitting right behind the bench of his team? Who knows we will see.
Everyone will be watching Jordan to see what he can do to make the Bobcats a team that can make the playoffs in the future and draw some fans to the arena because when you see a Bobcat game on TV, you will notice a whole lot of empty seats.
So let's see what the REAL KING (not James) can do as the new owner of the Bobcats in Charlotte.
"MUSIC INNER CITY NEWS MAGAZINE" The #1 urban online news magazine in the Northwest!!
Be sure to listen to "Sports Inner City Radio" right here on "S.I.C-Online" Urban sports news and issues from the studios of "Music Inner City TV" in Seattle, Washington.
"Music Inner City TV" is the ONLY locally produced urban music video/interview program in the Northwest (U.S.) On the air for going on 20 years!!
Part 2 EXCLUSIVE webcast from the 2010 Clive Davis Pre-Grammy Party in Los Angeles is now online!
Tags: audio,basketball,bobcats,Charlotte,inner city,interviews,johnson,king,legend,Magic,mavericks,Michael Jordan,MJ,music,music inner city,northwest,online,opinion,owner,player,seattle,sold,Sports,stern,team,webcast
Read More Comments Off on Micheal Jordan New Owner Of The Charlotte Bobcats