Tag Archive | "trump"
Posted on 19 August 2018 by curvey in Featured, Much More
"One Man's Opinion" by Gordon Curvey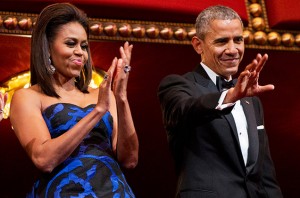 Recently this site was hacked by someone which is truly truly sad. Still working on getting our site up and running smoothly. Thanks everyone.
Yes I will admit and millions of others will admit this too. We miss President Barack Obama and former First Lady Michelle Obama in the White House. We miss their style and miss their class. What we have now in the White House is for sure the complete opposite as far as the President is concerned.
I miss the preacher/minister like speeches by President Obama. He gave many many speeches like this in his eight years of the first African American President in American history. He gave speeches that inspired me. I can be feeling down in spirits but then I hear a speech/sermon by President Obama and I instantly feel better. He did this for many of us. Michelle Obama is a gifted speaker too. She has inspired so many young black and white female children all over the world. She was a great First Lady. I miss her being in the White House.
It hurts me to no end when I hear Trump put President Obama on blast day after day after day. Do not be fooled. Trump STILL thinks he was born in Kenya. Meanwhile President Obama stays in the cut watching/listening to Trump criticize him over and over and over. Once every blue moon we will see a speech my President Obama. We are shocked when it happens.
Well word is out that the Obamas have signed a multi-year deal with Netflix to produce programs for the media company. The first content from Barack and Michelle will start in 2019. Netflix said recently "The Obamas will produce a diverse mix of content, including the potential for scripted series, unscripted series, docu-series, documentaries and features." Man I am excited to see what the Obamas will produce for Netflix!!!
Word is you will see the President and Michelle in front of the cameras as hosts or moderators and in some cases they will be behind the scenes as producers. Netflix will obtain great content I am sure from the Obamas for their 125 million streaming members.
Prez Obama recently said "We hope to cultivate and curate the talented, inspiring, creative voices who are able to promote greater empathy and understanding between peoples, and help them share their stories with the entire world." And former First Lady Michelle Obama said "Netflix's unparalleled service is a natural fit for the kinds of stories we want to share, and we look forward to starting this exciting new partnership."
Already the Obamas have started a company called Higher Ground Productions. That will be the name in which all content for Netflix will be produced under.  So we here at "Music Inner City News Magazine" will keep you informed about future programs the Obamas will produce in the future.
Tags: content,documentaries,kenya,minister,mix,multi,netflix,obamas,partership,potential,preident,produce,sermon,shocked,speaker,trump,unparalleled,unscriped
Read More Comments Off on The Obamas Sign Production Deal With Netflix
Posted on 03 April 2018 by curvey in Featured, Politics
ARTICLE FROM politico.com (Full story click here)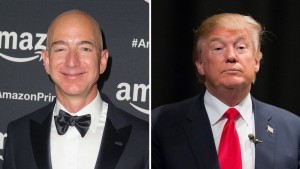 I am here in Seattle, Washington where huge corporations like Microsoft, Starbucks and yes Amazon main headquarters are in the area. And it seems your President (not mine) Trump is going after one of these huge corporations. The questions is why?
It seems Trump is going after Amazon for one reason and one reason only. It is because he knows that Amazon leader Jeff Bezos also owns the Washington Post. A news organization that has been a big time critic of Donald Trump since he has been a so called President. So Trump is going after Bezos.
So the pathetic Trump is now making threats to raise postal rates on the tech giant Amazon which many consider this a war between Trump and Bezos. This threat cost Amazon over $35 billion in stock on April 2nd.
It seems higher postal rates could hurt Amazons online profits which depends on the Post Office. Come on ladies and gentlemen unless you are the great and former guest on "Music Inner City TV" Stevie Wonder you can see what is going on. It is like what the another former guest on "M.I.C-TV" the late great James Brown sang "It Is The Big Payback" by Trump. It is a outrage!!
Trump is trying to lower the boom on Bezos and Amazon because of the Washington Post. People are saying Trump's charges that Amazon is exploiting the U.S. Postal Service is "made up" and Trump's charges are hurting Amazon and it's shares.
What Donald Trump is doing to Amazon is just plain stupid and just plain wrong. It is a perfect example of retaliation by the arrogant Trump. It again shows me what a REAL PRESIDENT and a man with style and class in President Barack Obama and the great former First Lady Michelle Obama and Sen. Hilary Clinton said and that is Donald J. Trump is unfit to be President.
Comments: gcurvey@yahoo.com or facebook.com/gordon.curvey or twitter.com/gcurvey
Tags: amazon,bezos,charges,giant raise hurting,higher,michelle,microsoft,post,seattle,starbucks,tech,threats,trump,washington
Read More Comments Off on Why Is Trump Going After Amazon? It Is Obvious!!
Posted on 27 March 2018 by curvey in Featured, Sports
"One Man's Opinion" by Gordon Curvey
My opinions on Seattle Times sports writer Matt Calkins AGAIN putting a African American on blast in his articles in the Times. He has done this over and over and over again. In my opinion Matt Calkins should be fired asap!!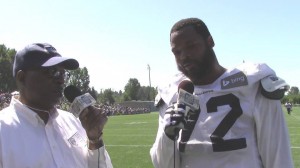 To my many FB friends the following is kind of long but it is my true feelings on the BOGUS charge against former Seahawk Michael Bennett. It is how I feel. It is a reply to motor mouth Matt Calkins of the Times who has made a habit of putting Bennett/Sherman on blast in the Times sports section. He should be fired!! PLEASE READ BELOW.
———————————————————————————————————
AGAIN Matt Calkins is giving his one-sided white man's views on a black man in the white owned media..The Times. A opinion on a intelligent, educated African American man in Bennett who is bold enough to challenge racism in America which has got worse with the fella in the White House.
Bennett also speaks out against police who has shot unarmed black men OVER AND OVER AND OVER AGAIN WITHOUT WHITE OFFICERS NOT SPENDING ONE DAY IN JAIL for their actions!! Hell Bennett has also spoke about the shooting and killing of the African American sista Charleena Lyles by the police in the area.
——————————————————————————————————-
BREAKING NEWS: TWO WHITE POLICE OFFICERS IN BATON ROUGE, LA WILL NOT BE CHARGED IN THE TERRIBLE AND WRONG KILLING OF 37 YEAR OLD ALTON STERLING. Again white police kill a African American and will NOT spend ONE DAY in jail and will NOT be charged!
Another black man has been shot and killed in Sacremento. Will the white officers who killed this African American brotha be charged? HELL NO!!!
——————————————————————————————————-
So we in the black community know black folks will NEVER see a white police officer get charged and convicted of killing a black man or lady. NEVER!! Including in Texas!!! These are some of the issues Michael Bennett AND Richard Sherman were bold enough to speak out about off the field.
So all of sudden in Trump loving Texas (who has a governor who is a friend and a tremendous supporter of Trump) Bennett a 6-4 265 pound HUGE black man is charged with pushing a 66 year old paraplegic lady after New England won the Super Bowl last year. A game in which Bennett's brother won as a member of NE. GIVE ME A FREAKIN BREAK!! This is a bunch of BS!! PLUS THEIR IS NO VIDEO OF THE ALLEGED INCIDENT!!!!!!!
When I saw all those white policemen in Texas hold that bogus press conference about the bogus charges on Michael Bennett I thought about racism against black folks in the 60's in Selma, Alabama or in Mississippi.
Don't get it twisted, IF Bennett did what he is charged with then BENNETT IS WRONG!! But in my strong opinion this is all about a outspoken, intelligent and educated African American man who has spoken out AGAINST white officers killing unarmed black folks, being retaliated against by white folks in a state that supports one of worse so called President's already in American history!! a ALLEGED INCIDENT THAT HAPPENED MORE THAN A YEAR AGO!!!!!!
Finally I continue to see Matt Calkins give his opinions on African Americans here in the Times. Calkins KNOWS ABSOLUTELY NOTHING ABOUT OUR AFRICAN AMERICAN CULTURE AND LIFESTYLE AND KNOWS NOTHING ABOUT THE DAILY RACISM WE BLACK FOLKS DEAL WITH EACH AND EVERY DAY IN WHITE AMERICA!!
It can be blatant or subtle but we African Americans deal with racism everyday when we walk out our doors. Has Calkins experienced this as white man putting African Americans on blast in the white owned Times? HELL NO!!
To have this blog with this title ("REACTIONS TO MICHAEL BENNETT ARREST WARRANT SHOWS THAT FACTS DON'T MATTER") AGAIN Matt Calkins as well as many other folks who have left their comments here are brainless with it comes to what black men like me or even a black man with money in Bennett go though EVERYDAY in white America. THESE CHARGES AGAINST BENNETT ARE BOGUS!!! REAL TALK!!! And again MATT CALKINS SHOULD BE FIRED BY THE TIMES!!
COMMENTS: gcurvey@yahoo.com or facebook.com/gordon.curvey or twitter.com/gcurvey
Tags: alton,bennett,bogus,bold,calkins,charged,fired,intelligent,jail,matt,media,michael,police,racism,richard,sacremento,sherman,Sports,sterling,trump,unarmed,unfair
Read More Comments Off on Matt Calkins Of The Seattle Times Should Be Fired!!
Posted on 15 January 2018 by curvey in Featured, Politics
"One Man's Opinion" by Gordon Curvey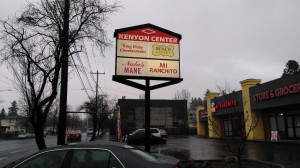 Ladies and gentlemen thanks for coming to my website to read my posts and my thoughts here on "Music Inner City News Magazine" and "Sports Inner City Online" www.sportsinnercity.com  It means a lot. It really does. One thing that bothers me is MLK Day here in Seattle.
WHY do African Americans get together every year at Garfield High School to talk so called "unity" and to speak about racism and exclusion of African Americans and people of color and more topics concerning people of color? Why? To me every MLK Day here in Seattle gets me very very upset! People then march to downtown. FOR WHAT????
Watching African Americans "trying" to have some type of unity FOR ONE FREAKIN DAY!!! It is a damn joke ladies and gentlemen! Do we as African Americans have unity during the year? I SAY HELL NO!!
Readers AFRICAN AMERICANS HAVE NO UNITY IN SEATTLE as far as I am concerned. African Americans have ZERO mom and pops stores in the Central Area or Rainier Valley. ZERO folks!! Also African Americans have ZERO malls full of businesses like the picture here of a mall on Rainier Ave South here in Seattle FULL OF BUSINESSES RAN BY CITIZENS OF KENYA!!
I ask you readers how come we do not a mall full of businesses ran by African Americans? NOT ONE!! The Asian American community and now East Africans HAVE MALL AFTER MALL AFTER MALL AFTER MALL of businesses. AFRICAN AMERICANS A GRAND TOTAL OF ZERO!! Asians run Viet Wah grocery stores and of course have a community in the INTERNATIONAL DISTRICT/CHINATOWN FULL OF BUSINESSES RAN BY ASIAN-AMERICANS!!
I listened online to the MLK Jr. event at Garfield High here in Seattle. I did NOT hear speakers telling us or asking us African Americans to be small businesses owners like other races. What I did hear is the same ole same ole blaming the white man for our condition.
This is BS!! Truth be told my worse enemies as a business man HAS BEEN MY AFRICAN AMERICAN PEOPLE!! Real talk ladies and gentlemen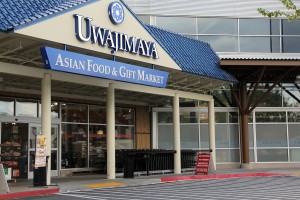 real talk for sure. Blaming Trump for everything. Can we blame Trump for African Americans not opening up MALL AFTER MALL of Asian and now East African businesses? HELL NO!! Can we blame Trump for many young poeple buying $5,000 rims to put on a 1989 Monte Carlo?
Buying rims instead of pooling our money like the Asians and East Africans and having a meeting at someone residence to discuss opening up a new business. This is what African Americans as a whole in Seattle like to do. Buy a new car etc instead of opening a new business.
Asians and East Africans have total unity. They do not wait until a special day to unite. Truth be told I have a story to tell but NO AFRICAN AMERICAN has asked me to speak on MLK Jr. Day. I had and still have a dream. I wanted to be a broadcaster when I was a teenager and I worked my ass off to have a name all over the music industry. I have TWO PROGRAMS that air 24-7 all over the west coast and stream online. Now I am trying to blow up my NBA webcast "Sports Inner City/Off The Court"
Hopefully I will obtain a badly needed Angel Investor or major sponsor. I say a prayer everyday. I don't wait until MLK Jr. to try to act African American for a day and then the next day back to the same. That ain't me. I can go on and on about the fake MLK Jr. Day here in Seattle.
Where are these so called leaders who show up at MLK Jr. Day every year when ANOTHER young brotha or sista is shot and killed in the streets of Seattle? WHERE IS THE DAMN OUTRAGE??? I don't see it!! But let a white officer shoot a black person we are outraged. Give me a break readers. This upsets me big time.
So in ending, why do African Americans march on MLK Jr. Day in Seattle? Sorry to say to me it is a joke and total waste of time. I am sure many of you will not agree. That's ok. I am a big boy.
Comments: gcurvey@yahoo.com  or facebook.com/gordon.curvey or twitter.com/gcurvey
Tags: angel,asian,blame,broadcaster,businesses,event,fake,industry,investor,mall,mlk. races,officer,outraged,residence,seattle,small,streets,trump
Read More Comments Off on Why Do African Americans March on MLK Day In Seattle?
Posted on 15 November 2017 by curvey in Featured, Politics
"One Man's Opinion" by Gordon Curvey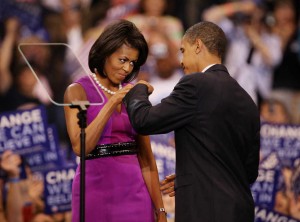 I think back nine years ago when President Barack Obama became the first African American President Of The United States and Michelle Obama became the first African American First Lady. As a African American I was so very very happy. I am not going to lie, I cried!!
I never thought I would ever see a black man as the most powerful person in the world. But it happened. When President Obama became President millions and millions of citizens felt proud. Proud to be a American. I should say more proud to be a American. Truth be told, every time I saw President Obama or First Lady Michelle I was happy. When EVER I saw Prez Obama or Michelle on TV I stopped what I was doing to watch. Press conference after press conference. Speech after speech.
Of course President Obama and First Lady Michelle became role models for millions and millions young African Americans and people of color and we felt it was great to have someone who looks like us in the White House.
Of course the President could have done more as a African American in the White House. He could have spoken out more on all the killings in his home city of Chicago. He could have made more visits to Chicago. And he could done more on the unemployment situation going on in the African American community. We can also say of course all President's could have done more….right?
But again millions of us felt happy and proud to have a African American as President and felt proud Michelle Obama was our First Lady. Michelle Obama used her platform to speak to young African American girls. Asking them to take education serious and stay out of gangs and do not use drugs. She was a TREMENDOUS First Lady. Hell many say she was more popular than her husband. And she is popular as hell right now as is her husband.
As we know, President Obama not only won the first time he ran he won a second term also! A African American man won two terms as President Of The United States. Unreal ladies and gentlemen.
Readers I was lucky enough to cover President Obama aboard Air Force One when ever he visited my city of Seattle, Washington. In the eight years he was President I covered Air Force One at Seattle-Tacoma International airport five times and EVERY time it was a thrill to see the big 747 with the United States Of America land and then finally stop about a 100 feet from all the reporters.
It was just great!! I can go on and on about my thoughts on the eight years of the first black President of the U.S. During the last few years in the White House, this businessman Donald J. Trump said over and over that President Obama was born in Kenya. Even with the President showing his birth certificate that let EVERYONE see Barack Obama was born in Hawaii. Last time I checked Hawaii is a state in the U.S.
Trump continued time and time again to say Barack Obama was born in Kenya. Today as the so called President, Trump STILL thinks President Obama was born in Kenya. It is a fact that Donald Trump (will NEVER call him President) has shown that he HATES President Obama!!
Since he has been in office Trump has NEVER said ANYTHING positive about the eight years of President Obama. NEVER ladies and gentlemen has Trump said anything positive regarding President Obama. This is just flat out wrong!! Keep in mind readers, President Obama walked out the White House with a WHOPPING 60% APPROVAL RATING!! Currently Trump's approval rating is at a VERY VERY LOW 36%!!
President Obama is smooth! He knows how to handle Trump. Yes I wish Prez Obama would speak out more when Trump criticizes him over and over but this is the way he has decided to handle Trump right now. But Prez Obama is writing a book.
Cannot wait until his book comes out. It should be VERY VERY interesting!! I just am thankful that I had a chance to witness eight years of President Obama and First Lady Michelle. A dynamic couple. Two very intelligent people. Two tremendous role models for younger African Americans and people of color. And oh yeah it has been great to see Malia and Sasha grow up to be beautiful young ladies.
For sure from time to time I will be writing about President Obama and First Lady Michelle (will ALWAYS be First Lady to me)  activities as private citizens. Slowly Prez Obama is doing more public speaking and Michelle also. Hopefully both of them will soon give their honest feelings on this fella who lost by a 3 MILLION votes and a man who is totally unfit to be President…Donald J. Trump.
Tags: america,book,color,criticizes,first,hates,lady,malia,michelle,model,obama,office,people,president,role,Sasha,smooth,trump,whopping
Read More Comments Off on Why Millions Of Americans Miss The Obama's
Posted on 15 March 2016 by curvey in Featured, Hip-Hop/R&B
"One Man's Opinion" by Gordon Curvey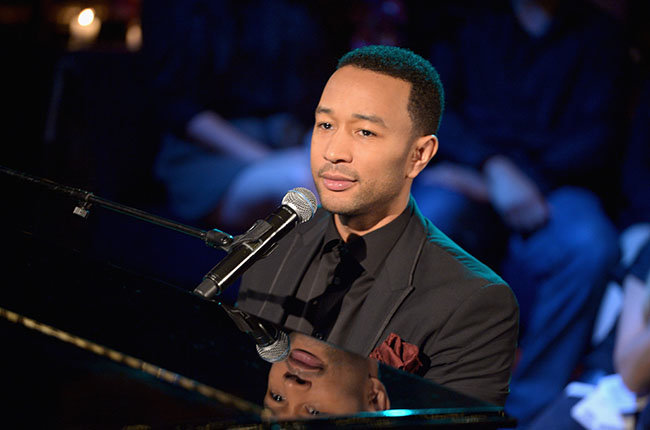 I have learned to respect singer John Legend. We all know he is a great singer and songwriter. A Grammy and Oscar winner.
But I am also learning to respect Legend not only for his singing, but because he is a community activist. John is using his platform as a performer to help change a way of thinking about problems in the inner cities of America.
Legend is a member of President Obama's "Brother's Keepers" organization to help young African American boys in America. The group also has former guest on "Music Inner City TV" Tyrese Gibson and others in the group.
John Legend was born in 1978 in Xenia, Ohio. He is one of four children of Phyllis Elaine and Ronald Lamar Stephens. In his childhood, Legend was homeschooled on and off by his mom. Like many other African American singers, he started singing in church. I hear this from guests all the time.
He started playing the piano at age seven. At age 12, Legend attended North High School. He attended the University Of Pennsylvania where he studied English and African American literature.
In college, John served as president and musical director of a co-ed jazz and pop froup called Counterparts. His lead vocals on the group's recording of Joan Osborne's "One Of Us" received critical acclaim landing the song on the track of the 1998 "Best Of Collegiate a Cappella compilation" CD.
And I guess the rest is history. He has went on to become a superstar. But like I said I am respecting Legend more because of his speaking out on issues in the African American community.
Most performers sit back and count their money and buy cars and boats and expensive stuff. Which Legend may also do. But unlike others, he has also decided to use his name to speak out on issues. Like for instance he and Donald Trump Jr. recently had a Twitter battle about Trump Sr.
Big shout out to John Legend. A man I have learned to respect on stage and off and you should too!!
Tags: activist,african,American,childhood,community,grammy,issues,john,legend,obama,organization,oscar,performers,piano,Politics,president,respect,singer,songwriter,trump
Read More Comments Off on I Have Much Respect For John Legend
Posted on 28 April 2011 by curvey in Featured, Politics
ARTICLE FROM new.yahoo.com (Click here for full story)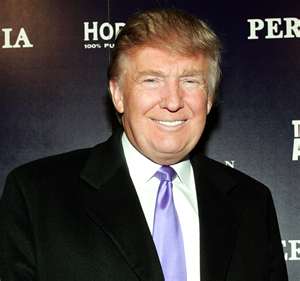 Readers as a African American I am really upset at this clown Donald Trump. He is a guy I used to respect as a big time real estate holder who flies around in his own jets and a big helicopter with his last name on it, hotels, casinos, golf courses etc.
But now I have lost total respect of Trump. He has shown me and many other African Americans that he is a racist in his treatment of the first African American President of the United States Barack Obama. It is as obvious as night and day.
This cat put President Obama on blast over and over and over about his birth certificate and where is it and where was President Obama born. Why did Trump do this. Why is he doing this? So now the President had to bring out his birth records to "try" to shut this clown Donald Trump's mouth. BUT it did not work!!
First Trump took credit for forcing the President to bring out his birth records. But while doing this, he still wonders if the President's birth records are real!! THEN to make matters worst, the clown Trump now wonders about the President's school records and if he went to this school or not. Did he graduate or not etc.
Sorry readers this is first class racism on the part of the clown Trump! Let me ask you this. Where was the clown Trump when President George W. Bush was President? And where his friends on the right and tea party? Did the right and the tea party ask where was President Bush's birth records? Did they do that? NO THEY DID NOT!! So why ask these questions of the first African American President? Why are the clown Trump and other clowns and bigots asking these questions of President Obama when 2012 is right around the corner?
It is a OUTRAGE!! The treatment of President Obama by the clown Donald Trump is flat out racist and flat out wrong. Sorry to say even with a African American President……..racism is alive and well in America.    Gordon Curvey
Tags: birth,clown,donald,george w. bush,obama,president,racist,records,tea party,trump