Tag Archive | "unfair"
Posted on 27 March 2018 by curvey in Featured, Sports
"One Man's Opinion" by Gordon Curvey
My opinions on Seattle Times sports writer Matt Calkins AGAIN putting a African American on blast in his articles in the Times. He has done this over and over and over again. In my opinion Matt Calkins should be fired asap!!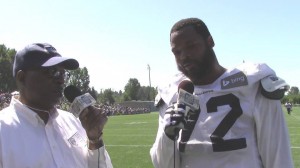 To my many FB friends the following is kind of long but it is my true feelings on the BOGUS charge against former Seahawk Michael Bennett. It is how I feel. It is a reply to motor mouth Matt Calkins of the Times who has made a habit of putting Bennett/Sherman on blast in the Times sports section. He should be fired!! PLEASE READ BELOW.
———————————————————————————————————
AGAIN Matt Calkins is giving his one-sided white man's views on a black man in the white owned media..The Times. A opinion on a intelligent, educated African American man in Bennett who is bold enough to challenge racism in America which has got worse with the fella in the White House.
Bennett also speaks out against police who has shot unarmed black men OVER AND OVER AND OVER AGAIN WITHOUT WHITE OFFICERS NOT SPENDING ONE DAY IN JAIL for their actions!! Hell Bennett has also spoke about the shooting and killing of the African American sista Charleena Lyles by the police in the area.
——————————————————————————————————-
BREAKING NEWS: TWO WHITE POLICE OFFICERS IN BATON ROUGE, LA WILL NOT BE CHARGED IN THE TERRIBLE AND WRONG KILLING OF 37 YEAR OLD ALTON STERLING. Again white police kill a African American and will NOT spend ONE DAY in jail and will NOT be charged!
Another black man has been shot and killed in Sacremento. Will the white officers who killed this African American brotha be charged? HELL NO!!!
——————————————————————————————————-
So we in the black community know black folks will NEVER see a white police officer get charged and convicted of killing a black man or lady. NEVER!! Including in Texas!!! These are some of the issues Michael Bennett AND Richard Sherman were bold enough to speak out about off the field.
So all of sudden in Trump loving Texas (who has a governor who is a friend and a tremendous supporter of Trump) Bennett a 6-4 265 pound HUGE black man is charged with pushing a 66 year old paraplegic lady after New England won the Super Bowl last year. A game in which Bennett's brother won as a member of NE. GIVE ME A FREAKIN BREAK!! This is a bunch of BS!! PLUS THEIR IS NO VIDEO OF THE ALLEGED INCIDENT!!!!!!!
When I saw all those white policemen in Texas hold that bogus press conference about the bogus charges on Michael Bennett I thought about racism against black folks in the 60's in Selma, Alabama or in Mississippi.
Don't get it twisted, IF Bennett did what he is charged with then BENNETT IS WRONG!! But in my strong opinion this is all about a outspoken, intelligent and educated African American man who has spoken out AGAINST white officers killing unarmed black folks, being retaliated against by white folks in a state that supports one of worse so called President's already in American history!! a ALLEGED INCIDENT THAT HAPPENED MORE THAN A YEAR AGO!!!!!!
Finally I continue to see Matt Calkins give his opinions on African Americans here in the Times. Calkins KNOWS ABSOLUTELY NOTHING ABOUT OUR AFRICAN AMERICAN CULTURE AND LIFESTYLE AND KNOWS NOTHING ABOUT THE DAILY RACISM WE BLACK FOLKS DEAL WITH EACH AND EVERY DAY IN WHITE AMERICA!!
It can be blatant or subtle but we African Americans deal with racism everyday when we walk out our doors. Has Calkins experienced this as white man putting African Americans on blast in the white owned Times? HELL NO!!
To have this blog with this title ("REACTIONS TO MICHAEL BENNETT ARREST WARRANT SHOWS THAT FACTS DON'T MATTER") AGAIN Matt Calkins as well as many other folks who have left their comments here are brainless with it comes to what black men like me or even a black man with money in Bennett go though EVERYDAY in white America. THESE CHARGES AGAINST BENNETT ARE BOGUS!!! REAL TALK!!! And again MATT CALKINS SHOULD BE FIRED BY THE TIMES!!
COMMENTS: gcurvey@yahoo.com or facebook.com/gordon.curvey or twitter.com/gcurvey
Tags: alton,bennett,bogus,bold,calkins,charged,fired,intelligent,jail,matt,media,michael,police,racism,richard,sacremento,sherman,Sports,sterling,trump,unarmed,unfair
Read More Comments Off on Matt Calkins Of The Seattle Times Should Be Fired!!
Posted on 30 January 2013 by curvey in Featured, Sports
"One Man's Opinion" by Gordon Curvey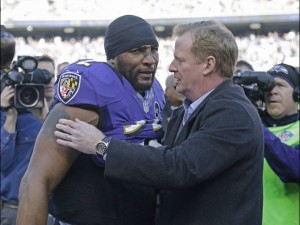 Here in my hometown of Seattle, Washington certain so called sports jocks on sports radio are letting their feeling known on Baltimore Ravens future Hall of Fame member Ray Lewis. And it is getting worse by the day. And in my opinion unfair!!
Of course certain clowns like KJR's Ian Furness and fellow clown Jason Puckett are blasting Lewis and bringing up the 1999 case in which two people were murdered in Atlanta. The murders are unsolved. Some think Lewis was a part of it & he knows what happened and who killed who. But Lewis has "tried" to move on from the case but this situation will follow Lewis until he dies.
Furness and others in sports media get behind the microphone and just down right say "I don't like the guy" And they are tired of "his act" and are tired of his "preaching and dancing". Which in my opinion is borderline racism. Today I heard a former NFL player say he is tired of Lewis and his "act" and cannot wait until his last game is over. Ian agreed with him. Those comments were BS!!!!
Myself, I am not tired of Lewis dancing and his so called "preaching". Ray Lewis since the case in 1999 has tried to be a first class role model for kids. His record is clean for the last 13 years. He goes to community centers and schools and he talks to the kids about staying in school and etc. He has tried to be a first class role model for milllions of kids all over the world who loves his play off the field and on the field.
But the now the media is jumping on a SI story that Lewis may have used a deer spray that might have helped him recover from a serious injury he had during the season. This deer spray is banned by the NFL. Lewis has said the story is not true. So readers what side are you on? I want to know WHY SI came out with this stuff about Lewis ON THE SAME DAY AS MEDIA DAY FOR THE SUPER BOWL???? WHY? Was this planned by SI to make Lewis look bad because he is riding on such a high in helping his team reach the Super Bowl? I say YES!!
So now Lewis is fighting the 1999 murder case and the deer spray story instead of discussing the Baltimore Ravens in the Super Bowl vs the 49ers. This is crazy!! Real crazy.
But certains fools like Ian Furness and Randy Cross and others do not like Ray Lewis as a person. They can care less about his Hall of Fame play for 17 years on the field. They want Lewis to suffer. They want to make Lewis look bad just like they wanted Mick Vick and OJ to look bad.
I think Ray Lewis is the best linebacker of his day. And one of best of all time in the NFL. When I watch the Super Bowl I want to see Lewis win and go out into retirement a winner. And I want to see him do his dance at the start of the game for the last time. And I want to hear what he wants to say after the game too.
Others want to say he is "preaching". I call it putting down knowledge. This is what I call it. I hope sports radio will get off the 1999 case and this deer spray SET UP by SI and disgame in which one of the best NFL players of all time will play his last game.  Hopefully one day the real truth will come out about really happened that day in Atlanta. For everyones sake including the family of the deceased!
Is SI trying to sell magazines with this Lewis story put out on press day at the Super Bowl? HELL YESSSSS!!!!
Tags: baltimore,bowl,case,dancing,deer,fame,football,kids,lewis,media,model,nfl,opinion,preaching,radio,ravens,ray,role,seattle,SI,Sports,spray,super,unfair
Posted on 19 August 2012 by curvey in Featured, Politics
ARTICLE FROM huffingtonpost.com (Full story click here)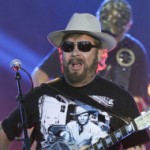 Hank Williams Jr. is a real clown and should be a part of the Ringling Bros Circus! One thing for sure he lets everyone knows how he feels about President Obama. For the second time he has said in public how he REALLY feels about our President.
At a recent event Williams told the crowd that the President "hates America" "is a Muslim" and other crazy things. Dude is a far right clown and he is also dangerous. Why is he dangerous readers? Because fools like him brings many other racists out of the closet. And brings out more hate groups against the first African American President.
What also does not help is Sean Hannity and Fox News who on a night basis put President Obama on full blast on national TV and also helps bigots like Williams Jr stay strong against the President. After all have you heard Hannity and O'Reilly say that fools like Williams Jr. are wrong in their unfair treatment of President Obama? Have you heard Rush or Beck say it is wrong for guys like Williams Jr. to say the president is "a muslim" or that the President "hates America"?
As a supporter of President Obama I am asking that other supporters stand up for the President. The election is in November. If you are a supporter of President Obama and Vice-President Joe Biden and even First Lady Michelle Obama, it is time to stand up and do what you can to help our President. I am going to do my small part for sure.
Gordon Curvey
Tags: beck,bigots,circus,clown,crazy,dangerous,election,fox news,hank,Hannity,hates,michelle,muslim,national,obama,politcs,president,public,ringling,rush,sean,second,supporter,unfair,williams
Posted on 01 August 2010 by curvey in Featured, Sports
"One Man's Opinion" by Gordon Curvey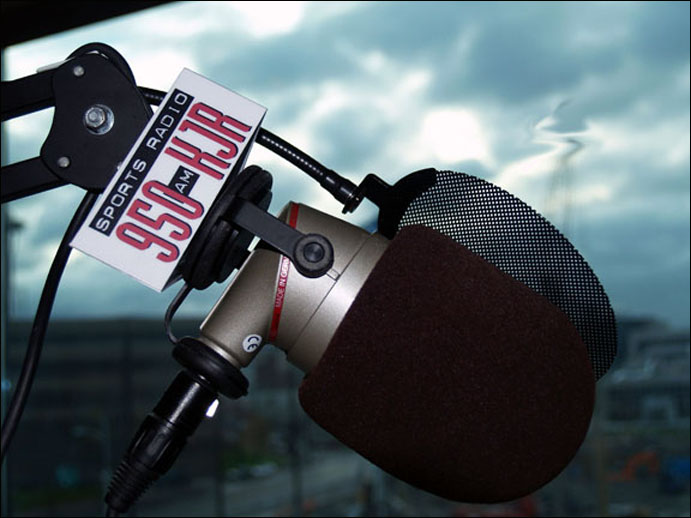 As I get ready to have a serious operation this week I have some thoughts I want to share regarding the sports radio situation here in Seattle, Washington (U.S.)
The two stations are 710 ESPN and KJR. 710 ESPN has been on the air for a year or so and KJR for 19 years in the Seattle/Tacoma area. For 19 years KJR has NEVER had a African American with his or hers own regular program. Currently their total workforce has a grand total of ZERO African Americans the last time I checked. That includes producers, over the air, sales and management.
I will talk about 710 ESPN in Part 2 of this story but I want to discuss KJR in Part 1. KJR constantly blasts African Americans and people of color in a negative way with out the other point of view from a African American or person of color. THIS IS UNFAIR!
Words like "THUG" is used by the all white staff of KJR against African Americans and people of color ONLY. The word "THUG" is a code word for the "N" word. It is used by callers and hosts. This word is NEVER used against whites in the sports world. NEVER.
KJR management just hired two more whites to be on the air, Jeff Aaron and Hot Shot Scott. Scott worked at sister station KUBE93 and Aaron used to a sports jock on KJR. Was fired or laid off and now he is back.
It is like the management of KJR do not care about diversity over the air. Or having a African American with his or hers own program. Stephen A. Smith (a African American) is on KJR at 3am but it is not a local show. It is a Fox national program.
A few years ago, their was a meeting held with African American community leaders and KJR management in which PROMISES WERE MADE BY KJR MANAGEMENT. Promises that included working on diversity in hiring and over the air. Promises where made to myself and other community folks like former Seattle NAACP chairman Carl Mack.
But then Mack left town and KJR backed off the promises that was made. In other words, KJR management LIED TO ME AND CARL MACK AND OTHERS. This is wrong. KJR management has shown with the hiring of Scott and Aaron that they DO NOT care about having a African American over the air on KJR. Period.
KJR is like a frat club or Elk's Club in Vermont or South Dakota. No blacks in sight. They are friends and buddies instead of workmates. They call and text each other after work etc. Even the bumper music is all white most of the time. Bumper music is a term for the music played in the background after a commercial etc. No T.I. or Drake or Jay Z or Kanye West or Lil Wayne or Rihanna or classic soul like Stevie Wonder or The Isley Bros etc. Instead it is Aerosmith or ZZ Top and The Little River Band etc or even on Mitch Levy's show, Frank Sinatra etc.
Issues of race comes up all the time on KJR and the all white staff CANNOT RELATE. They do not have a clue on the topic. Also it hurts me hearing the KJR jocks constantly interviewing African Americans THEY CANNOT RELATE TO what so ever. These cats are from the inner city or deep south etc. Hearing Mitch Levy and Dave Mahler and Ian Furness and now Aaron interviewing these inner city cats turns my stomach!!
The only jocks I like on KJR is Dick Fain and Elise Woodward. Yes they are white, but Woodward played basketball and has dealt with African Americans and people of color and Fain coaches at Mt. Rainier High School and deals with inner city cats all the time.
This is Part 1 of "Lack Of Diversity On Sports Radio" Part 2 I will deal with local sports writers who are "in bed" with sports radio, Mitch Levy's "Bigger Dance" contest and discuss 710 ESPN and more.
Please watch "Music Inner City TV" Ustream programs live and on-demand. We will feature music videos and discuss issues in entertainment, urban sports and soon we will have contests to give away cd's etc.
Just click the Ustream links above.
Tags: 710 espn,african americans,diversity,drake,isley bros,Jay z,kjr,kube93,management,naacp,racism,rihanna,seattle,sports radio,stephen a smith,T.I.,unfair,ustream tv,whites,zero
Posted on 16 June 2010 by curvey in Featured, Much More
ARTICLE FROM komonews.com (Full story click here)
One Man's Opinion" By Gordon Curvey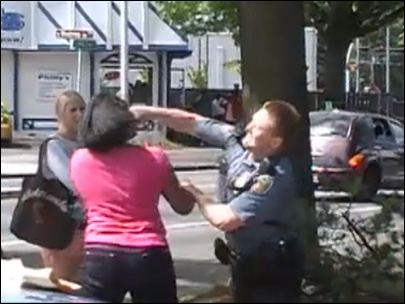 Unless you have been under a rock somewhere you should know about the terrible story of a Seattle Police officer punching a 17 year old young lady here in Seattle the other day.
As you can see by the picture the officer looks like a lightweight boxer in the ring hitting a opponent. But this was not in the boxing ring. It was on a street corner only four blocks from where I live near Franklin High School.
It appears in the tape that is everywhere on CNN, MSNBC, Fox News, You Tube etc, that 17 year old Marilyn Levios pushed Officer Ian Walsh. Then the officer hit the young girl with a round house punch to the face to young Levios.
The question is why the officer did what he did. Was the punch needed? Where was his pepper spray? Where was his back up?
Here is another thing that is going here in Seattle. It seems that most of the Seattle Police officers that patrol the areas where African Americans and people of color are, are not African Americans. So the question is do these non-black officers have the training to deal with young and older "inner city" citizens?
I think this is a major problem readers. I feel if you are a Seattle Police officer or any officer, you should know how to relate to African Americans and people of color. Because most minorities have a very negative feeling about police officers. This is a fact.
Finally another thing I have a problem with is this. I have a problem with "so called" community leaders calling press conferences as soon as it appears a white officer etc does something to a African American.
BUT where are these so called "community leaders" when it comes to BLACK ON BLACK CRIME!!! Where is the press conferences by these "so called" community leaders? They are nowhere in sight. For instance, their was a 12 year old kid shot and killed a few weeks ago in cross fire in the Skyway area of Seattle and the killers are still on the run. WHERE ARE THE COMMUNITY LEADERS? WHERE ARE THE PRESS CONFERENCES BY THESE SO CALLED COMMUNITY LEADERS??
Young Ms Levios was wrong to push a police officer. This is a fact. But Officer Ian Walsh was wrong too in punching the young girl. Very very wrong.
If you have a opinion/comment on these articles and my feelings feel free to leave it here.
Please watch "Music Inner City TV" via Ustream TV right now! Just click the "Ustream TV" link above. New programs every other day with entertainment and urban sports news, underground music videos and more. Videos you don't see on VH1, MTV, BET, FUSE and more!!
Tags: african American,community,crime,leaders,officer,police,punched,seattle,unfair
Posted on 07 April 2010 by curvey in Featured, Politics
"One Man's Opinion" by Gordon Curvey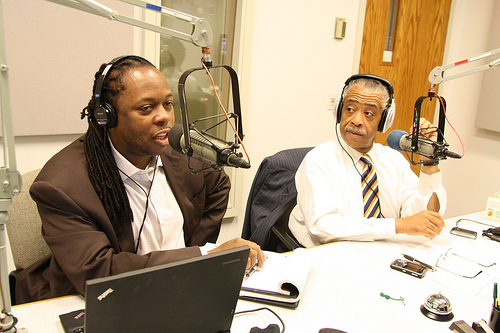 I just saw Rev. Al Sharpton on Fox News and the Glenn Beck program. I quickly said to myself very quickly why would Rev. Sharpton go on Beck's program? Then again it seems Rev Sharpton is on everyone's program. Is he trying to lead or is he trying to be a celebrity?
Glenn Beck, Sean Hannity, Rush Limbaugh and Laura Ingraham and others are the reason their is so much hate against the left and so much hate against President Obama. GLENN BECK IS ONE OF THE LEADERS OF THE TEA PARTY FOR GOODNESS SAKE!!
It seems to me Rev Sharpton loves to jump on MSNBC, loves to jump on CNN and for some godly reason, loves to jump on Fox News.
Is it because he loves to be seen on national TV and be seen? What the heck is it? It kind of bothers me when I see Rev Sharpton over and over and over again on Fox News and CNN and MSNBC. But what bothers me the most is Rev Sharpton on Hannity's show and Beck's show.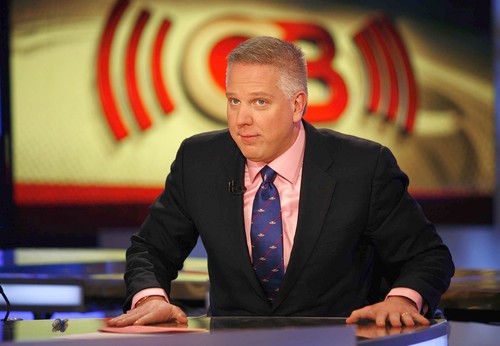 Both of those fellas blast Rev Sharpton and Rev Jesse Jackson and of course President Obama at will when ever they can. So again, why would Rev Sharpton continue to go on their programs?
Beck and Hannity on a everyday basis call President Obama a "socialist" a "radical" and constantly talk about President Obama's "radical" friends.
To me, I think Rev Sharpton loves to see himself on National TV with his very nice suits on his hair looking nice.
When I turn on the TV and see Rev. Sharpton posted up on Glenn Beck's show knowing how he is treating our President and other people of color I have a problem. Remember Beck called President Obama "a racist". I guess Rev Sharpton has forgot issues like this in order to be seen on national TV.
I respect Rev Sharpton for standing up for issues regarding people of color. I really do, but on this issue, I do not support him at all.
Please check out the latest entertainment news via MTV RIGHT HERE!! American Idol news and more!! RIGHT HERE on "Music Inner City News Magazine!! Look for it here on the home page.
Tags: american idol,cnn,fox news,friends,Glenn Beck,home page,interviews,magazine,msnbc,mtv,national,One Mans Opinion,Politics,president obama,radical,Rev Al Sharpton,rush,Sean Hannity,seen,socialist,suits,tea party,treatment,unfair,wrong
Posted on 09 March 2010 by curvey in Featured
ARTICLE FROM huffingtonpost.com (Full story click here)
"One Man's Opinion" by Gordon Curvey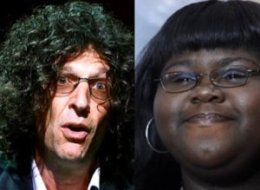 I CANNOT believe what so called "shock jock" Howard Stern said about Oscar nominee actress Gabourey Sidibe over the air about her size!
Please listen to his STUPID and yes RACIST comments about Ms. Sidibe by clicking the link above. I am real bothered by his comments. And I am bothered by his sidekick Robin saying what she said too! The question is WHY DID HOWARD MAKE THESE COMMENTS AND WHY IS THIS NOT BIGGER THAN WHAT IT IS?
First of all Gab will find work again!!! She is looking over new roles right now Howard!!! And not only that I am sure OPRAH AND SPIKE AND DENZEL AND TYLER PERRY and others will make sure she will have a job acting in a movie!!! What a STUPID thing to say that Gabourey will not find another acting job!!!
It hurts me as African American that Howard would say that about her and hurts me even more that Gab's African American sista would also make negative comments about Sidibe!!!!
Gabourey seems like such a down to earth young lady with a great personality. Yes she is a large lady. This is true. And hopefully she will shed some pounds for her health. But when she is ready she will. She does not need CLOWNS like Howard and Robin blasting her on national radio!!
And here is a question. What kind of talent does Howard have or Robin have? I think the pitbulls that Shorty trains on "Pit Boss" on TV have more talent than Howard and Robin!!!!!!!!!!! All Robin does is laugh and makes a stupid comment after Howard's stupid comments!!!! It is beyond me why he makes millions. He is a no talent!!
These comments made by Howard and Robin should make Sidibe work harder and show the fool and crazy Howard that she is going to work and she will continue to be a wonderful actress and a great lady.
What Robin should have said on the radio as a African American female is how proud she was of Gabourey to be nominated for a Oscar and how proud she was of Monique to win a Oscar!!!! Instead of the very negative things said. Those comments make me angry and also very very sad.
What Howard said about Gabourey Sidibe is FLAT OUT WRONG AND TERRIBLE! I hope you readers are as bothered as I am by his comments.
Tags: acting,actress,african American,bigger,blasting,denzel washington,fat,gabourey Sidibe,gordon curvey,hollywood,howard,howard stern,huffington post,hurts,jock,lady,millions,monique,movies,music inner city,national,negative,online,oprah,oscar,personality,pitbulls,Podcast,precious,radio,robin,seattle,shed,shock,shorty,sista,size,spike lee,stern,stupid,talent,tyler perry,unfair,washington,webcast,weight,young