Tag Archive | "violence"
Posted on 28 March 2013 by curvey in Featured, Politics
ARTICLE FROM huffingtonpost.com (Click here for full story)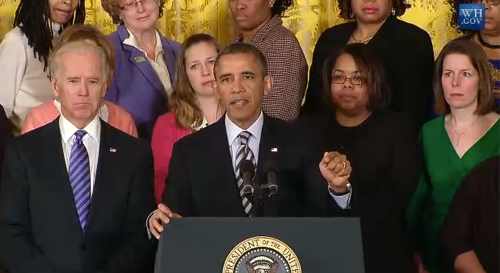 This morning President Obama gave a very passionate and heart felt speech about the TERRIBLE shootings at Newtown where little kids were shot down like in a western movie by a crazy man. You can tell the President meant business this morning.
He said "Shame on you" if you cannot support gun control here in America. I got my remote and before I  changed the channel I knew in my mind the Fox News would not be showing the President's speech. Guess what readers? CNN was broadcasting the President's speech, MSNBC was broadcasting the President's speech, BUT FOX NEWS DID NOT BROADCAST THE PRESIDENT'S VERY IMPORTANT SPEECH! WHAT???
Instead a Fox News anchor was talking about the President's so called falling ratings. THIS IS A FLAT OUT OUTRAGE ON THE PART OF FOX NEWS!! It again shows that Fox News led by the bigot Sean Hannity is in the bed with the Republican Party/Tea Party etc.
How can MSNBC and CNN realize the importance of the President's emotional speech and the racist Fox News did not? THIS IS TERRIBLE readers. It proves for sure that Fox News is doing EVERYTHING TO MAKE THE PRESIDENT LOOK BAD. The President was giving a speech about kid's getting killed at a school that were 6 or 7 years old! The President was giving a speech on gun violence EVERYWHERE in America and Fox News was blasting the President's "falling ratings"!!! TERRIBLE TERRIBLE TERRIBLE!!
Fox News ratings have been falling big time. Yes there still ahead of MSNBC and CNN. But they are falling. You want to know why they are falling readers? Because of the STUPID actions like they did this morning by not broadcasting the PRESIDENT OF THE UNITED STATES IMPORTANT SPEECH. I wonder if this was President Romney if Fox News would have done the same?     Gordon Curvey
Music Inner City Store/Buy hats, t-shirts, mugs and much more!! Just click here for our low prices. SAFE AND SECURE!!
Tags: america,cnn,fox,gun,Hannity,importance,msnbc,news,newtown,obama,president,ratings,school,sean,speech,stupid,violence
Posted on 18 May 2011 by curvey in Featured, Hip-Hop/R&B
ARTICLE FROM huffingtonpost.com (Full story click here)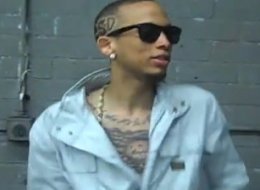 Hey people, this killing is terrible. And it really upsets me as a cat in the music business. M-Bone of the group Cali Swag District was killed in a drive by shooting in Inglewood, Ca. He was only 22.
The group was known for the monster hit "Teach Me How To Dougie" last year. The song blew up all over the world and put the young group on the hip-hop map.
The problem right now is the killers of M-Bone is still on the run and have not been caught.
Why did M-Bone have to die so damn young? When will the violence stop? TO MANY YOUNG PEOPLE ARE DYING IN THE STREETS!! The violence has to stop!!
I bet you M-Bone died over some small issue. Maybe someone was jealous of the group or M-Bone, maybe it was about money or a female. All I know this young fella is dead and dead to young. Our prayers go out to the family of M-Bone from "Music Inner City"    Gordon Curvey
"Music Inner City" Video Podcast/5-18-2011/Entertainment news/politics/music videos and more.
Tags: Cali Swag District,dougie,inglewood,M-Bone,music,shooting,violence
Posted on 08 May 2010 by curvey in Featured, Much More
ARTICLE FROM rentonreporter.com (Full story click here)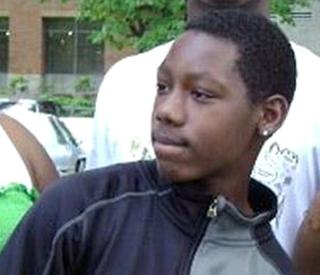 If you are in the Seattle area you should already know that 12 year old Alajawon Brown was shot and killed recently for I guess being in the wrong place and was caught in a cross fire of about 20 to 25 shots.
This story is truly truly sad. A mom has lost her little boy and a dad has lost his little boy too. A grandmom or dad has lost their grandchild.
Young Brown had just bought some shoes to get ready to play football. He worked cleaning up a family members kitchen to earn $20 for the shoes. Now he is dead. This is truly sad.
Also in my opinion is a certain radio talk show in the Seattle area who had young Alajawan's mom on his show to grab ratings or to build his ego. Also this host has done what we call "biting" in the hood.
I am the one who sent out a big e-mail to my list and to my almost 600 Facebook and Twitter friends concerning the killing of the young kid. I knew in the back of my mind that this talk show host would have the mom on his show. Well I was right.
This same radio host has never had me on his radio show to discuss my almost two decades of producing "Music Inner City TV" and I have asked him time and time again to be a guest on his show.
But since I have MY OWN radio show on 1150 KKNW (Friday night at 10pm) I do not need to be on this cat's show. Bottom line is I AM A LEADER NOT A FOLLOWER.
Hopefully this same talk show host will make his voice heard concerning the KUBE93 Summer Jam where young kids will be in attendance to hear the "N" word a thousand times and all kind of language young kids should not hear.
In ending, my prayers go out to the family of 12 year old Alajawan Brown. One thing is for sure, 12 years old is to young to die. Let's please stop the violence and increase the peace in our communities.
You can watch HOURS AND HOURS of "Music Inner City TV" right here and also listen to "Music Inner City Radio" podcast too.
Just click the links above and enjoy!!
Tags: alajawon Brown,family,father,football,grandchild,killed,mother,peace,sad,seattle,Skyway,violence