Tag Archive | "warriors"
Posted on 14 June 2018 by curvey in Featured, Sports
ARTICLE FROM espn.com (Full story click here)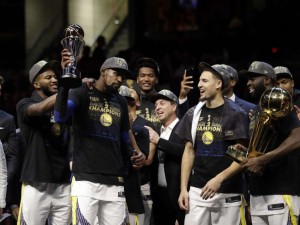 If you are a sports fan you know the Golden State Warriors won another NBA title the other day by sweeping away Lebron and the Cleveland Cavs 4-0 in the NBA Finals. Three titles in four years for the Warriors. And many are not happy with Golden State and I am one of them as well as a NFL player.
Myles Garrett of the Cleveland Browns says with Kevin Durant joining a already great team it "broke the league" I agree 1000% with Garrett! To this day I have a huge huge problem with Durant leaving OKC after the Warriors eliminated OKC in the playoffs a few years ago.  I just think it was wrong for KD to join a already great team at GS with Curry, Green, Thompson in place on the team. A team that won over 70 games WITHOUT Kevin.
Curry, Green and Thompson did a great recruiting job in getting Durant to come to the Warriors as a free agent. But I agree with Myles Garrett. And many other NBA fans agree also that Kevin Durant choice to join the Warriors was just unfair to the rest of the NBA. If you noticed NBA commissioner Adam Silver was not to happy on the stage when he presented the Warriors with another NBA title trophy. I was not happy too.
Watching KD holding his second MVP Finals trophy in a row and watching Durant and his teammates kissing the title trophy made me go grab my remote and go watch something else on TV. It was not a good look in my opinion readers. It just was not.
Now NBA teams are trying to figure out how to stop the Warriors from winning another title and then another title.  Because truth be told the Warriors are still a young team and just make a few adjustments here and there to continue to win NBA titles. The NBA finals ratings suffered because fans are tired of seeing the Warriors.  Tired of seeing them in joy after winning another title. Everyone knew at the start of the season who would play in the NBA finals….the Warriors vs. Lebron and the Cavs.
So readers I hope and pray as a NBA junky that the rest of the NBA will wake up and knock the Warriors off their pedestal. No more damn titles. I do not want to see the Warriors in the Finals anymore! I do not want to see KD smiling after winning another title. I know Adam Silver is in agreement with me and many other NBA fans.
Comments: gcurvey@yahoo.com
Tags: adam,agent,browns,cavs,cleveland,commissioner,curry,durant,eliminated,garrett,great,green,joining,kd,leaving,lebron,myles,NBA,okc,playoffs ratings,silver,team. choice,thompson,titles,trophy,warriors
Read More Comments Off on Browns Myles Garrett Says KD "Broke The League" I AGREE!
Posted on 22 May 2018 by curvey in Featured, Sports
"One Man's Opinion" by Gordon Curvey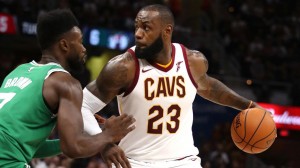 Back in 2002 I heard about this fella in high school who is crazy good out of Ohio. So good he can go into the NBA at the age of 15 or 16. He was that good in high school ladies and gentlemen. This young fella was named Lebron James.
He was one of the most hyped up high school players since Lew Alcindor aka Kareem Abdul Jabbar. And James has lived up to the hype. He has turned into one of the greatest players of all time. Some say he might be better than MJ.  James is 6-8  and 280 is strength and speed. He can play all positions on the court. He can play point, small forward and power forward and even center. Not many players can do this effectively.
James is very intelligent and is a student of the game. He can tell you about great players of past like Elgin Baylor and Wilt and Jerry West and The Big O and many more. He did not go to college but he is no dummy. This is a fact.
Look at what he has done. He might be in the NBA Finals AGAIN with the Cavs. Year after year after year Lebron is playing in the NBA Finals. With Cavs or the Heat, James is in the freakin Finals every year. If it was anyone else sports fans would say they are tired of seeing James in the Finals. I have not heard anyone say they are tired of James in the Finals I just have not. Sports fans love to watch greatness. In James we are watching greatness.
This fella is 33 years old and is showing zero signs of slowing down. Game after game after game, Lebron is getting 40 points, 15 rebounds and six dimes. He is making others on the Cavs better. He is pushing the Cavs to again be in the NBA Finals to maybe again match up against KD, Curry and Klay and the Golden State Warriors.
Everyone wants to see the Cavs-GS in the Finals again. I know ABC does. As I type this, the Celtics are pushing the Cavs. Making it hard for the Cavs to maybe be in the Finals again.  But folks while we watch great games in the playoffs by Curry, KD and others,  NO ONE can match Lebron and his great play in the 2018 NBA Playoffs. We are watching pure greatness by James. It is unreal folks.
Lebron is playing so great I wonder do sports take Lebron's greatness for granted. After a 40-15-6 game do we say "Oh it is just another game by Lebron". I know for sure I do not say that. As a NBA junky,  I KNOW I AM WATCHING GREATNESS!!
One thing for sure and that is Lebron James is a freak of nature! I hope all NBA junkies will realizing what we are watching. We are watching greatness by Lebron James and I know their will not be many if any one else like him.
Comments: gcurvey@yahoo.com
Tags: alcindor,cavs,celtics,curry,golden state,greatness,heat,james,jerry,kareem,kd. playoffs,lebron,lew,NBA,tired,warriors,watching,west
Read More Comments Off on Do We Take For Granted How Great Lebron James Is?