Tag Archive | "white"
Posted on 07 May 2018 by curvey in Featured, Politics
"One Man's Opinion" by Gordon Curvey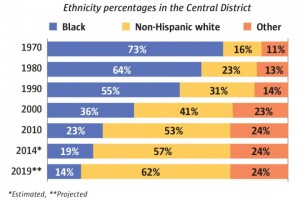 Ladies and gentlemen I am a person who grew up on 30th and East Spring St. here in Seattle, Washington's Central Area. I went to Madrona Elementary School and Meany Middle School. And then Roosevelt in North Seattle.
I used to be in a African American neighborhood. I went to Madrona with plenty of African American kids. Black teachers and principals and I felt relaxed. The playground at recess or lunchtime was full of black kids and faces. I got my haircut at Erma's Barber Shop and Daye's Barber Shop and went to Joe's Grocery Store owned by Joe and Mea and Madrona Pharmacy to by candy and sports magazines. Went to IGA Store.
I went to the Doll House and Sammy's for great hamburgers and fries. I also went to Jordan's for candy and magazines and pop etc. I walked up East Union St to walk to Meany Middle School. Past KZAM Radio and see the dj's talking on the air. There was a Chinese place to buy food on East Union and the food was great. Just like it was at Mrs. Helens and Oscars on East Madison.
During the summer Madrona Park was packed on three courts with guys and gals shooting hoops. There used to be African American plays at Black Arts West on 34th and East Union. The Black Panthers offices were on 34th too.
I used to go to the Red Apple for stuff too. They had great baked chicken at Red Apple at Promenade 23. Promenade 23 was part owned by a family friend, the late Jimmy Sumler. Used to run into him all the time. He was a member of a social club that my late dad Leon Curvey was a member too called the Westerners. Jimmy also owned Jimmy's on East Madison. They also had great food!!
I grew up going to church and Sunday school at Mt. Zion where the late great Rev Samuel McKinney was the pastor. Of course Pastor Mckinney recently pasted away. RIP to Rev. He was a great man.
Because of gentrification "my Madrona area" is no longer the same and it hurts me deeply. I am a Adult School Crossing Guard on 34th and East Union right by the school I went to from kindergarten thur 6th grade, Madrona School. I leave my job in the morning and afternoon EVERY DAY feeling sad that I do not hardly see black faces. I see plenty of white folks driving expensive Audi's and BMWs and Mercedes and Volvos etc.  I have been on 32rd and now 34th and East Union on my job for going on four years.
And every day I leave sad and get in my car feeling sad. Saying to myself what has happened to the Central Area I grew up in. When ever I see a black face I am VERY VERY happy. Mainly I see white folks and white folks walking their freakin dogs. Some walking three dogs at a time. Big poodles and little dogs.  Sorry to say, white folks hang with other white folks. They act like they "own the Madrona area"  NO they do not own the Madrona as far as I am concerned.
And as a school crossing guard I have sorry to say experienced racism on the job. Shocking this would happen to me a African American in a former African American area. But it is true readers. The subtle racism by white folks which is the worse.
Like for instance parents from a special Seattle Public School named TOPs whose kids catch the bus to school at 34th and East Union where I am at every morning. TOPS is a school for kids who are very very smart and they have a different form of education than regular Seattle Public Schools. I slowly began to notice something.
What I found out was most of the parents from this school and even a few of the kids acted "uppity" or "special". Many times I speak to the parents and say good morning and they barely say anything or if I would not say good morning they would not say good morning too. Many many days right before I leave to get in my car I say "See everyone later and have a good day" and most of the parents would look at me like I am the Statue Of Liberty. They would say nothing. Basically only one or two would say something.
So I decided to not say anything to them anymore. I am not going to go out my way to speak to these "uppity" acting TOPS parents any more. It is not going to happen the rest of the school year. Sorry to say one of the parents who acts "uppity" is African American.
Gentrification is going on in a lot of major cities in the U.S. In L.A. and New York and other cities. Taxes go up, whites move in and African Americans move out. Because of gentrification the Central Area here in Seattle has turned into yuppie land. Powell Burnett Park and other parks in the area full of white folks and there kids and of course their dogs.
My good friend Wyking Garrett is doing a huge job trying to keep a little of the CA that gentrification has not hit yet. But he has a very hard job ladies and gentlemen.
It hurts me when I drive down 23rd and pass by Earls Cut and Styles and see basically nothing but white folks. It is like I am dreaming. I is amazing that this has happened and happened quickly. Just look at the chart I have here. To me it is very very devastating  as a guy who grew up on 3oth and East Spring St.. It is just unreal folks!!
There was a time when most white folks would fly past 23rd and East Union or 22rd/23rd and East Madison where Oscars and Deano's was  in their cars like they were driving in the Indy 500!! With their windows up etc. They wanted no part of the Central Area.
Now all I see is white folks on East Union and East Madison like I said, walking their dogs or walking with another group of white folks, never do I see white folks walking with some black folks. They hang to themselves. And most of time do not speak to African Americans. They will look at black folks like they are criminals or gang members. Or like a black dude will steal their cell phone.
I will give some more of my thoughts on the gentrification of Seattle's Central Area soon. A area where sky high rent for apartments and town homes and homes have forced African Americans out and whites in. When I see the Red Apple gone, Richlens gone, it hurts me. It hurts me each and every day!!
Comments: gcurvey@yahoo.com  www.facebook.com/gordon.curvey or facebook.com/musicinnercityentertainment or twitter.com/gcurvey
Tags: apartments,apple,area,central,criminals,dogs,driving,folks,gentrafication,kids,parents,park,powell,red,seattle,spring,TOPS,walking,white,yuppie
Read More Comments Off
Posted on 04 April 2018 by curvey in Featured, Much More
"One Man's Opinion" by Gordon Curvey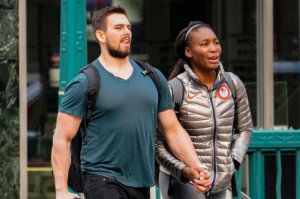 Some of you will not like what I have to say here. If not please don't be afraid to leave a comment. For years I have supported Venus and Serena Williams since they came on the scene as little girls with braids in their hair.
I remember their dad Richard being real hard on his daughters in his training of Venus and Serena as did Earl Woods did with Tiger and in both cases we see the end results.
The results have been greatness on the court and on the greens of the PGA. I was so proud of Venus and Serena and the only time I watched tennis was when the young ladies were playing.
Many times I supported Venus and Serena when they faced racism in the white dominated sport of tennis. Vicious racism too but I stood with the young ladies via social media etc.
I even had a chance to interview Venus and Serena here in Seattle a few years for my tv show "Music Inner City TV" It was great to meet them and interview them. I let them know how I felt about them in their face. It was wonderful. I told them how I supported them though all the BS they had to do with as inner city young ladies from the hood of Compton, Ca.
But ladies and gentlemen as I type this blog I am extremely bothered by this and I ask this question. Has Venus and Serena forgot where they have come from? Have they forgot their roots? When they grew up in Compton did they think about for ONE SECOND dating white fellas? I don't think so readers. Real talk.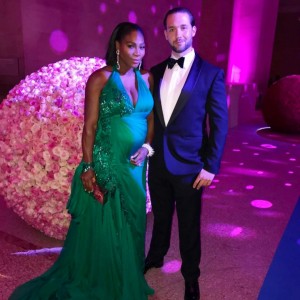 Sorry to say I will answer the questions. I feel Venus and Serena have forgot their roots. Have forgot that they came from the inner city of Compton, California.
They have forgot about the deep racism they went though in the tennis world. The looks they got because of the braids in their hair. The looks they got by beating white players over and over and winning trophy after trophy after trophy. They have decided to ditch African American men and their roots. To be with and fall in love with a white fella.
Don't get it twisted. Venus and Serena are grown ladies in their mid to late 30′s now. They can fall in love with whom they want but in my strong opinion when I see them not with a black man it hurts me knowing where these sistas came from and that is the streets of Compton, California.
Readers please try to understand where I am coming from. When I saw Serena with Common I was happy. A proud and happy black couple. But I guess it was not meant to be.
Well you readers can now bash me if you want. But I just wish these two beautiful, talented and yes wealthy African American sistas would be with a African American man. Just like I wish Tiger Woods would FINALLY date a dark skin female. Are Venus and Serena and even Tiger afraid to be with a African American or person of color?
I wonder if the fellas Serena and Venus are with now even no where Compton is and if they can be relaxed and comfortable hanging out in the hood? Ummmmm?
Comments: gcurvey@yahoo.com or facebook.com/gordon.curvey or twitter.com/gcurvey
Tags: comfortable,compton,court,proud,relaxed,serena,tennis,tiger,venus,vicious,white,williams,woods
Read More Comments Off
Posted on 28 January 2013 by curvey in Featured, Politics
"One Man's Opinion" by Gordon Curvey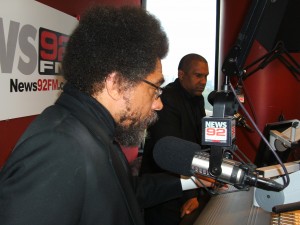 Something is going on that I am really tired of readers. It has got way out of hand in my opinion. It is going on with two people I used to respect. I said used to.
They are tv/radio host/author Tavis Smily and Prof. Cornell West and these two have been on a flat out mission against President Obama since he walked in the White House four years ago. The question is why? Well in my opinion the reason is they are flat out JEALOUS. Well let me say this. Tavis is jealous and also upset. Why you ask?
You see Tavis has had panels geared towards issues happening in the African American community to our families and also cities. He has invited the President to be on panels before he became President and the President never shown up to none of them. So this has made Tavis and his good friend Prof. West upset.
So Tavis has got busy and have put out a series of books putting the President on blast. These brothas think and say that the President does not do enough or speak out about things that are going on in the African American community. The first black President should do more for "his people"
West and Smily have went on nationwide tours over the last few years and have gone on many TV and radio shows putting down President Obama. I think they are WRONG! Flat out wrong. They need to chill out in my opinion and realize that President Obama is the President of all America. Not just African Americans.
Tavis and West want the President to have a major press conference on poverty in America and then set up a panel to work on this issue. They want this to happen asap.
What Smiley and West need to realize that the President has a lot on his plate. He does not have to lower himself to demands by Tavis and West and others who are just HATERS against the President and yes…..JEALOUS.
JEALOUS of a black man who was a community worker in Chicago and now is in his second term as our President. West has said some very nasty things about President Obama. Nasty as hell. In my opinion he can have his opinion but he needs to realize again the President Obama cannot just do things for the black community. He cannot.
So in ending, Tavis Smily and Prof. Cornell West need to back off the President and let him be the President. Just because he has not shown up at Smiley's panels is not reason to put the President on blast. Oh yeah another thing they are upset about is this.
Guys like Rev. Al Sharpton and other African American leaders have a "open door" to the White House and to the President. Rev. Sharpton has had the President on his radio show many times and is invited to meeting at the White House. BUT Smiley and West ARE NOT invited. So as a result, Smiley writes books and tours the country with West putting down the President. It is wrong and they need to stop hatin on the Prez right now!!
Comments on this article? gcurvey@yahoo.com   New "M.I.C-TV" or "M.I.C-Radio" webcast coming at ya soon right here!! Check out our sports site  "Sports Inner City Online" www.sportsinnercity.com 
Tags: america,community,house,jealous,mission,obama,opinion,president,smiley,west,white
Posted on 06 September 2011 by curvey in Featured
ARTICLE FROM community.essence.com (Full story click here)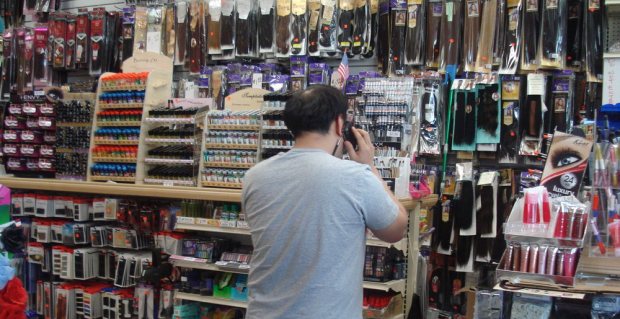 I hope you readers read the above article about why African American businesses or do not do well compared to white, Asian, Hispanics and now East African owned businesses.
There is a reason for this folks. As a black owned business here in Seattle for more than twenty years, sorry to say my worst "enemies" have been black folks. No support from local promoters, no support from hip-hop/r&b artists, and no support from black owned businesses. BUT these same folks will in a hurry take their cash to the "majority" owned businesses.
"Music Inner City News Magazine" is in the TOP 500,000 IN THE WORLD in website traffic and getting better everyday. Keep in mind there are at least 20 to 30 million registered websites in the world. Plus we are in the top 100,000 in the U.S. These stats are from www.alexa.com (type in sportsinnercity.com in the search area)
And "Music Inner City TV" is getting PLENTY of traffic everyday. And we are the ONLY locally produced urban program on Comcast/Xfinity On Demand here in Washington state. But black folks here will give me EVERY EXCUSE under the sun NOT to advertise with us. Then if I say something about this issue I am "whining". This is crazy!!
As one of the articles I saw this morning said on this topic said "It seems a lot of black people are racist towards each other MENTALLY, PHYSICALLY as well as FINANCIALLY"
And "When black folks work on the racism towards black owned businesses it is then we will see black businesses prosper"
Also readers, Hispanics-advertise, Chinese/Asians-advertise, East Africans-advertise BUT as a whole blacks do not. Want a example? Go pick up a black owned newspaper and then go pick a Asian or Hispanic owned newspaper OR watch a Asian or Hispanic owned TV show or network. Then watch my TV show "Music Inner City" here in Seattle or online right here. This will make my point.
Sorry to say but Koreans are making MILLIONS AND MILLIONS of dollars selling black hair products. I can park my car in front of a Korean supply store and will see black female after black female going inside to spend cash. EVERYDAY the Koreans here in Seattle and else where are laughing all the way to the bank!
I don't care how they obtained loans to open up new businesses! We as black folks do not have a problem getting a new SUV or Caddie or Lexus but what about opening a new business like the Koreans and other Asians, the Hispanics and now the East Africans are doing?
President Obama and others talk to us about going our own businesses. BUT the problem is, when black folks open new businesses, black folks need to support them.  I will be back with Part 2 on this topic in a few days.    Gordon Curvey
"Watch "MUSIC INNER CITY TV" via Ustream TV RIGHT HERE!! on "Music Inner City News Magazine" LIVE from the studios of "Music Inner City" here in Seattle. The show will at 11:05pm to Midnight (Seattle Time) every Friday night.
Playing urban music videos, exclusive interviews and more LIVE!! From Seattle! SPREAD THE WORD!!
Tags: african American,alexa,asian,black,Business,financially,hip-hop,hispanics,locally,majority,mentally,music,physically,promoters,prosper,r&b,racist,stats,traffic,white